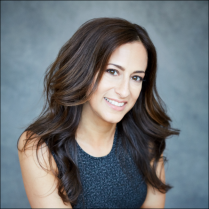 JENNIFER CASERTA
President & General Manager
IFC
Recently named one of Fast Company's "Most Creative People in Business" and among the "Most Powerful Women in Cable", Jennifer Caserta has proven that comedy is serious business as president and general manager of IFC.
Caserta is a key architect in the evolution of IFC, leading a successful rebrand effort in 2010 that transformed IFC from a niche indie film channel to a fully advertiser-supported destination for sharp, smart comedy.  Through her dozen-year tenure with IFC, she has earned an industry-wide reputation for developing multi-platform marketing initiatives and innovative partnerships, and more recently as president and general manager, for shaping its programming and overall brand identity.  Today, defined by its "Always On.  Slightly Off" sensibility and its growing slate of edgy, original programming, IFC continues to build audience share, critical acclaim and pop culture relevance.
Under Caserta's leadership, IFC has attracted top-tier talent and nurtured the success of such original series as Portlandia,the Emmy-nominated and Peabody- and WGA-winning comedy starring Fred Armisen and Carrie Brownstein, with recent guest stars including Louis C.K., Steve Buscemi and Natasha Lyonne; the critically acclaimed docu-parody Documentary Now! starring Fred Armisen and Bill Hader and penned by Seth Meyers, with first-season guest stars including  Helen Mirren, Jack Black and John Slattery; Comedy Bang! Bang!, the late-night spoof show with Scott Aukerman and "Weird Al" Yankovic; as well as other projects like the mini-series The Spoils of Babylon, in partnership with Will Ferrell and Funny or Die.  Most recently, Caserta green lit two new series: Dana Gould's Stan Against Evil and Funny or Die's Brockmire, starring Hank Azaria.
Caserta served as executive producer on the 2009 docu-series Monty Python: Almost the Truth (The Lawyer's Cut), which earned IFC and the legendary comedy troupe an Emmy nomination for Outstanding Nonfiction Series, a Python first.
Prior to becoming network president in May 2012, Caserta served as IFC's executive vice president and general manager.  She segued into management at IFC after a progression of marketing roles, most recently EVP of marketing, communications, scheduling and alternative programming.  Before joining IFC, Caserta was EVP/GM of Fuse, helping to increase ratings and web traffic for the music network and launching the live studio series The Sauce.
Earlier in her career, Caserta served as vice president of advertising sales marketing for Court TV, successfully redefining its trade brand.  She has also held marketing positions at Oxygen Media, Food Network, Westwood One and the Radio Advertising Bureau.
Among her many industry accolades, Variety included Caserta in its 2014 "Power of Women: New York Impact" list, Adweek named her a "Person of the Moment," Fast Company recognized her as a "Who's Next" leader, and Multichannel News and WICT (Women in Cable Telecommunications) acknowledged her superpowers as a "Wonder Woman."  She is also a recipient of the NCTA Vanguard Award for Young Leadership.
Jennifer Caserta earned her degree in media studies from Hunter College, which subsequently inducted her into its Hall of Fame.  She is an alumna of the CTAM executive management program at CTAM, as well as CTAM U at Harvard Business School, and serves on the CTAM board of directors.  A member of WICT, she is also a member and mentor at the television/video marketing association PromaxBDA.