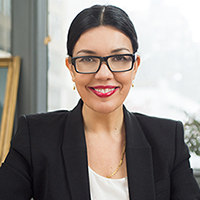 SARAH BARNETT
President & General Manager
BBC AMERICA
As president and general manager, Sarah Barnett is responsible for the day-to-day operations of BBC AMERICA, including the channel's overall creative and brand strategy, production and development, digital strategy and marketing.  She was appointed to this post in November 2014.
Named head of SundanceTV in 2009, Barnett redefined the channel as a timely and vital television brand by introducing distinctive dramatic series. Barnett launched the network's scripted strategy in 2010 with the Golden Globe-winning "Carlos," and has since overseen a slate of high quality, auteur-driven series that have consistently captured critical acclaim and industry awards, including "Rectify," "Top of the Lake," "The Honorable Woman," "The Red Road," "Restless," "Appropriate Adult," "The Returned," "One Child" and the upcoming "Babylon" and "Hap and Leonard."
Prior to this role, Barnett was senior vice president of marketing for SundanceTV and oversaw all strategic and creative marketing for the brand.  Her responsibilities included oversight of consumer and trade marketing, as well as advertising for SundanceTV and its website Sundance.TV.  Barnett led all creative campaigns and branding development and execution for the network, including strategic partnerships and all channel creative expressions.  She also spearheaded SundanceTV's pioneering branded entertainment short-form series and sponsorship creative executions.
Barnett joined SundanceTV from BBC AMERICA where she served as vice president of on-air and creative marketing.  During her four year tenure, Barnett reported into the President and led BBC AMERICA'S award-winning creative team, launching a successful brand refresh, packaging their VOD brand and developing all strategy and execution for the network's show packaging and branded blocks.  She also executive produced several original shows for BBC AMERICA. Before BBC AMERICA, Barnett spent 12 years with the BBC in London, where she directed and produced for both BBC radio and television  across several BBC channels, including the flagship broadcast networks as well as working on the first ever BBC digital cable network.
Barnett was recently featured in The New York Times "Corner Office" column and has been profiled in Variety, The Hollywood Reporter, Ad Week, The Wall Street Journal, Fast Company,and Indiewire, among others.  She was included in Variety's 2014 Gotham Power List, Variety's 2013 Power of Women: Women's Impact Report as well as The Hollywood Reporter's 2013 Women in Entertainment Power 100 List. Barnett was also inducted into the 2014 class of Multichannel News' Wonder Women and has been named to the CableFAX Top 100 and Most Powerful Women list for the past five years.
Barnett earned her Bachelor of Arts degree in history of art from the University of Warwick in the United Kingdom.