The six-part AMC+ Original is based on Len Deighton's best-selling novel and Stars Joe Cole as iconic British spy Harry Palmer; Premiering in the U.S. and Canada in Spring 2022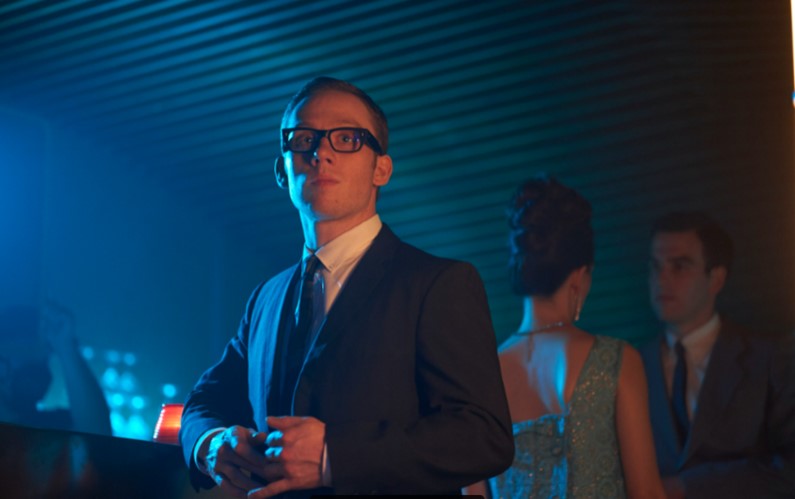 Hi-res Images: https://amcnetworks.box.com/s/vawexsov2tprf96ug97d18xr93ql0lvc
New York, NY; December 15, 2021 – AMC Networks' premium streaming bundle AMC+ announces the acquisition of the six-part British espionage thriller The Ipcress File from ITV Studios. Based on the globally renowned Len Deighton novel and adapted by Oscar nominated and BAFTA award-winning screenwriter John Hodge (Trainspotting, T2 Trainspotting), the enthralling and atmospheric drama stars Joe Cole (Gangs of London, Peaky Blinders) as iconic British spy Harry Palmer alongside Lucy Boynton (Bohemian Rhapsody, Murder on the Orient Express) and BAFTA award winner Tom Hollander (The Night Manager, Birdbox). The twist-laden spy thriller offers a stylish and tense tale of abducted scientists, brainwashing, inter-departmental rivalry, treason, and a possibly unwise romance. Directed by Emmy winner James Watkins (McMafia, Black Mirror, The Woman In Black) and set in Berlin and London during the 1960's, The Ipcress File will make its exclusive U.S. and Canadian premieres as an AMC+ Original in Spring 2022. It is produced by Altitude Television, in association with ITV Studios, which is the international distributor for the series.
It's 1963. Cold war rages between West and East. Nuclear bombers are permanently airborne. In this highly charged atmosphere, we join Harry Palmer (Cole) – a British army sergeant on the make in Berlin. In this newly partitioned city, a sharp working-class young man with sophisticated tastes can make a lot of money. Wholesaler, retailer, fixer, smuggler, Harry's varied interests bring him into contact with everything and everyone – until the law catches up and it all comes crashing to a halt.
Harry finds himself sentenced to eight years in a grim military jail in England, all his prospects abruptly torn away. But his impressive network and efficiency have not gone unnoticed, and a gentleman from British intelligence has a proposal. To avoid prison, Harry Palmer will become a spy. And the case on which he cuts his teeth will be The Ipcress File.
Harry's links to the man suspected of kidnapping a missing British nuclear scientist result in him being conscripted for a dangerous undercover mission that takes him from the Beatles' London to the Berlin Wall, from the back alleys of Beirut to the white hot sand of a Nuclear Atoll in the Pacific.
"Set in the fascinating world of Berlin in the 1960's, The Ipcress File continues AMC's legacy of curating captivating, critically acclaimed international thrillers from The Little Drummer Girl and McMafia to AMC+ exclusives Spy City and Kin," said Courtney Thomasma, general manager for AMC+. "AMC+ is proud to partner with ITV Studios to bring John Hodge's thrilling adaptation of the beloved spy novel to U.S. audiences. We are also excited to work with Joe Cole again, following the enormous popularity of Gangs of London, this time in his new spellbinding performance of the iconic, working-class British spy."
Greg Johnson, Executive Vice-President, Distribution, Americas at ITV Studios, said: "With its stellar on and off-screen talent, rich characterisation and rollercoaster of twists and turns, there is no better home for The Ipcress File than AMC+, and I'm delighted that US and Canadian viewers will join audiences across the globe in enjoying the very cool spy Harry Palmer through this new adaptation."
"We're immensely proud of what we have created with The Ipcress File and alongside AMC+, we are very excited on the potential of the series.  We are thrilled that they will be bringing the daring exploits of Harry Palmer to American audiences next year," commented Will Clarke, executive producer and CEO of Altitude Television.
The Ipcress File was Len Deighton's first spy novel introducing the iconic British spy Harry Palmer and set against the backdrop of Cold War Europe. To date the novel has sold 10 million copies worldwide since it was first published in 1962.
The Ipcress File will be executive produced by Will Clarke (Filth) and Andy Mayson (Ghost Stories) for Altitude Television, Andrew Eaton (The Crown) for Turbine, Sandy Lieberson (Performance), James Watkins and Hilary and Steven Saltzman.  The series will be produced by Paul Ritchie (McMafia, Slumdog Millionaire). AMC Networks' Kristin Jones, EVP of international programming, and Noel Manzano, VP of international programming, are overseeing the series for AMC+.
About AMC+ 
AMC+ is the company's new premium streaming bundle featuring an extensive lineup of popular and critically acclaimed original programming from AMC, BBC America, IFC, and SundanceTV and full access to targeted streaming services Shudder, Sundance Now and IFC Films Unlimited, which feature content such as A Discovery of Witches, Creepshow, Riviera and Boyhood. The service features a continually refreshed library of commercial-free content, including fan favorites Mad Men, Halt & Catch Fire, Turn: Washington's Spies, Hell on Wheels, NOS4A2, Rectify, Orphan Black, Portlandia, and series from The Walking Dead Universe, among many others. The service also offers a growing slate of original and exclusive series including Ragdoll, Kin, Gangs of London, The North Water, The Beast Must Die, Too Close, The Salisbury Poisonings, Spy City, Ultra City Smiths, Anna, and Firebite. AMC+ recently launched in Canada and Australia, and is available in the U.S. through AMCPlus.com, the AMC+ app, and a number of digital and cable partners.
About Altitude
Altitude Media Group is the independent UK based studio led by Will Clarke chairman and joint-CEO with Andy Mayson, comprising of Altitude Film Production, Altitude Film Sales with Managing Director Mike Runagall, Altitude Film Distribution with Managing Director Lia Devlin and Altitude Factual with Managing Director Paul Sowerbutts.  In February 2020 US based investment group 30WEST took a significant minority stake in the group.
Altitude Film Production's first film was Samuel L Jackson's elevated action adventure Big Game. The Altitude team then co-produced Kevin Macdonald's Cannes title Whitney and Jeremy Dyson & Andy Nyman's Ghost Stories.  Turning their focus to family audiences, Altitude secured rights to much-loved franchise Horrible Histories and brought Horrible Histories: The Movie – Rotten Romans to cinemas in the summer of 2019.  Altitude's current developments include Fred Astaire coming of age movie The Astaires and true-life World War II manhunt thriller The Kommandant of Auschwitz and in October 2019 Altitude established a production partnership with LA-based outfit Soluble Fish Productions.
About ITV Studios
ITV Studios is a creator, producer and distributor of world-leading programmes that people can't get enough of. We connect millions of people every day and shape and reflect the world they live in, we are More Than TV.
ITV Studios is home to some of the best creative minds, crafting over 8,400 hours of original programming across 60 production labels. Our global footprint spans 13 countries including the UK, US, Australia, France, Germany, The Nordics, Italy and the Netherlands and our global distribution business sells our catalogue of 46,000+ hours to broadcasters and platforms around the world.
ITV Studios is part of ITV PLC, which includes the UK's largest commercial broadcaster.
ITV Studios proudly represents iconic scripted and non-scripted programming brands from producers within the ITV Studios group as well as selected independents. Titles include ITV's highest rated drama launch since 2006, The Pembrokeshire Murders and Vigil and Line of Duty season six from World Productions; the epic founding of Rome drama Romulus from Cattleya, the second most-watched French drama Balthazar from Beaubourg Stories and Sky's most rapidly binged returning comedy Brassic from Calamity Films. In the non-scripted space, as well as the globally renowned entertainment brands such as Love Island, The Voice and The Graham Norton Show, ITV Studios also boasts a portfolio of high-quality factual content such as Attenborough's Journey from Atlantic Productions, Trump's America from the two-time Emmy® award-winner Deeyah Khan and Fuuse Films, Arctic Ice Railroad from Windfall Films and the up-coming major natural history series A Year on Planet Earth from Plimsoll Productions.