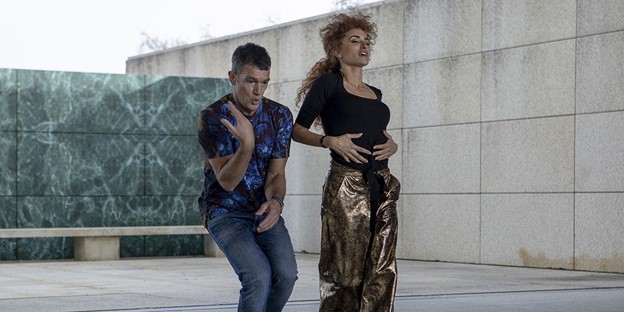 NEW YORK, NY (October 21, 2021) – IFC Films has acquired U.S. rights to OFFICIAL COMPETITION, directed by Mariano Cohn, Gastón Duprat, and written by Cohn and Duprat with Andrés Duprat. The film had its world premiere at the 2021 Venice Film Festival in competition, where it earned glowing reviews and brought Penélope Cruz and Antonio Banderas together as headliners for the first time alongside Oscar Martínez and José Luis Gómez to round out the cast. OFFICIAL COMPETITION was produced by The Mediapro Studio's Jaume Roures, with executive producers Javier Méndez, Laura Fernández Espeso, and Javier Pons. IFC Films will release the film in 2022.
In OFFICIAL COMPETITION, an octogenarian millionaire pharmaceutical tycoon (José Luis Gómez) decides to finance a great work of cinema after having surveyed his legacy and finding it lacking in prestige. He purchases the rights to a Nobel Prize–winning novel about sibling rivalry and entrusts the property to enigmatic auteur Lola Cuevas (Penélope Cruz). A visionary conceptualist with a penchant for offscreen theatrics and micromanagement, Lola casts as her embattled co-leads a pair of veteran thespians who couldn't be less alike: Iván Torres (Oscar Martínez) is a revered educator and legend of the stage much concerned with ethics and artistry, while Félix Rivero (Antonio Banderas) is a glamorous global star known mostly for brainless, bombastic entertainments.
Alternating between exacerbating the actors' mutual antipathy and uniting them in their discomfort with her psychologically tumultuous rehearsal techniques, Lola seeks to capture the drama of two alpha males vying for the limelight — but it won't be long before the gambit goes off the rails.
Critics took notice of Cruz and Banderas, describing their colorful performances as truly "letting loose" and Cruz specifically as "fizzy, frenzied, physically elastic inventiveness". In a review for The Playlist, the headline describes OFFICIAL COMPETITION as "a crowd-pleasing comedy that skewers film-world pretensions", with critic Sophie Monks Kaufman further explaining, "it is a credit to Cohn and Duprat's skillful direction that the uniformly excellent cast is on message regarding the precise nature of this comedy. It is calibrated to be deadpan but not sardonic, and ridiculous without being farcical."
Arianna Bocco, President of IFC Films said, "Penelope Cruz and Antonio Banderas shine together onscreen in OFFICIAL COMPETITION. Their chemistry is undeniable, and we believe US audiences will be delighted to see them come together in this crowd-pleasing film."
"We hope that the American public will have fun and surprise with this acid comedy and discover a new acting side of Penélope Cruz and Antonio Banderas. Going hand in hand with IFC Films, together with our international distributor Protagonist Pictures, is already a guarantee of success," has said Marta Ezpeleta, Director of The Mediapro Studio Distribution.
Protagonist's CCO George Hamilton said, "A film as special as Official Competition deserves an equally special home, and we can think of no one better than our friends at IFC to share this whip-smart satire with US audiences."
The deal for the film was negotiated by IFC Films' President Arianna Bocco with CAA Media Finance, Protagonist's CCO George Hamilton and COO James Pugh and Manny Nunez on behalf of the filmmakers. Protagonist Pictures represented worldwide sales.
ABOUT IFC FILMS
Established in 2000 and based in New York City, IFC Films is a leading U.S. distributor of independent film. Its unique distribution model makes independent films available to a national audience by releasing them in theaters as well as on cable's Video On Demand (VOD) and digital platforms.
Current releases include Mia Hansen-Løve's critically acclaimed BERGMAN ISLAND and Paul Verhoeven's BENEDETTA. Some of the company's successes over the years have included BOYHOOD, THE DEATH OF STALIN, FRANCES HA, MY BIG FAT GREEK WEDDING, Y TU MAMA TAMBIEN, THE BABADOOK, TOUCHING THE VOID, 4 MONTHS, 3 WEEKS AND 2 DAYS, CHE, SUMMER HOURS, ANTICHRIST, IN THE LOOP, JOAN RIVERS: A PIECE OF WORK, TINY FURNITURE, and CARLOS. IFC Films has worked with established and breakout filmmakers, including Steven Soderbergh, Gus Van Sant, Spike Lee, Richard Linklater, Miranda July, Lars Von Trier, Gaspar Noé, Todd Solondz, Cristian Mungiu, Susanne Bier, Olivier Assayas, Jim McKay, Larry Fessenden, Paul Dano, Gregg Araki, Jacques Rivette, Claude Chabrol, Abdellatif Kechiche, Kore-eda Hirokazu, Abbas Kiarostami, Alfonso Cuaron, Noah Baumbach, Lena Dunham, Ethan Hawke and many more. IFC Films is a sister label to IFC Midnight, and is owned and operated by AMC Networks Inc.