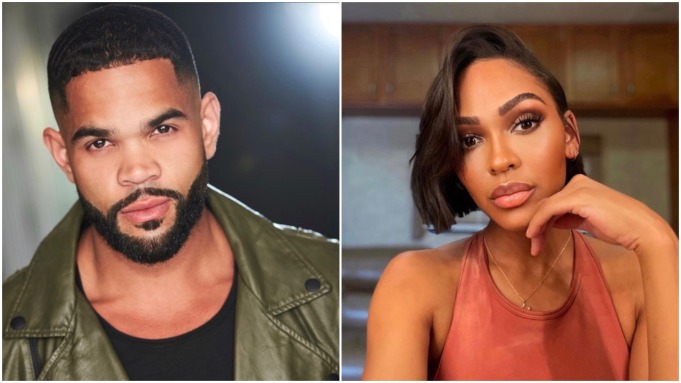 New York, NY (November 08, 2021) – ALLBLK, the popular streaming service for Black TV and film from AMC Networks, continues to push the envelope with an original series premiere-filled year and more still to come. ALLBLK's latest greenlight, À La Carte, is a scripted, dramedy series about the Black millennial dating experience and one girl's journey to the last place she ever thought she would end up…on the side.
Created by publicist, Breanna Hogan, the series follows Mahogany Rose, an overachiever in her 20's who's had high moral standards her entire life…until now. After adopting a more "liberal" approach to sex and dating, she finally lands the man of her dreams, Kaleb. There's just one problem. He's already spoken for. Accustomed to being number one, Mahogany must decide if she will stick to her preference of being the one and only – or step out of her comfort zone and learn to play number two.
Kicking off with a 6-episode order, À La Carte will be directed and executive produced by Dijon Talton and The Talton Company. Meagan Good (The Intruder, Think Like a Man) will also serve as an executive producer on the series, along with Katrina Y. Nelson (ALLBLK's Lace) and Christopher O'Conner – who will produce for Prodigy Arts Entertainment. Angela White will serve as producer. General Manager, Brett Dismuke, and SVP of Development & Production, Nikki Love will serve as executive producers for ALLBLK. Casting is currently underway with production set to begin in mid-November.
"ALLBLK has had an exciting year of premieres, and 2022 is gearing up to be just as exciting, if not more so," said Brett Dismuke, General Manager of ALLBLK & WE tv. "Tales of the dating scene today are ripe for great storytelling, and the plot of À La Carte is a tale that is sure to ignite passionate conversations and fiery debates among friend circles everywhere."
À La Carte director, Dijon Dalton added "We are so excited to have À La Carte as our first production at the newly formed, The Talton Company. À La Carte is full of young, beautiful, bold, and nuanced Black characters who are funny, flawed, and on an intimate journey to figure out their lives. It's the revolutionary act of just existing in Black love and joy for an age group of friends that often goes underserved in Hollywood. We couldn't be prouder and more excited to partner with ALLBLK on bringing this special gem to life!"
About ALLBLK
ALLBLK is an invitation to a world of streaming entertainment that is inclusively, but unapologetically – Black. Featuring a diverse lineup of content that spans across genres and generations, the ALLBLK library includes exclusive original series such as Craig Ross Jr.'s Monogamy, A House Divided, and Double Cross; must-see independent films, nostalgic Black cinema, popular network TV, lively stage plays, and so much more. ALLBLK is available everywhere streaming services are found – iOS, Android, Amazon Prime Video Channels, Apple TV and Apple TV Channels, Roku and Roku Channels, Amazon Fire TV, YouTube TV, Cox, DISH, Sling TV, Charter and more. ALLBLK's content can also be found on Comcast and AT&T outlets under the WEtv+ banner. At www.ALLBLK.tv, ALLBLK offers a free 7-day trial and thereafter is just $4.99/month or $49.99/year. Keep up with ALLBLK on Facebook at Facebook.com/WatchALLBLK and Twitter/Instagram @WatchALLBLK.
About AMC Networks Inc.
AMC Networks is a global entertainment company known for its popular and critically acclaimed content. Its portfolio of brands includes AMC, BBC AMERICA (operated through a joint venture with BBC Studios), IFC, SundanceTV, WE tv, IFC Films, and a number of fast-growing streaming services, including the AMC+ premium streaming bundle, Acorn TV, Shudder, Sundance Now and ALLBLK. AMC Studios, the Company's in-house studio, production and distribution operation, is behind award-winning owned series and franchises, including The Walking Dead, the highest-rated series in cable history. The Company also operates AMC Networks International, its international programming business, and 25/7 Media, its production services business.