Trailer for Dark British Literary Mystery Now Available!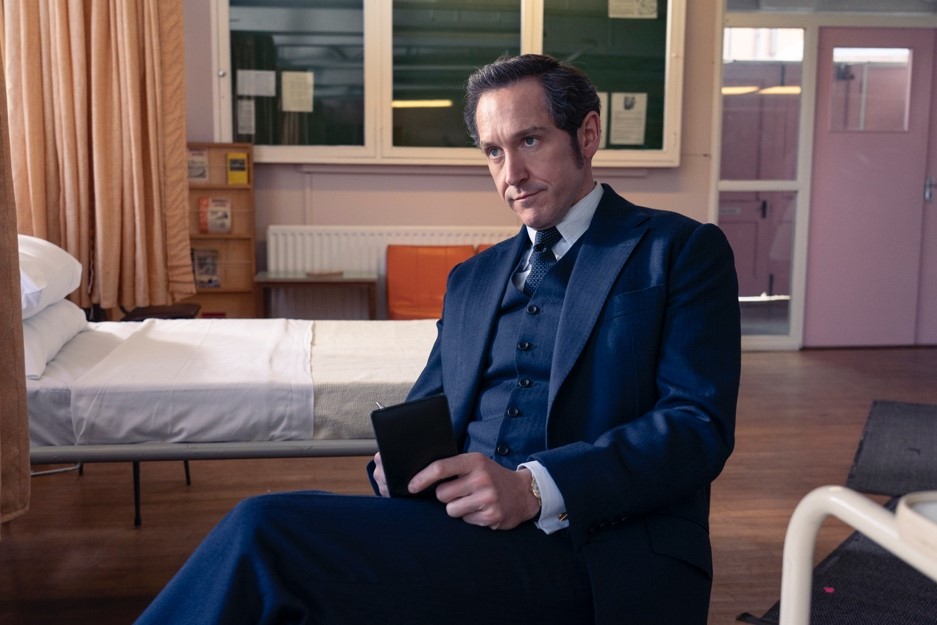 This fall, the newest adaptation of one of Britain's finest literary investigators, Dalgliesh, makes its worldwide premiere on Monday, November 1, 2021, exclusively on Acorn TV, AMC Networks' acclaimed streaming service specializing in British and International television.
Adapted from celebrated author P.D. James' bestselling murder novels Adam Dalgliesh Mystery, this intriguing new crime drama stars Bertie Carvel (Jonathan Strange & Mr Norrell, The Tragedy of Macbeth, Doctor Foster) as the titular, enigmatic detective and poet in three, two-part mysteries – each featuring its own unique setting and extraordinary cast.
Akin to other distinguished detectives, like Holmes and Poirot, Adam Dalgliesh takes us through 1970's England as he solves unusual murders ranging from a nursing student poisoned during a training demonstration, to a homeless man and recently resigned Tory MP whose throats were slashed in a London church to suspicious deaths at a mysterious home for the disabled. The lead writer is award-winning screenwriter and playwright Helen Edmundson (Mary Magdalene, An Inspector Calls, The Suspicions of Mr Whicher).
Guest stars in the series include Jeremy Irvine (War Horse), Natasha Little (War of the Worlds) and Mirren Mack (Sex Education).
Helen Edmundson serves as lead writer on the series and is joined by Stephen Greenhorn (Doctor Who). Lead director Jill Robertson (Trainspotting) is joined by Andy and Ryan Tohill (The Dig), and Lisa Clarke (Sanditon). Producers include Georgie Fallon (Criminal: UK), Martin Mahon (Game of Thrones), and Emily Russell (Murder in Mind). Executive producers for Dalgliesh are Elaine Pyke, Willow Grylls and Charlie Pattinson, for New Pictures.
The series will exclusively premiere on Acorn TV in North America, New Zealand, Australia, Argentina, Chile, Mexico in 2021.
Episodes 101-102 of the Acorn TV Original mystery series Dalgliesh are now available to watch on Screeners.com.
Episode Synopses
Shroud for a Nightingale | Episode One (November 1): DCI Adam Dalgliesh is sent to a nursing school to investigate the death of Heather Pearce, a student poisoned during a demonstration. But as he uncovers the secrets that infect the school, can Dalgliesh identify the killer before they strike again?
Directed by: Jill Robertson
Written and Created for TV by: Helen Edmundson
Produced by: Emily Russell, Martin J. Mahon
Shroud for a Nightingale | Episode Two (November 1): After the death of another student nurse at Nightingale House, Dalgliesh's hunt for the murderer intensifies. A private patient who died at the on-site hospital might hold the answer, but Dalgliesh's curiosity puts his own life in danger…
Directed by: Jill Robertson
Written and Created for TV by: Helen Edmundson
Produced by: Emily Russell, Martin J. Mahon
Forthcoming
The Black Tower | Episode One (November 8)
The Black Tower | Episode Two (November 8)
A Taste for Death | Episode One (November 15)
A Taste for Death | Episode Two (November 15)
If you have any questions or would like to arrange cast or crew interviews, please contact those listed below. We appreciate your support and coverage of Dalgliesh.
About Acorn TV
Called a "glorious streaming service… an essential must-have" (The Hollywood Reporter) and "Netflix for the Anglophile" (NPR), AMC Networks' Acorn TV is North America's largest streaming service specializing in British and international television. Acorn TV adds exclusive new programs every week with a deep library of mysteries, dramas, and comedies with no commercials. In 2021, Acorn TV will feature several commissioned original series including the second season of Miss Fisher spinoff Ms. Fisher's Modern Murder Mysteries, British crime drama Whitstable Pearl, Kiwi romantic comedy Under the Vines and British detective drama Dalgleish starring Bertie Carvel, as well as Irish crime thriller Bloodlands starring James Nesbitt and co-executive produced by Jed Mercurio, the return of New Zealand detective series My Life Is Murder starring Lucy Lawless, popular Canadian period drama Murdoch Mysteries, and a growing catalog of popular bingeable dramas that include A Place to Call Home, Detectorists, Jack Irish and Foyle's War. Recent Acorn TV Original series include Deadwater Fell starring David Tennant, highly-rated BBC One drama The Nest; and groundbreaking BBC One period drama A Suitable Boy from Mira Nair. Acorn TV offers a free 7-day trial and thereafter is just $5.99/month or $59.99/year.
Facebook: OfficialAcornTV – Twitter: @AcornTV – Instagram: @Acorn_tv