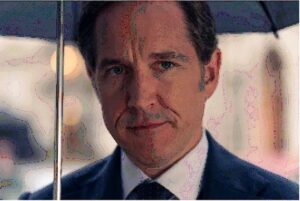 "Immensely seductive performance by Mr. Carvel… " – The Wall Street Journal
"Four stars" – TV Guide
"Welcome to your new British mystery series obsession…" – AARP
"Excellent watch…"– Crime Spree Magazine
NEW YORK – MARCH 27, 2023 – The captivating British detective drama Dalgliesh returns exclusively to Acorn TV in in North America, New Zealand and Australia on Monday, April 24. The second season, consisting of six episodes, is based on three more novels from P.D. James' bestselling murder mystery series, "Adam Dalgliesh Mystery," with Bertie Carvel (The Crown, Jonathan Strange & Mr. Norrell) reprising his role as the enigmatic titular investigator. Season 2 is split into three parts, each two episodes long, with part one "Death of an Expert Witness" premiering on Monday, April 24, part two "A Certain Justice" premiering on Monday, May 1, and part three "The Murder Room" premiering on Monday, May 8.
Akin to other distinguished detectives, like Holmes and Poirot, this season sees DCI Adam Dalgliesh (Carvel) taking us through 1970's England as he solves unusual murders ranging from a senior forensic biologist found dead in his lab, to an illustrious but controversial defense barrister found deceased in her chambers, to a young doctor being set on fire in the grounds of his family museum.
Carlyss Peer (The Crown, Doctors) reprises her role as DS Kate Miskin, with Alistair Brammer (Medieval, Les Misérables) joining this season as DS Daniel Tarrant.
Guest stars this season include (alphabetically): Yaseen Aroussi (Irma Vep), Margaret Clunie (Andor), Michael Culkin (Bridgerton), Sorcha Cusack (Father Brown), Deborah Findlay (The Split), Richard Harrington (Gangs of London), Anastasia Hille (I Hate Suzie), Sam Hoare (Grace), Sylvestra Le Touzel (The Crown), Michael Maloney (The Crown), Dominic Rowan (The Crown), Sara Stewart (State of the Union) and Daisy Waterstone (The Durrells).
Acclaimed screenwriter and playwright Helen Edmundson (Mary Magdalene, An Inspector Calls) serves as lead-writer and is joined by Stewart Harcourt (Agatha Raisin, Maigret) for episodes 3 and 4.  Episodes 1 and 2 are directed by Geoffrey Sax (Victoria, Endeavour), episodes 3 and 4 are directed by Andrew Tohill (The Dig, Insulin) and Ryan Tohill (The Dig, Insulin), and episodes 5 and 6 are directed by Jon Wright (Unwelcome, Brassic). The series is executive produced by Elaine Pyke, Willow Grylls, Emily Russell and Edmundson for New Pictures and Catherine Mackin for Acorn Media Enterprises. Dalgliesh is a New Pictures Production for Acorn TV and Channel 5 in association with All3media International with funding from Northern Ireland Screen.
EPISODE DESCRIPTIONS
Episode 1 – "Death of an Expert Witness, Part 1" – Premieres Monday, April 24 on Acorn TV
When a senior forensic biologist is found dead in his lab, Dalgliesh is called to East Anglia, where the murderer is lying in wait to strike again.
Episode 2 – "Death of an Expert Witness, Part 2" – Premieres Monday, April 24 on Acorn TV
After another body is discovered, Dalgliesh and Miskin untangle a web of infidelities in this rural community, unearthing a killer with secrets to hide and tracks to cover.
Episode 3 – "A Certain Justice, Part 1" – Premieres Monday, May 1 on Acorn TV
When controversial barrister Venetia Aldridge is found dead in her chambers, suspicion falls on her colleagues and her daughter's new fiancé.
Episode 4 – "A Certain Justice, Part 2" – Premieres Monday, May 1 on Acorn TV
Dalgliesh, Miskin and Tarrant uncover a tragic web of association between the victims and witnesses. But time is running out to save Octavia from a terrible fate.
Episode 5 – ""The Murder Room, Part 1" – Premieres Monday, May 8 on Acorn TV
When a young doctor is set on fire in the grounds of his family museum, everyone who works there comes under suspicion, including his own siblings.
Episode 6 – ""The Murder Room, Part 2" – Premieres Monday, May 8 on Acorn TV
After the appalling discovery of a second body, the race is on to find the murderer. Dalgliesh and his team discover a scandalous society at the heart of the museum.
###
About Acorn TV
AMC Networks' Acorn TV is North America's largest streaming service specializing in premium British and international television. Acorn TV adds exclusive programming every week to a deep library of revered mysteries, dramas, and comedies – all commercial-free. Acorn TV's recent slate is comprised of critically acclaimed commissioned and original series including popular New Zealand detective series My Life Is Murder (Lucy Lawless), acclaimed Irish crime thriller Bloodlands (James Nesbitt, co-executive produced by Jed Mercurio), British crime drama Whitstable Pearl (Kerry Godliman), Emmy®-nominated Queens of Mystery, Kiwi romantic comedy Under the Vines and British detective drama Dalgliesh (Bertie Carvel), to name a few. Current and upcoming Acorn TV Original Series include UK detective drama Harry Wild (Jane Seymour), international crime series Cannes Confidential (Lucie Lucas, Jamie Bamber), tasty murder mystery Mrs. Sidhu Investigates (Meera Syal), Signora Volpe (Emilia Fox), The Chelsea Detective (Adrian Scarborough) and many more. The above add to a growing catalog of popular bingeable dramas including Agatha Raisin (Ashley Jensen), A Place to Call Home, Jack Irish (Guy Pearce), Doc Martin (Martin Clunes), Deadwater Fell (David Tennant, Cush Jumbo), all 23 seasons of fan-favorite Midsomer Murders, highly-rated drama The Nest, and groundbreaking period drama A Suitable Boy, among others.
"glorious streaming service… an essential must-have" – The Hollywood Reporter
"Netflix for the Anglophile" – NPR
Acorn TV is available for $6.99/month or $69.99/year. Facebook: OfficialAcornTV – Twitter: @AcornTV – Instagram: @Acorn_tv