New Trailer and Photos for Adapted BBC 4 Radio Series Now Available
BAFTA®-Nominated Meera Syal Stars as High-End Caterer with Taste for Solving Crimes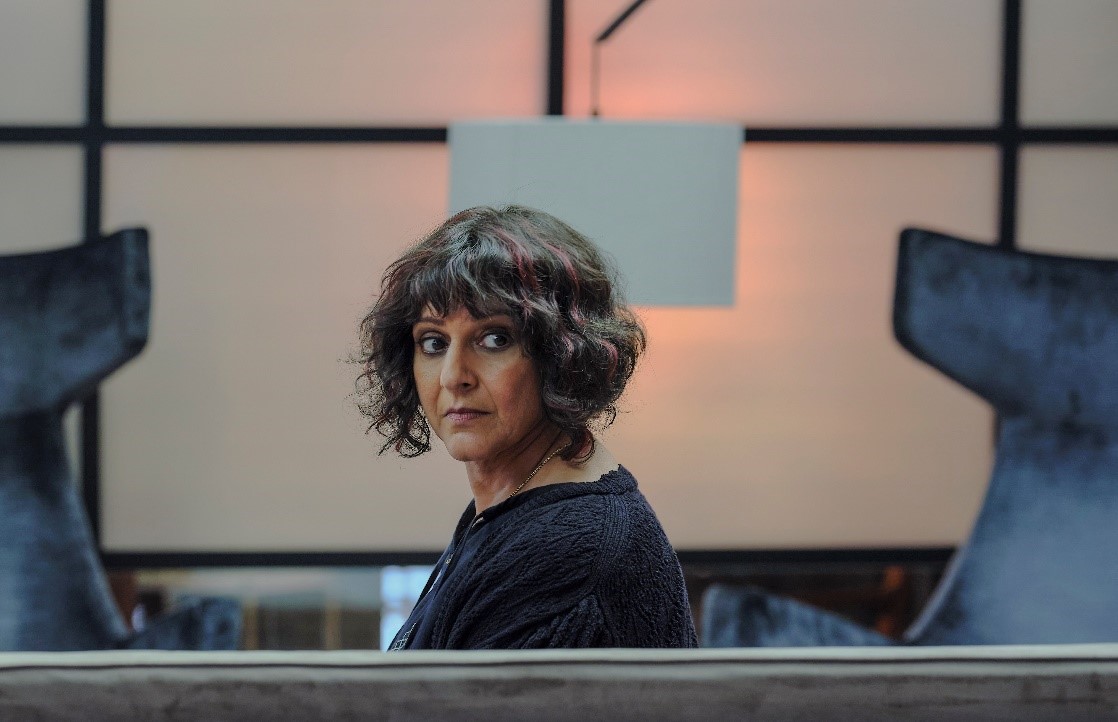 WATCH AND EMBED OFFICAL TRAILER
WATCH FULL SEASON NOW – SCREENERS.COM
NEW YORK, NY – August 15, 2023 – Acorn TV's latest original mystery series, Mrs Sidhu Investigates, will premiere on Monday, September 18, exclusively on Acorn TV, with additional episodes dropping weekly. Based on the popular BBC Radio 4 series of the same name, the four-episode series is created and written by Suk Pannu (The Kumars at No. 42). Meera Syal (The Kumars at No. 42, The Split, The Devil's Hour), who voiced the eponymous Mrs. Sidhu for the radio show, stars as the high-end caterer Mrs. Sidhu. Craig Parkinson (Line of Duty, Grace, Doctor Who) co-stars as the world-weary DCI Burton. Together, they form an unofficial partnership solving crimes in the affluent county of Berkshire.
Mrs. Sidhu (Syal) is a high-end caterer with a taste for crime. Recently widowed, she juggles her new catering business with encouraging her wayward son Tez (Gurjeet Singh, Ackley Bridge) to find his passion, all while serving up justice to those who believe they are above the law. Her forays into sleuthing see her form unofficial partnership with long-suffering divorcee DCI Burton (Parkinson) who reluctantly accepts that together they're an unbeatable crime fighting duo, much to the bemusement of his partner, DS Mint (Naana Agyei-Ampadu, Industry).
Mrs Sidhu Investigates is created and written by Suk Pannu, with Vivienne Harvey (Harlots) also writing two episodes and Meera Syal providing additional material. The series is directed by Steve Barron (The Durrells) and Ben Kellett (Death in Paradise). Jane Wallbank (Traces) serves as producer. Executive producers include Catherine Mackin and Bea Tammer for Acorn Media Enterprises; Jane Wallbank, Alison Owen, Debra Hayward and Alison Carpenter for Monumental Television; Gordon Kennedy for Absolutely Productions and Steve Barron. Meera Syal and Suk Pannu are also executive producers.
EPISODE DESCRIPTIONS
Episode 1 – Premieres Monday, September 18 on Acorn TV
Mrs. Sidhu's first day catering for Sharpetone, a high-end health club, takes a turn of the unexpected when two bodies are found dead in the spa. Despite her knack for solving mysteries, Mrs. Sidhu tries her best to stay out of it. But when her niece, Rani, becomes the police's number one suspect, Mrs. Sidhu takes it upon herself to start her own investigation and prove them wrong. This brings her into conflict with the Chief Detective on the case, Inspector Burton, who has no patience for her theories. Her investigation leads to uncovering business secrets, feuds between colleagues, and well-hidden love affairs.
Episode 2 – Premieres Monday, September 25 on Acorn TV
Mrs. Sidhu's knack for crime solving is put to the test again when she and Tez cater for the convention of hit fantasy TV show, Swordmaster, written and created by the Melville family. But when life imitates art and one of the lead cast is found dead in the woods, killed the same way another character was murdered in the show's previous seasons, things go from fantasy to reality very quickly. When Mrs. Sidhu is asked to stay on and cook for the Melville's while they grieve, she can't help but find suspicious clues. Much to his dismay, Mrs. Sidhu is reunited with Chief Inspector Burton. His theories of who the killer is don't match up with hers, and his reluctance to hear her out leaves her no choice but to start her own investigation and prove him wrong.
Episode 3 – Premieres Monday, October 2 on Acorn TV
Mrs. Sidhu is asked to be an in-house caterer for a software company called Appenda, located in Berkshire's renowned technology hub. But the company's sterling reputation is threatened, and Mrs. Sidhu's interest piqued, when Appenda's CEO is found dead, strangled at his desk the night he signed a deal to sell the company. Mrs. Sidhu has Chief Inspector Burton's ear on the case, and together they work to crack it, determined to catch the murderer before they make their next kill. Meanwhile, Tez gets himself into trouble with a young entrepreneur.
Episode 4 – Premieres Monday, October 9 on Acorn TV
Boxing fanatic Tez is thrilled about Mrs. Sidhu's latest catering gig at a major boxing championship match, located in the garden of a luxe Berkshire manor. But when an up-and-coming boxer is kidnapped and held at ransom, Mrs. Sidhu finds herself once again at the heart of an investigation. Cracks begin to show in the boxer's team as the pressure builds to find the money to free him and bring him home. With Burton involved in a life-threatening accident, Mrs. Sidhu enlists Mint's help to find the kidnappers, and rescue the boxer from his impending death.
NOTE TO EDITORS
If you have any questions or would like to arrange cast or crew interviews, please contact those listed below. We appreciate your support and coverage of Mrs Sidhu Investigates.
About Acorn TV
AMC Networks' Acorn TV is North America's largest streaming service specializing in premium British and international television. Acorn TV adds exclusive programming every week to a deep library of revered mysteries, dramas, and comedies – all commercial-free. Acorn TV's recent slate is comprised of critically acclaimed commissioned and original series including popular New Zealand detective series My Life Is Murder (Lucy Lawless), acclaimed Irish crime thriller Bloodlands (James Nesbitt, co-executive produced by Jed Mercurio), British crime drama Whitstable Pearl (Kerry Godliman), Emmy®-nominated Queens of Mystery, Kiwi romantic comedy Under the Vines and British detective drama Dalgliesh (Bertie Carvel), to name a few. Current and upcoming Acorn TV Original Series include UK detective drama Harry Wild (Jane Seymour), international crime series Cannes Confidential (Lucie Lucas, Jamie Bamber), tasty murder mystery Mrs. Sidhu Investigates (Meera Syal), Signora Volpe (Emilia Fox), The Chelsea Detective (Adrian Scarborough) and many more. The above add to a growing catalog of popular bingeable dramas including Agatha Raisin (Ashley Jensen), Jack Irish (Guy Pearce), Doc Martin (Martin Clunes), Deadwater Fell (David Tennant, Cush Jumbo), all 23 seasons of fan-favorite Midsomer Murders and highly-rated drama The Nest, among others.
"glorious streaming service… an essential must-have" – The Hollywood Reporter
"Netflix for the Anglophile" – NPR
Acorn TV is available for $6.99/month or $69.99/year. Facebook: OfficialAcornTV – Twitter: @AcornTV – Instagram: @Acorn_tv