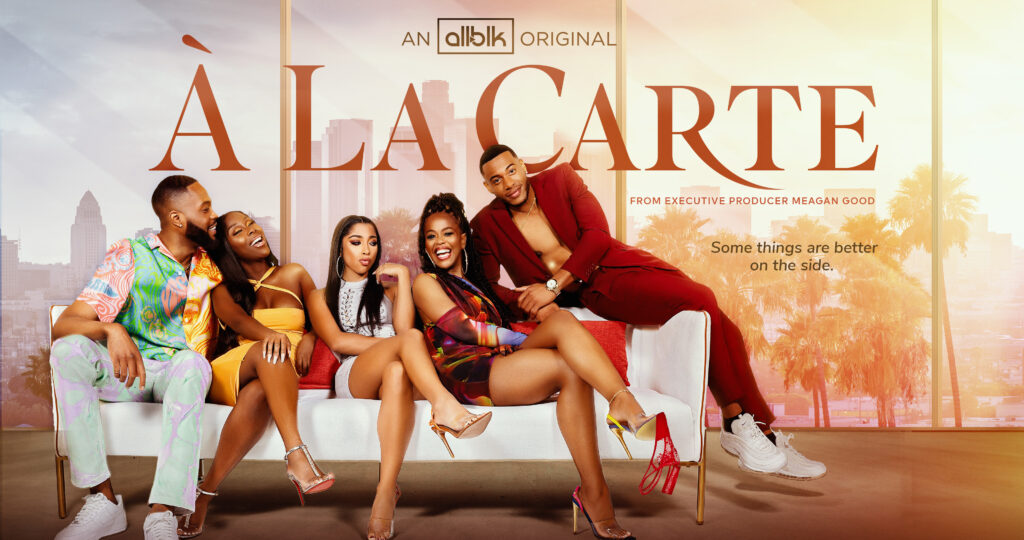 VIEW TRAILER HERE
Download Key Art and Trailer HERE
New York, NY – April 19, 2022 – Today, ALLBLK, the popular streaming service for Black TV and film from AMC Networks, released the trailer for the new millennial dating dramedy, À La Carte. The 6-episode scripted series premiering Thursday, May 12, 2022 from Breanna Hogan and executive producers, Meagan Good (Harlem) and Dijon Talton (Glee), centers on the Black millennial dating experience and one girl's journey to the place she never thought she'd end up – on the side.
À La Carte follows Mahogany Rose (Pauline Dyer, A Stone Cold Christmas), a gorgeous, young go-getter and overachiever who has had high moral standards her entire life. Mahogany has always had somewhat of a whimsical idea of how her love life would turn out. But when she meets Kaleb Myles (Courtney Burrell, Tyler Perry's Too Close to Home), a charming and charismatic man who checks off nearly all her boxes, she's forced to reconsider her typical standards as she discovers that he falls short of a critical characteristic on her list – being single. With the help of her friends, Misha Taylor (Jessie Woo, Wild 'N Out), a teacher who works hard and plays even harder; Reign Moore (Kendall Kyndall, Social Society, Games People Play), a recently cut off trust-funder forced to find alternative revenue to pay the bills and Shyra Clemons (Jenna Nolen), a grad student who believes she has found the perfect man; Mahogany must decide if she will stick to her preference of being the one and only – or step out of her comfort zone and learn to play number two.
Additional cast includes Kandi Burruss (Real Housewives of Atlanta, The Chi), Robinne Lee (Being Mary Jane, Fifty Shades of Grey films), Grammy-nominated singer Kelly Price, Dorien Wilson (The Parkers), Nazanin Mandi (Twenties), Daniel Augustin (How I Met Your Father), Mike Merrill (All American), Juan Gil (A Second Thought), and Xavier Avila (Pretty Dudes).
À La Carte is directed and executive produced by Dijon Talton and The Talton Company. Breanna Hogan and Meagan Good serve as executive producers on the series; as well as Katrina Y. Nelson (ALLBLK's Lace) for The Talton Company and Christopher O'Conner in association with Prodigi Arts Entertainment. Angela White serves as producer. General Manager, Brett Dismuke, and SVP of Development & Production, Nikki Love serve as executive producers for ALLBLK.
About ALLBLK
ALLBLK is an invitation to a world of streaming entertainment that is inclusively, but unapologetically – Black. Featuring a diverse lineup of content that spans across genres and generations, the ALLBLK library includes exclusive original series such as A House Divided and Double Cross; must-see independent films, nostalgic Black cinema, popular WE tv originals, lively stage plays, and so much more. ALLBLK is available everywhere streaming services are found – iOS, Android, Amazon Prime Video Channels, Apple TV and Apple TV Channels, Roku and Roku Channels, Amazon Fire TV, YouTube TV, Cox, DISH, Sling TV, Charter and more. At www.ALLBLK.tv, ALLBLK offers a free 7-day trial and thereafter is just $5.99/month or $59.99/year. Keep up with ALLBLK on Facebook at Facebook.com/WatchALLBLK and Twitter/Instagram @WatchALLBLK.
About AMC Networks
AMC Networks is a global entertainment company known for its popular and critically-acclaimed content. Its portfolio of brands includes AMC, BBC AMERICA (operated through a joint venture with BBC Studios), IFC, SundanceTV, WE tv, IFC Films, and a number of fast-growing streaming services, including the AMC+ premium streaming bundle, Acorn TV, Shudder, Sundance Now and ALLBLK (formerly branded "UMC"). AMC Studios, the Company's in-house studio, production and distribution operation, is behind award-winning owned series and franchises, including The Walking Dead, the highest-rated series in cable history. The Company also operates AMC Networks International, its international programming business, and Levity Entertainment Group, its production services and comedy venues business.
About The Talton Company
"The Talton Company" is a Multi-Media Studio/Production Company based in Los Angeles, CA. Focused on amplifying the voices of marginalized communities. Determined to give a nuanced/non-judgmental voice to the often unseen and underserved.  Founder, Director/Actor Dijon Talton was inspired to launch "The Talton Company" after seeing endless stories filled with only stereotypes about Black and Brown communities.  "The Talton Company" wishes to usher in a new conversation and dialogue about what it means to live outside what society deems "normal" through both art and activism.