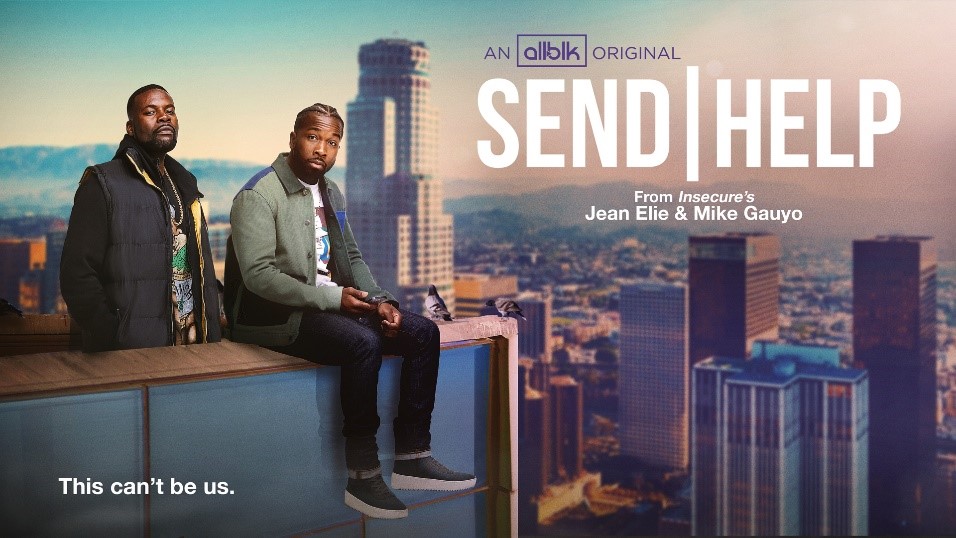 DOWNLOAD KEY ART AND IMAGES HERE
VIEW TRAILER HERE
New York, NY (June 30, 2022) – ALLBLK, the popular streaming service for Black television and film from AMC Networks, announced today, Send Help, the coming-of-age dark comedy series from actor, Jean Elie (Insecure, Colin in Black & White), and writer, Mike Gauyo (Insecure, Ginny & Georgia) is set to premiere Thursday, August 11.
This half-hour dramedy follows Fritz Jean-Baptiste(Jean Elie), a first-generation Haitian American actor who is on top of the world, since landing a starring role on fictional hit TV show, This Can't Be Us…all while being the sole support system for his incredibly demanding Haitian family, reeling from a recent tragedy. Fritz is firing on all cylinders, until he receives a fateful call delivering the news of his shows' cancellation. As Fritz struggles to conquer his feelings of imposter syndrome, the Hollywood community, and high maintenance family, he leans on his closest friends and confidantes…Patrick Cantave (Catfish Jean, Survivor's Remorse), Nicole Cooper(Courtney Taylor, Insecure) and Sebastian "Simp" Gauyo (Amin Joseph, Snowfall), whose presence serves as a guide for Fritz, helping him navigate the difficult and often comical scenarios in his life. Now unemployed, will Fritz be able to keep his family afloat, while struggling to overcome the challenges of, once again, "making it" in Hollywood?
Additional cast includes Karina Bonnefil (Snowfall, David Makes Mann), Karen Obilom (Games People Play, upcoming House Party reboot) and Kimiko Singer (Emily the Criminal), and a fresh new face, Ana Bowen.
"I am extremely excited to finally share this series with the world, as it's been a labor of love for the last several years. As a first generation Haitian American, I was honored to bring this, first of its kind, Haitian American story to the big screen," stated lead actor and co-creator Jean Elie. "I'm so grateful to the community of dedicated creators that are bringing Send Help to life. From the writer's room, to the incredible cast, to everyone behind the scenes – we can't wait to bring you along Fritz's journey to figuring out how to get out of his own way."
"The magic of telling diverse, nuanced, stories like Send Help is that it can be a very culturally specific show, while also touching on universal themes that everyone can relate to," added writer and co-creator, Mike Gauyo. "Jean and I are extremely proud of the show and the team that came together to create it…can't wait for folks to watch."
Jean Elie serves as executive producer through his Bassett House Pictures production arm. Mike Gauyo, serves as executive producer through his Black Boy Writes Media production arm. Matt Hoklotubbe, Michael J. McGarry and Francesca Smith serve as producers in association with Whistle Studios.  And General Manager, Brett Dismuke and SVP of Development & Production, Nikki Love, serve as executive producers for ALLBLK.
Elie is represented by Zack Waxenberg at 3 Arts Entertainment and Adam Cooper at Jackoway Austen et al. Gauyo is represented by Brad Rosenfeld and Karen Kirkland at Culture Creative, Lauren Dineley and Michel Classenn at Writ Large, and Marcy Clearly at Frankfurt Jurnit Klein & Selz PC.
***SCREENERS AVAILABLE UPON REQUEST***
About ALLBLK
ALLBLK is an invitation to a world of streaming entertainment that is inclusively, but unapologetically – Black. Featuring a diverse lineup of content that spans across genres and generations, the ALLBLK library includes exclusive original series such as A House Divided and Double Cross; must-see independent films, nostalgic Black cinema, popular WE tv originals, lively stage plays, and so much more. ALLBLK is available everywhere streaming services are found – iOS, Android, Amazon Prime Video Channels, Apple TV and Apple TV Channels, Roku and Roku Channels, Amazon Fire TV, YouTube TV, Cox, DISH, Sling TV, Charter and more. At www.ALLBLK.tv, ALLBLK offers a free 7-day trial and thereafter is just $5.99/month or $59.99/year. Keep up with ALLBLK on Facebook at Facebook.com/WatchALLBLK and Twitter/Instagram @WatchALLBLK.
About AMC Networks
AMC Networks is a global entertainment company known for its popular and critically acclaimed content. Its portfolio of brands includes AMC, BBC AMERICA (operated through a joint venture with BBC Studios), IFC, SundanceTV, WE tv, IFC Films, and a number of fast-growing streaming services, including the AMC+ premium streaming bundle, Acorn TV, Shudder, Sundance Now and ALLBLK (formerly branded "UMC"). AMC Studios, the Company's in-house studio, production, and distribution operation, is behind award-winning owned series and franchises, including The Walking Dead, the highest-rated series in cable history. The Company also operates AMC Networks International, its international programming business, and Levity Entertainment Group, its production services and comedy venues business.
About Bassett House Pictures
Founded in 2019 by 'Insecure' alum Jean Elie, Bassett House Pictures (BHP) is an entertainment studio that aims to build a robust community of emerging content creators and provide a platform that will highlight meaningful storytelling focused on underrepresented groups. Bassett House Pictures provides micro to mid-level budget projects with professional development, production, and distribution services to support stories from and about marginalized cultures. By producing and distributing their own premium content, the studio serves as a steppingstone for filmmakers to create their own seat at the table. For more information, please visit:www.bassetthousepic.com
About Black Boy Writes Media
Established in 2021 by 'Insecure' alum writer, Mike Gauyo, Black Boy Writes Media (BBWM) is a production company dedicated to elevating marginalized voices in Hollywood and across the entertainment industry. Black Boy Writes Media creates unique, entertaining content that inspires, reflects, and possesses the ability to empower audiences from underrepresented communities. Black Boy Writes Media also amplifies the voices of new writers through its Black Boy Writes and Black Girl Writes Mentorship Initiative, which aims to provide Black writers with a sustainable pathway to becoming established writers in entertainment. For more information, please visit: www.blackboywrites.com.
About Whistle Studios 
Whistle Studios is an Emmy winning, globally distributed, production company built from a foundation of companies that includes Whistle, New Form, Tiny Horse, and Vertical Networks. Whistle Studios tells unforgettable stories and produces the highest quality original series in a variety of formats including scripted, unscripted and interactive. For scripted projects, they produced "The Wolf of Snow Hollow" in conjunction with Orion pictures written, directed and starring Jim Cummings (Thunder Road, Beta Test) and Robert Forrester (Jackie Brown, Breaking Bad.) Additionally, they produced "Don't Look Deeper" for Quibi, written by Jeffrey Lieber (Lost) and Charlie McDonnell, directed by Catherine Hardwicke (Twilight, Thirteen, Lords of Dogtown), and starring Don Cheadle, Emily Mortimer, Helena Howard. The studio has produced adult animated space opera "Final Space" by Olan Rogers originally for TBS, 'Single By 30" from Wong Fu for YouTube Red, and musical comedy "I Ship It" from Yulin Kuang on on the CW.