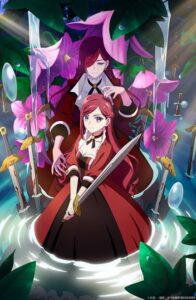 NEW YORK, NY, March 2, 2023 — AMC Networks today announced a major anime partnership and distribution agreement between its subsidiary Sentai Filmworks (Sentai) and Japan's Mainichi Broadcasting System (MBS) that provides exclusive rights for AMC Networks' anime-focused HIDIVE streaming service to distribute part of MBS's future programming line-up in all global markets outside of Asia. The output deal represents Sentai's largest ever agreement for anime content and encompasses MBS' slate based on a collection of wildly popular manga and light novel titles. All of the shows will be simulcast exclusively on HIDIVE, which is available via paid subscription or through a premium subscription on Amazon Prime and now The Roku Channel as well.
To celebrate today's news, Sentai and MBS revealed for the first time ever that The Most Heretical Last Boss Queen: from Villainess to Savior will be part of the programming line-up. The new show is a 12-episode series based on the hit fantasy light novel by Tenichi and published by Ichijinsha Inc. Awards received include the Comic Cmoa E-Comic Award 2022 and the 1st Iris NEO Fantasy Award. Scheduled to premiere July 2023, The Most Heretical Last Boss Queen: from Villainess to Savior will be directed by Norio Nitta and written by Deko Akao with animation by OLM, Inc.. MBS' slate of shows also includes the Winter 2023 simulcast series Endo and Kobayashi Live! The Latest on Tsundere Villainess Lieselotte which HIDIVE announced at Anime NYC last November. The remaining titles will be announced in the future.
"This is a truly historic agreement for HIDIVE and is the culmination of our partnership with MBS," said John Ledford, President of Sentai Filmworks and HIDIVE. "This output deal cements Sentai's position as one of the world's most established and leading suppliers of popular and high-quality anime content. But not only that, The Most Heretical Last Boss Queen: from Villainess to Savior and the other series will significantly elevate HIDIVE's reputation with fans as not only the new go-to anime streaming platform but also as the pipeline to some of Japan's most highly anticipated titles."
"MBS has been continuously producing and broadcasting animated TV series for over half a century," said Shinji Nakano, Director of Mainichi Broadcasting System, Inc. "In recent years, anime has become a solid representative of Japanese culture and has gained fans all over the world. We are pleased to partner with Sentai Filmworks, HIDIVE, and AMC Networks, a group that plays a huge part in this effort to further expand anime culture. We are accelerating our commitment to bringing anime to people around the world, without ever stopping our journey."
Recognized as a pioneer of the Japanese TV industry, MBS has been co-producing and broadcasting anime for over half a century. As such, MBS has been the TV home to numerous global hit franchises like Attack on Titan, Full Metal Alchemist and Jujutsu Kaisen. In addition to co-producing these three and many other series, MBS was a co-producer of Akira, one of the most influential anime films of all time.
ABOUT AMC NETWORKS
AMC Networks (Nasdaq: AMCX) is a global entertainment company known for its popular and critically acclaimed content. Its brands include targeted streaming services AMC+, Acorn TV, Shudder, Sundance Now, ALLBLK, and the newest addition to its targeted streaming portfolio, the anime-focused HIDIVE streaming service, in addition to AMC, BBC AMERICA (operated through a joint venture with BBC Studios), IFC, SundanceTV, WE tv and IFC Films. AMC Studios, the Company's in-house studio, production and distribution operation, is behind some of the biggest titles and brands known to a global audience, including The Walking Dead, the Anne Rice catalog and the Agatha Christie library.  The Company also operates AMC Networks International, its international programming business, and 25/7 Media, its production services business.
ABOUT SENTAI FILMWORKS
Sentai Filmworks, a wholly owned subsidiary of AMC Networks, is a leading supplier of globally popular Japanese anime and live-action entertainment to North America, Latin America and other international markets outside Asia. Since 2008, Sentai Filmworks has produced, acquired, localized and distributed the best in Japanese content, which now encompasses an ever-expanding library of licensed movies and TV series offering thousands and thousands of hours of entertainment. From streaming and theatrical releases to home entertainment and licensed merchandise, Sentai Filmworks brings the universe of unique characters and captivating stories from Japanese pop-culture to fans around the world.
ABOUT HIDIVE
HIDIVE, the newest addition to AMC Network's portfolio of targeted streaming services, offers the best in anime and live-action entertainment to both die-hard otaku and burgeoning fans of Japanese pop-culture. In addition to its extensive library of movies and episodic series, each season HIDIVE brings a new selection of the latest titles from Japan in both simulcast and exclusive DUBCAST™ editions – all of which can be viewed on a wide array of platforms including web browsers, smartphones, TVs, streaming devices, and gaming consoles. For more information on HIDIVE or to sign-up for a free 7-day trial, visit hidive.com.
###