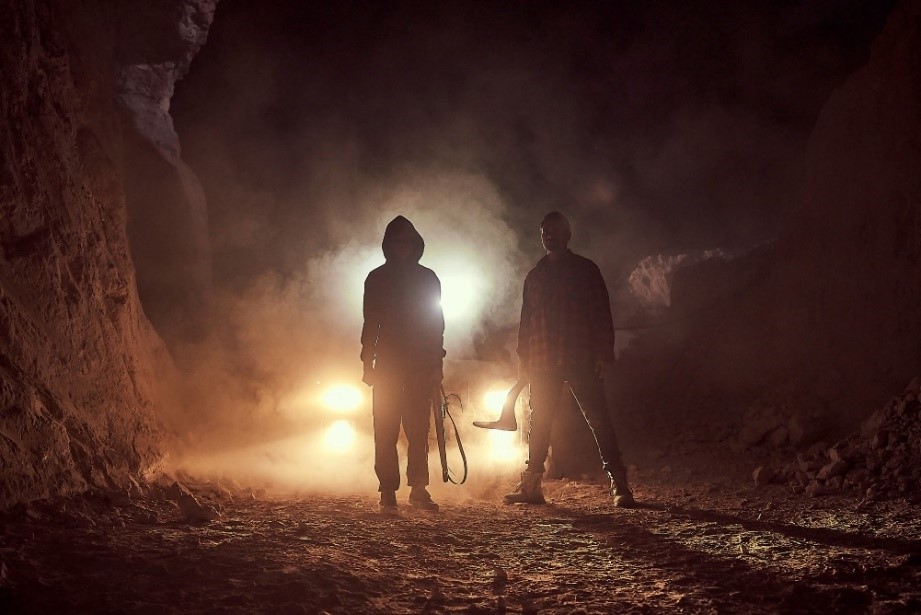 NEW YORK – November 4, 2021 – AMC+ released today first-look images from its highly original vampire fantasy series Firebite, which is set to premiere Thursday, December 16 on the premium streaming bundle. The eight-episode series, rolling out with new episodes every Thursday, stars Yael Stone (Orange is the New Black), Rob Collins (Cleverman, Extraction), Callan Mulvey (Avengers: End Game) and Indigenous Australian star Shantae Barnes-Cowan. An AMC Studios original production with See-Saw Films, Firebite takes a new spin on the vampire genre, following two Indigenous Australian hunters, Tyson (Collins) and Shanika (Barnes-Cowan), on their quest to battle the last colony of vampires in the middle of the South Australian desert.
Created, directed and written by Australia's most celebrated Indigenous auteur voice, Warwick Thornton (Samson and Delilah, Sweet Country) alongside Brendan Fletcher (Mad Bastards), with Tony Krawitz (The Tall Man, Dead Europe) joining as director, Firebite is set in a remote desert mining town, a hive for the last vampire stronghold shipped from Britain to Australia in 1788 by the colonial superpower to eradicate the Indigenous populations. Sheltering from the sun in the underground mines and tunnels that surround the town until the present day, the colony's numbers and hunger is growing. War is coming. Tyson and Shanika stand vanguard to the war. But what hope does an expertly reckless man full of bravado and a 17-year-old orphan possibly have to defeat these vicious blood-thirsty parasites, when legions of warriors before them have failed?
Kristin Jones is overseeing the series for AMC Networks. Executive producers for See-Saw Films are Emile Sherman and Iain Canning, alongside Rachel Gardner, Thornton and Fletcher. See-Saw's Simon Gillis and Kodie Bedford serve as co-executive producers with Kodie Bedford as script producer, Libby Sharpe as co-producer and Billy Bowring as associate producer. Paul Ranford (Stateless, True History of the Kelly Gang) produces the series alongside Indigenous filmmaker Dena Curtis (Elements, Grace Beside Me), who is co-producing.
AMC Studios Content Distribution is managing worldwide sales.
About AMC+:
AMC+ is the company's new premium streaming bundle featuring an extensive lineup of popular and critically acclaimed original programming from AMC, BBC America, IFC, and SundanceTV and full access to targeted streaming services Shudder, Sundance Now and IFC Films Unlimited, which feature content such as A Discovery of Witches, Creepshow, Riviera and Boyhood. The service features a continually refreshed library of commercial-free content, including fan favorites Mad Men, Rectify, Orphan Black, Portlandia, Hell on Wheels, NOS4A2 and series from The Walking Dead Universe, among many others. The service also offers a growing slate of original and exclusive series including Gangs of London, The North Water, Kin, The Beast Must Die, Too Close, The Salisbury Poisonings, Cold Courage, Spy City, Ultra City Smiths, and forthcoming drama Ragdoll. AMC+ recently launched in Canada on Apple TV Channels and Amazon Prime Video Channels and is currently available in the U.S. through AMCPlus.com, the AMC+ app, and a number of digital and cable partners.
About See-Saw Films
See-Saw Films is a world leading film and television production house, founded in 2008 by Academy Award®, BAFTA and Emmy winning producers Iain Canning and Emile Sherman, with offices in London and Sydney.
See-Saw's first television series was the multi-award winning first season of Jane Campion's 'Top of the Lake'. Campion returned with 'Top of The Lake: China Girl' starring Elisabeth Moss, Nicole Kidman and Gwendoline Christie which premiered at the 2017 Cannes Film Festival and was nominated for a Golden Globe.  'State of the Union', written by Nick Hornby, directed by Stephen Frears and starring Rosamund Pike and Chris O'Dowd had its world premiere at the Sundance Film Festival 2019 and won three Emmy Awards. Recent projects include Samantha Strauss' 'The End' for Foxtel, Sky Atlantic and Showtime, starring Harriet Walter and Frances O'Connor. Upcoming projects include 'The North Water' for BBC Two written and directed by Andrew Haigh, starring Colin Farrell, Jack O'Connell and Stephen Graham; 'Slow Horses' for Apple TV+, starring Gary Oldman; a second season of 'State of the Union' written by Nick Hornby, directed by Stephen Frears and starring Brendan Gleeson, Patricia Clarkson and Esco Jouléy; 'The Essex Serpent' for Apple TV+ to be directed by Clio Barnard, starring Claire Danes and Tom Hiddleston; and 'Heartstopper' for Netflix, to be directed by Euros Lyn.
See-Saw produced the six-time Academy Award® nominated Lion, starring Dev Patel, Nicole Kidman and Rooney Mara, as well as The King's Speech, which was nominated for twelve and won four Academy Awards® in 2011 including Best Motion Picture. Recent projects include Widows directed by Steve McQueen and starring Viola Davis and Ammonite, written and directed by Francis Lee, starring Kate Winslet and Saoirse Ronan. Upcoming film projects include Operation Mincemeat, directed by John Madden and starring Colin Firth, Matthew Macfadyen and Kelly Macdonald; The Unknown Man starring Joel Edgerton and Sean Harris; and The Power Of The Dog, written and directed by Jane Campion, starring Benedict Cumberbatch, Kirsten Dunst and Jesse Plemons.