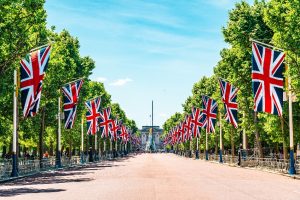 NEW YORK – May 3, 2023 – Today, BBC AMERICA announced that it will broadcast The Coronation of Their Majesties King Charles III and Queen Camilla LIVE from 6:00am ET to 10:00am ET on Saturday, May 6. A 90-minute highlight package titled The Coronation: A Day To Remember will be available to view on AMC+ on Friday, May 12. In addition, BBC AMERICA will air the documentary Charles R: The Making Of A Monarch on Friday, May 5 at 9:35am ET, which will be available on AMC+ on Thursday, June 1.
His Majesty King Charles III will be crowned alongside The Queen Consort in a historic Coronation at Westminster Abbey, the first to take place in nearly 70-years. They will arrive at the Abbey in procession from Buckingham Palace known as 'The King's Procession.'
Watched by millions around the world, the Service will be attended by International Royal families, British Dignitaries, and global Heads of State. Conducted by The Archbishop of Canterbury, the new Sovereign will take an oath in a ceremony which is over a thousand years old and rooted in longstanding traditions and pageantry. It will also reflect the monarch's role today and look towards the future of the country.
After the Service, the newly crowned King and Queen Consort will return to Buckingham Palace in a larger ceremonial procession, known as 'The Coronation Procession,' in which they will be joined by other Members of the Royal Family. At Buckingham Palace, The King and Queen Consort will appear on the balcony with key members of the Royal Family to conclude the day's ceremonial events as the country celebrates this momentous occasion.
The documentary Charles R: The Making Of A Monarch, airing on BBCA on Friday, May 5 at 9:35am ET and available on AMC+ on Thursday, June 1, tells the story of how a Prince became a King. It's an intimate portrait of HM King Charles told in his own words from across the decades and featuring rare and unseen archive, to shed light on the new monarch. Click here to download photos from the documentary.
###
About BBC AMERICA
BBC AMERICA is a hub of innovative, culturally contagious programming including the Peabody Award-winning series Killing Eve starring Golden Globe® and SAG® Award-winner Sandra Oh and Emmy® Award-winner Jodie Comer. The network is the definitive television home and co-producer of the most iconic natural history series and franchises including Planet Earth, Blue Planet, Dynasties, Eden: Untamed Planet, Frozen Planet and Seven Worlds, One Planet. BBCA transforms every Saturday into Wonderstruck, a weekly destination for wildlife and wonder.  A joint venture between AMC Networks and BBC Studios (the commercial arm of the BBC), BBCA's influential shows such as Doctor Who, Orphan Black, Luther and The Graham Norton Show have attracted critical acclaim and earned Emmy® Awards, Golden Globes®, Peabody Awards, Critics' Choice Awards, NAACP Image Awards, TCA Awards and more. BBC AMERICA is available across all platforms, including on-air, online, on demand and mobile. Find out more by visiting press.amcnetworks.com.  BBCA on social: YouTube – Twitter – Instagram – Facebook – Tumblr
About AMC+
AMC+ is the company's new premium streaming bundle featuring an extensive lineup of popular and critically acclaimed original programming from AMC, BBC America, IFC, and SundanceTV and full access to targeted streaming services Shudder, Sundance Now and IFC Films Unlimited, which feature content such as A Discovery of Witches, Creepshow, and Boyhood. The service features a continually refreshed library of commercial-free content, with iconic series from the AMC Networks portfolio including Mad Men, Halt & Catch Fire, Hell on Wheels, Turn: Washington's Spies, Rectify, Portlandia, and series from The Walking Dead Universe, among many others. The service also offers a growing slate of original and exclusive series including Gangs of London, This is Going to Hurt, Dark Winds, and the first two series in a new Anne Rice universe, Anne Rice's Interview with the Vampire and Anne Rice's Mayfair Witches. With new movies released every Friday, AMC+ is the newest destination for exclusive film premieres direct from theaters all year long. AMC+ is available in Canada, Australia, New Zealand, India, South Korea, and Spain and is available in the U.S. through AMCPlus.com, the AMC+ app, and a number of digital and cable partners.