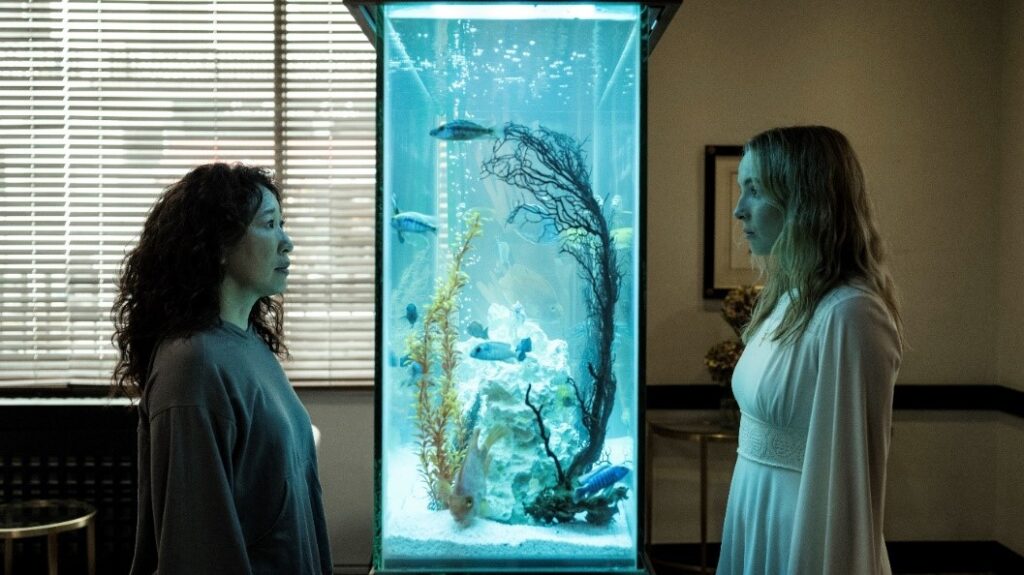 The Global Phenomenon Plays its Final Game of Cat and Mouse Beginning Sunday, February 27 on BBC America and AMC+
NEW YORK, NY – February 1, 2022 – BBC AMERICA today revealed the trailer for the eagerly anticipated fourth and final season of its cultural phenomenon and award-winning series, Killing Eve. The eight-part final season will debut on Sunday, February 27 at 8:00pm ET/PT on BBC AMERICA and AMC+. After a simultaneous premiere, AMC+ subscribers will be able to view episodes one week in advance of linear viewers, with the exception of the series finale, which will air concurrently. A weekly encore presentation will air on AMC beginning Monday, February 28 at 9:00 p.m. ET/PT.
After the emotional climax of Season Three, Eve (Sandra Oh), Villanelle (Jodie Comer) and Carolyn (Fiona Shaw) are in very different places. Following Eve and Villanelle's exchange on the bridge, Eve is on a revenge mission, while Villanelle has found a brand-new community in an attempt to prove she's not a "monster." Having killed Paul, Carolyn goes to extraordinary lengths to continue to chase down The Twelve and the person that ordered Kenny's hit. This season follows our extraordinary women, each driven by passion, revenge and obsession, building towards a messy, nuanced and totally glorious series finale.
Laura Neal (Sex Education, Secret Diary of a Call Girl) continues the Killing Eve tradition of a new lead writer every season, following Phoebe Waller-Bridge, Emerald Fennell and Suzanne Heathcote. Neal is also an executive producer on season four.
Killing Eve stars Golden Globe®, SAG® and Critics' Choice Award winner Sandra Oh, Emmy® and BAFTA winner Jodie Comer, Emmy® nominee and BAFTA winner Fiona Shaw and BAFTA nominee Kim Bodnia.
Executive producers for the upcoming season are Sally Woodward Gentle, Lee Morris, Phoebe Waller-Bridge, Gina Mingacci, Damon Thomas, Laura Neal and Sandra Oh.
About BBC AMERICA:
BBC AMERICA is a hub of innovative, culturally contagious programming including the Peabody Award-winning series Killing Eve starring Golden Globe® and SAG® Award-winner Sandra Oh and Emmy® Award-winner Jodie Comer. The network is the definitive television home and co-producer of the most iconic natural history series including Planet Earth II, Blue Planet II, Dynasties, Seven Worlds, One Planet and upcoming Meerkat Manor, Eden (w/t), Frozen Planet II and Planet Earth III. BBCA transforms every Saturday into Wonderstruck, a weekly 24-hour destination for wildlife and wonder.  A joint venture between AMC Networks and BBC Studios (the commercial arm of the BBC), BBCA's influential shows such as Doctor Who, Orphan Black, and Luther, have attracted critical acclaim and earned Emmy® Awards, Golden Globes®, Peabody Awards, Critics' Choice Awards, NAACP Image Awards, TCA Awards and more. BBCA is available across all platforms, including on-air, online, on demand and mobile. Find out more by visiting press.amcnetworks.com. BBCA on social: YouTube – Twitter – Instagram – Facebook
About AMC+
AMC+ is the company's new premium streaming bundle featuring an extensive lineup of popular and critically acclaimed original programming from AMC, BBC America, IFC, and SundanceTV and full access to targeted streaming services Shudder, Sundance Now and IFC Films Unlimited, which feature content such as A Discovery of Witches, Creepshow, and Boyhood. The service features a continually refreshed library of commercial-free content, including fan favorites Mad Men, Halt & Catch Fire, Turn: Washington's Spies, Hell on Wheels, NOS4A2, Rectify, Orphan Black, Portlandia, and series from The Walking Dead Universe, among many others. The service also offers a growing slate of original and exclusive series including Gangs of London, Kin, The North Water, Ragdoll, The Beast Must Die, Too Close, The Salisbury Poisonings, Cold Courage, Spy City, Ultra City Smiths, Anna, Anne Boleyn, Firebite, and La Fortuna. AMC+ recently launched in Canada and Australia, and is available in the U.S. through AMCPlus.com, the AMC+ app, and a number of digital and cable partners.
About AMC
AMC is home to some of the most popular and acclaimed programs on television. AMC was the first basic cable network to ever win the Emmy Award for Outstanding Drama Series with Mad Men in 2008, which then went on to win the coveted award four years in a row, before Breaking Bad won it in 2013 and 2014. The network's series The Walking Dead is the highest-rated series in cable history. AMC's current original drama series are Better Call Saul, Fear the Walking Dead, Kevin Can F Himself, NOS4A2, Quiz, Soulmates, The Walking Dead, The Walking Dead: World Beyond and the forthcoming series 61st Street and Pantheon. AMC also explores authentic worlds and discussion with original shows like Talking Dead, AMC Visionaries and Ride with Norman Reedus. AMC is owned and operated by AMC Networks Inc. and its sister networks include IFC, SundanceTV, BBC America and WE tv. AMC is available across all platforms, including on-air, online, on demand and mobile.