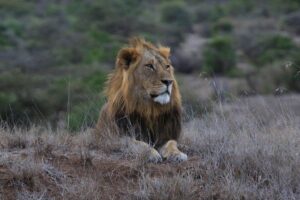 NEW YORK – March 15, 2023 – In the wild lands of Kenya, water is life; the elixir without which nothing can survive. In the breathtaking and dramatic series Chasing the Rains, viewers get to follow three charismatic animal matriarchs as they protect their families while surviving the trials of one of the worst droughts for twenty years. Chasing the Rains premieres timed to Earth Day on Saturday, April 22 at 8pm ET/PT on BBC AMERICA and available to stream on AMC+.
Masterfully narrated by Adjoa Andoh (Bridgerton, Invictus), the three-part series, including a fourth "Making Of" Special that will be available on AMC+ only, takes viewers on a journey into one of the most majestic, unspoiled, and rarely filmed areas of wilderness in Africa.
In Samburu, an elephant family known as the Royals returns to the river alongside hundreds of other herds. Meanwhile in the Highlands of Laikipia, wild dog matriarch Phoenix introduces her five new puppies to the pack, while in Naboisho near the Masai Mara, new cheetah mum Kuleta faces the challenge of raising four tiny cubs in a place where hyenas and lions live in abundance. But the rains have been poor, and the river quickly dries forcing the elephants to dig for wells or face a trek to distant springs in the North. As the drought intensifies, Phoenix and her pack face a mortal battle with a hyena clan, while Kuleta is forced into lion country where the larger predators tragically kill one of her cubs. Moreover, an unseasonal downpour refills the river in Samburu and the elephants are able to return. But it's a brief reprieve as the drought bites even harder. The elephant herd splits to make the most of resources, Phoenix is forced on a long search after the pack's alpha male disappears and Kuleta faces further battles with amorous male cheetahs and a local hyena clan. The rains finally return restoring the land, but climate change is causing great changes here. People and animals alike need unlimited resilience to deal with the future.
As a part of BBC AMERICA's Wonderstruck programming slate, Chasing the Rains is made by Love Nature and distributed by Blue Ant International.
EPISODE DESCRIPTIONS
Episode 1 – Premieres Saturday, April 22 at 8pm ET/PT on BBC AMERICA and available on AMC+
In Samburu, an elephant herd named the Royals face a challenge when their river dries out early due to poor rains. In Laikipia, wild dog matriarch Phoenix battles time as she nurtures her five pups as the land quickly dries. And in Naboisho near the Masai Mara, first-time cheetah mother Kuleta and her four cubs battle a lone hyena.
Episode 2 – Premieres Saturday, April 29 at 8am ET/PT on BBC AMERICA and available on AMC+
In Samburu, elephants dig wells in the dry riverbed, but herders drive them from the reserve. New cheetah mother Kuleta moves into lion country in search of prey, but tragically loses a cub to the larger predator. It takes all her resilience to recover her confidence. In bone-dry Laikipia, wild dog matriarch Phoenix is challenged by a mob of hyenas. But the landscape is finally given a reprieve by an unseasonal downpour which refills the river.
Episode 3 – Premieres Saturday, May 6 at 8am ET/PT on BBC AMERICA and available on AMC+
Challenges for the animals reach a critical point as they await the seasonal rains. In Samburu, the elephant herd with two new-born infants splits to maximize resources in the bone-dry landscape. Wild dog matriarch Phoenix journeys to find a new alpha male when her mate dramatically disappears. Kuleta and her cubs are harassed by male cheetahs but dramatically retake their territory by forcing a hyena clan into retreat. Finally, the rains return, but in this world of unpredictable climate change, survival requires even more ingenuity, resilience, and strength.
Episode 4 – Making Of Special – Available only on AMC+ on Saturday, April 22
This episode offers an in-depth documentary revealing how the series was produced in collaboration with inspirational local conservationists.
###
About BBC AMERICA
BBC AMERICA is a hub of innovative, culturally contagious programming including the Peabody Award-winning series Killing Eve starring Golden Globe® and SAG® Award-winner Sandra Oh and Emmy® Award-winner Jodie Comer. The network is the definitive television home and co-producer of the most iconic natural history series and franchises including Planet Earth, Blue Planet, Dynasties, Eden: Untamed Planet, Frozen Planet and Seven Worlds, One Planet. BBCA transforms every Saturday into Wonderstruck, a weekly destination for wildlife and wonder.  A joint venture between AMC Networks and BBC Studios (the commercial arm of the BBC), BBCA's influential shows such as Doctor Who, Orphan Black, Luther and The Graham Norton Show have attracted critical acclaim and earned Emmy® Awards, Golden Globes®, Peabody Awards, Critics' Choice Awards, NAACP Image Awards, TCA Awards and more. BBC AMERICA is available across all platforms, including on-air, online, on demand and mobile. Find out more by visiting press.amcnetworks.com.  BBCA on social: YouTube – Twitter – Instagram – Facebook – Tumblr
About AMC+
AMC+ is the company's new premium streaming bundle featuring an extensive lineup of popular and critically acclaimed original programming from AMC, BBC America, IFC, and SundanceTV and full access to targeted streaming services Shudder, Sundance Now and IFC Films Unlimited, which feature content such as A Discovery of Witches, Creepshow, and Boyhood. The service features a continually refreshed library of commercial-free content, with iconic series from the AMC Networks portfolio including Mad Men, Halt & Catch Fire, Hell on Wheels, Turn: Washington's Spies, Rectify, Portlandia, and series from The Walking Dead Universe, among many others. The service also offers a growing slate of original and exclusive series including Gangs of London, This is Going to Hurt, Dark Winds, and the first two series in a new Anne Rice universe, Anne Rice's Interview with the Vampire and Anne Rice's Mayfair Witches. With new movies released every Friday, AMC+ is the newest destination for exclusive film premieres direct from theaters all year long. AMC+ is available in Canada, Australia, New Zealand, India, South Korea, and Spain and is available in the U.S. through AMCPlus.com, the AMC+ app, and a number of digital and cable partners.
About Wonderstruck
Wonderstruck is BBC AMERICA's weekly 24-hour Saturday destination for wildlife and wonder, showcasing BBCA's most iconic landmark natural history programming including Planet Earth II, Blue Planet II, Dynasties, Seven Worlds, One Planet and the return of the Emmy®-winning series Frozen Planet II and Planet Earth III. To experience Wonderstruck at any time or day of the week, please visit WonderstruckTV.com, a free digital companion site featuring a robust library of short-form nature content, optimized for mobile or desktop. You can search by mood, animal or geographic location to access an immediate burst of wonder.