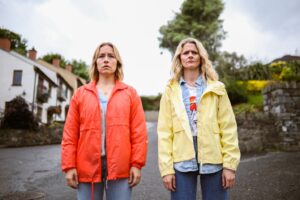 NEW YORK – April 27, 2023 – Highly anticipated dark comedy SisterS is set to premiere on IFC on Wednesday, May 17 at 11pm ET/PT, with new episodes airing weekly. The full season will be available to binge on Sundance Now and AMC+ the same day. Starring Emmy® nominee Sarah Goldberg (Barry) and Susan Stanley (Fair City), the witty six-episode season marks the writing debut of the real-life best friends.
In Toronto, Canada, Sare's (Goldberg) mother dies. In the aftermath of her death, she discovers that her father was not her actual father, he was in fact, an Irish busker her mother met while backpacking some thirty years ago. She decides to travel to Ireland to track him down, only to discover she has a half-sister. Meanwhile in Dublin, Suze's (Stanley) life is unravelling – she's lost her partner, her flat, her job…and not to mention – her dignity. On her 37th birthday, her life takes an unexpected turn, when her Canadian half-sister shows up. Sare convinces a reluctant Suze to embark on a road trip across Ireland to find their alcoholic father. Confined by the four walls of a crumbling ice cream van, it's a baptism of fire for these sisters. They forge an unbreakable bond as they discover sometimes it's the family you choose that can carry you through.
The series also features (alphabetically): Harki Bhambra (This Is Going to Hurt), Liam Carney (Harry Wild), Frank Laverty (The Virtues), Donal Logue (Law and Order: Special Victims Unit), Rory Nolan (Foundation) Darragh Shannon (Wolf), Pat Shortt (The Banshees of Inisherin) and Sophie Thompson (Sex Education).
SisterS is written and executive produced by Sarah Goldberg and Susan Stanley. Declan Lowney (Ted Lasso) directed episodes 101, 102 and 103 and serves as an executive producer, while Alicia MacDonald (Flack) directed episodes 104, 105, and 106. Angela Squire, Richard Cook, Christina Jennings, Scott Garvie, Kira Carstensen, Melanie Donkers, Justin Healy and Ruth Coady executive produced the series. SisterS, an IFC Original Series, is a Canada/Ireland Co-Production from Peer Pressure (Ireland) and Shaftesbury (Canada) in Association with Mermade and Gaze Pictures with the support of the Broadcasting Authority of Ireland.
EPISODE DESCRIPTIONS
Full Season Binge – Available on Sundance Now and AMC+ Wednesday, May 17
Episode 101 – "They F*** You Up" – Premieres Wednesday, May 17 at 11pm ET/PT on IFC
After the death of Sare's mother, she decides to travel to Ireland to find her father but gets more than she bargained for.
Episode 102 – "Mind That Child" – Premieres Wednesday, May 24 at 11pm ET/PT on IFC
Suze realizes she has run out of options so reluctantly agrees to help Sare find their father.
Episode 103 – "This Too Shall Pass" – Premieres Wednesday, May 31 at 11pm ET/PT on IFC
The sisters are on the road, but it isn't long before they find themselves in a compromising position.
Episode 104 – "Every Time the Sun Comes Up I'm in Trouble" – Premieres Wednesday, June 7 at 11pm ET/PT on IFC
After a betrayal, both Suze and Sare realize they are more alike than they initially thought.
Episode 105 – "I Can Change" – Premieres Wednesday, June 14 at 11pm ET/PT on IFC
Suze and Sare are back on their quest to find their father, they travel to Carlingford where they are met by two surprise guests.
Episode 106 – "Happy Ever After" – Premieres Wednesday, June 21 at 11pm ET/PT on IFC
In an emotional reunion, the sisters find their father but realize that maybe he isn't what they needed in the first place.
NOTE TO EDITORS
If you have any questions or would like to arrange cast or EP interviews, please contact those listed below. We appreciate your support and coverage of SisterS.
###
About IFC 
IFC is the home of offbeat, unexpected comedies. Acclaimed series Documentary Now!, Brockmire, Sherman's Showcase, Baroness von Sketch Show, and Year of the Rabbit air alongside fan-favorite movies and comedic cult TV shows. IFC is owned and operated by AMC Networks Inc., and available across multiple platforms. IFC is Always On, Slightly Off.
About Sundance Now
AMC Networks' Sundance Now offers cross-genre escapism for insightful viewers seeking fresh perspectives, thought-provoking experiences and transportive journeys to far-off places. With a rich selection of engrossing dramas and romance, imaginative fantasy, gripping mysteries, to riveting true crime and intelligent thrillers, Sundance Now programming features empowered characters telling one-of-a-kind stories from around the world – all streaming commercial-free. Sundance Now houses critically-acclaimed and award-winning original and streaming exclusive series including popular supernatural thriller A Discovery of Witches (Matthew Goode, Teresa Palmer), acclaimed UK adaptation of the French hit Call My Agent!, Ten Percent, (Jack Davenport, Jim Broadbent), multi-Emmy winner State of the Union (Rosamund Pike, Chris O'Dowd; Patricia Clarkson, Brendan Gleeson), glamorous coastal drama Riviera (Julia Stiles), a pair of British true crime thrillers starring David Tennant Des and Litvinenko (David Tennant), French spy drama The Bureau, acclaimed Swedish drama The Restaurant, Australian psychological thriller The Secrets She Keeps (Laura Carmichael), and Motherland (Anna Maxwell Martin, Lucy Punch, Joanna Lumley), to name a few; alongside riveting true crime series including The Oland Murders, The Dakota Entrapment Tapes, The Preppy Murder: Death in Central Park, No One Saw a Thing and Dating Death.  Sundance Now can be enjoyed for $6.99/month or $4.99/month with an annual membership. No cable subscription is needed. Facebook: @SundanceNow – Twitter: @sundance_now
About AMC+
AMC+ is the company's new premium streaming bundle featuring an extensive lineup of popular and critically acclaimed original programming from AMC, BBC America, IFC, and SundanceTV and full access to targeted streaming services Shudder, Sundance Now and IFC Films Unlimited, which feature content such as A Discovery of Witches, Creepshow, and Boyhood. The service features a continually refreshed library of commercial-free content, with iconic series from the AMC Networks portfolio including Mad Men, Halt & Catch Fire, Hell on Wheels, Turn: Washington's Spies, Rectify, Portlandia, and series from The Walking Dead Universe, among many others. The service also offers a growing slate of original and exclusive series including Gangs of London, This is Going to Hurt, Dark Winds, and the first two series in a new Anne Rice universe, Anne Rice's Interview with the Vampire and Anne Rice's Mayfair Witches. With new movies released every Friday, AMC+ is the newest destination for exclusive film premieres direct from theaters all year long. AMC+ is available in Canada, Australia, New Zealand, India, South Korea, and Spain and is available in the U.S. through AMCPlus.com, the AMC+ app, and a number of digital and cable partners.