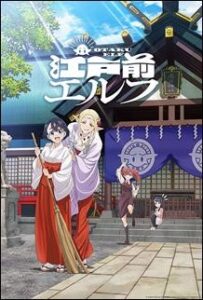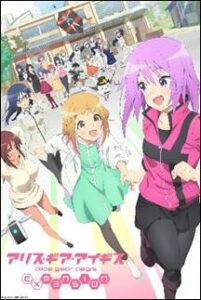 HOUSTON, TX — March 16, 2023 — Ahead of the kick-off of its Spring 2023 Season, HIDIVE today revealed its complete line-up of simulcast series that will premiere starting in April. The company detailed five shows that, together with earlier announcements, caps-off its slate of new and continuing series streaming next season. These five titles are alice gear aegis Expansion, Insomniacs after school, Otaku Elf, TOKYO MEW MEW NEW (Season 2) and TOO CUTE CRISIS.
"We're thrilled to bring this exciting slate of new simulcast series to HIDIVE this spring," said John Ledford, President of HIDIVE. "From comedy and fantasy to drama and sci-fi, HIDIVE will be home to some of the best shōnen, shōjo and seinen anime premiering in Japan next season. Fans will not want to miss a minute of it."
Rounding out its list of Spring 2023 Season simulcasts are the two eagerly awaited series
【OSHI NO KO】 and The Dangers in My Heart, which were announced late last year during HIDIVE's Industry Panel at Anime NYC. Altogether, HIDIVE will offer subscribers more than a half dozen simulcast series next season.
Otaku Elf is part of Sentai's multi-year anime content agreement with Mainichi Broadcasting System (MBS) announced by AMC Networks earlier this month.
alice gear aegis Expansion

Centuries ago, mankind abandoned planet Earth after the Vice, a race of mechanical aliens, drove them from their home into a life adrift in space. Now resigned to starships forged of pieces of Earth's shattered moon, the final hope for humanity lies in the hands of Actresses, young women born with the ability to wield the only weapons that can harm the Vice: Alice Gears, mechanical suits that can finally turn the tide against the alien incursion.

Based on the mecha mobile game alice gear aegis developed by Pyramid and published by COLOPL, Inc. in January 2018.

Director:    Hirokazu Hanai

Writer:      Kenji Sugihara

Studio:      NOMAD
Insomniacs after school

Ganta Nakami is a high school student who suffers from insomnia. One day, he meets Isaki Magari, a girl with the same condition. A strange, but special relationship forms as they share a secret and catch up on their sleep in their school's abandoned observatory…

Based on the seinen drama manga series by Makoto Ojiro that has been serialized in Shogakukan's Big Comic Spirits Weekly since 2019.

Director:      Yuuki Ikeda

Writer:        Rintarou Ikeda

Studio:        LIDENFILMS
Otaku Elf

Takamimi Shrine has an unusual resident – Elda, an ancient elf who's obsessed with video games! The shrine's teenage attendant, Koito Koganei, keeps this reclusive otaku well supplied with energy drinks and junk food. Even though she loves 100%-ing her games, Elda has duties to attend to, and Koganei is bound and determined to make this otaku elf fulfill them! It'll just take an offering or two to bribe—um, we mean convince Elda to put down her new game…

Based on the shōnen comedy manga series by Akihiko Higuchi that has been serialized in Kodansha's Shōnen Magazine Edge since 2019.

Director:      Takebumi Anzai

Writer:        Shōgo Yasukawa

Studio:        C2C
TOKYO MEW MEW NEW (Season 2)

The scientists of the μ(Mew) Project use DNA of endangered species to create a team of heroines imbued with amazing abilities. Armed with the skills of an Iriomote cat, Ichigo must band together with other Mew Mew girls to repel an alien incursion.

Based on the shōjo manga series written by Reiko Yoshida and illustrated by Mia Ikumi that was serialized in Kodansha's Nakayoshi from 2000-2003.

Director:      Takahiro Natori

Writer:        Yuka Yamada

Studio:        Yumeta Co./ graphinica
TOO CUTE CRISIS

Invading alien Liza Luna wants nothing more than to destroy planet Earth… after she gets in a little sightseeing, first. But her travels soon take her into a cat café, where the furry felines inside invade her heart just as surely as Liza invaded Earth! Destroying the world won't be so easy now that she's discovered the joys of kitty cats…

Based on the shōnen comedy manga series by Mitsuru Kido that has been serialized in Shueisha's Jump Square since 2019.

Director:      Jun Hatori

Writer:        Aya Satsuki

Studio:        SynergySP
For the latest announcements regarding these and other great titles, follow HIDIVE on Facebook, Twitter, Instagram and YouTube.
About HIDIVE
HIDIVE, the newest addition to AMC Network's portfolio of targeted streaming services, offers the best in anime and live-action entertainment to both die-hard otaku and burgeoning fans of Japanese pop-culture. In addition to its extensive library of movies and episodic series, each season HIDIVE brings a new selection of the latest titles from Japan in both simulcast and exclusive DUBCAST™ editions – all of which can be viewed on a wide array of platforms including web browsers, smartphones, TVs, streaming devices, and gaming consoles. For more information on HIDIVE or to sign-up for a free 7-day trial, visit www.hidive.com.
###