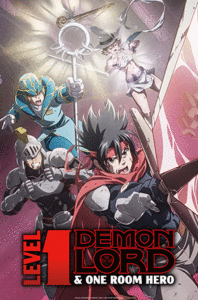 BOSTON, MA — April 7, 2023 — Moments ago, HIDIVE revealed its acquisition of Level 1 Demon Lord and One Room Hero during its opening day industry panel at Anime Boston 2023. The fantasy comedy series will premiere later this year in Japan and will stream as an exclusive simulcast on HIDIVE. Level 1 Demon Lord and One Room Hero is based on the popular manga series of the same name created by toufu, which launched in Houbunsha's Comic Fuz and later in 2021 in English from Seven Seas Entertainment.
"We're excited to bring this humorous new anime series to HIDIVE later this year," said John Ledford, President of HIDIVE. "Level 1 Demon Lord and One Room Hero joins our ever-expanding line-up of 2023 simulcasts alongside some of Japan's mostly highly-anticipated new titles – and available exclusively to HIDIVE subscribers!"
Level 1 Demon Lord and One Room Herois directed by Keisuke Inoue, written by Toshiya Ono, and produced by studios SILVER LINK.×BLADE.
For the latest announcements regarding these and other great titles, follow HIDIVE on Facebook, Twitter, Instagram and YouTube.
About HIDIVE
HIDIVE, the newest addition to AMC Network's portfolio of targeted streaming services, offers the best in anime and live-action entertainment to both die-hard otaku and burgeoning fans of Japanese pop-culture. In addition to its extensive library of movies and episodic series, each season HIDIVE brings a new selection of the latest titles from Japan in both simulcast and exclusive DUBCAST™ editions – all of which can be viewed on a wide array of platforms including web browsers, smartphones, TVs, streaming devices, and gaming consoles. For more information on HIDIVE or to sign-up for a free 7-day trial, visit www.hidive.com.
###