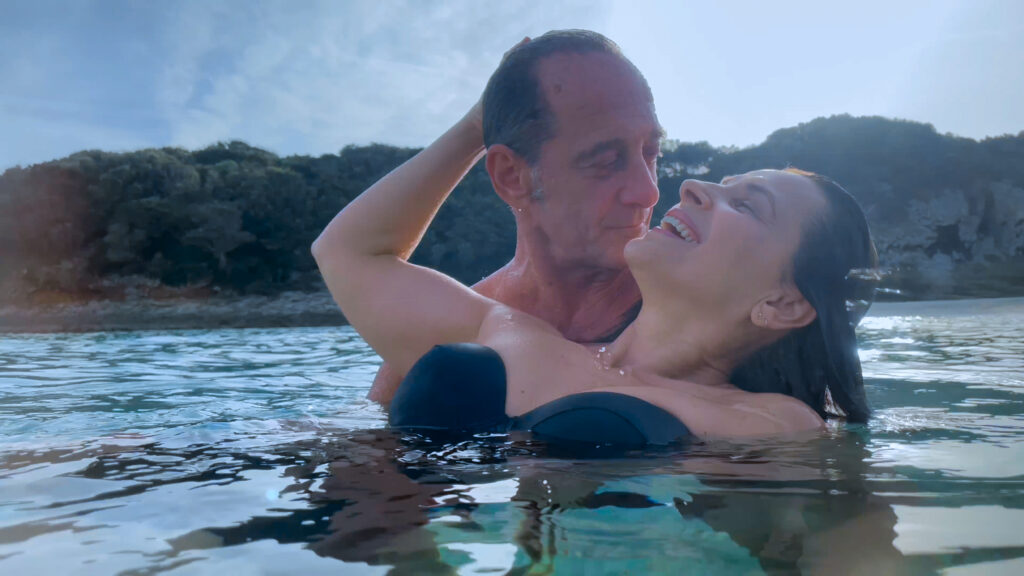 NEW YORK, NY (FEBRUARY, 3 2022) – IFC Films announced today that it is acquiring U.S. rights to FIRE, directed by Claire Denis (WHITE MATERIAL, LET THE SUNSHINE IN, TROUBLE EVERY DAY) and written by Denis with Christine Angot. The film stars Juliette Binoche (LET THE SUNSHINE IN, CLOUDS OF SILS MARIA), Vincent Lindon (TITANE), Grégoire Colin, Mati Diop, Bulle Ogier, Issa Perica, and Hana Magimel, with cinematography by Eric Gautier (ASH IS THE PUREST WHITE, IRMA VEP). FIRE is produced by Curiosa Film with associate producer Jacqueline de Croÿ of Dear Gaia Films and will have its World Premiere at the 2022 Berlinale. IFC Films has previously collaborated with both Denis and Binoche on critically acclaimed titles including films LET THE SUNSHINE IN, WHITE MATERIAL, CLOUDS OF SILS MARIA, CERTIFIED COPY and NON-FICTION. FIRE will be released by IFC Films in Summer 2022.
Winter in Paris. FIRE tells the tale of a passionate love triangle. Jean (Vincent London) and Sara (Juliette Binoche) have been living together for 10 years. When they first met, Sara was living with François (Grégoire Colin), Jean's best friend and an admirer from back when he played pro rugby. Jean and Sara love each other. One day, Sara sees François in the street. He does not notice her, but she is overcome by the sensation that her life could suddenly change. François gets back in touch with Jean. For the first time in years. He suggests they start working together again. From here on, things spiral out of control.
Arianna Bocco, President of IFC Films, said, "We are honored to partner with Claire and Juliette once again on FIRE and bring a major talent like Vincent Lindon into the IFC Films family. We are thrilled to be a home to these talented artists and underscore our decades long commitment to bringing the best in French cinema to audiences in the United States."
The deal for the film was negotiated by IFC Films President Arianna Bocco with Wild Bunch International, Anton corp and CAA Media finance on behalf of the filmmakers.
ABOUT IFC FILMS
Established in 2000 and based in New York City, IFC Films is a leading U.S. distributor of independent film. Its unique distribution model makes independent films available to a national audience by releasing them in theaters as well as on cable's Video On Demand (VOD) and digital platforms.
Current releases include Mia Hansen-Løve's critically acclaimed BERGMAN ISLAND and Paul Verhoeven's BENEDETTA. Some of the company's successes over the years have included BOYHOOD, THE DEATH OF STALIN, FRANCES HA, MY BIG FAT GREEK WEDDING, Y TU MAMA TAMBIEN, THE BABADOOK, TOUCHING THE VOID, 4 MONTHS, 3 WEEKS AND 2 DAYS, CHE, SUMMER HOURS, ANTICHRIST, IN THE LOOP, JOAN RIVERS: A PIECE OF WORK, TINY FURNITURE, and CARLOS. IFC Films has worked with established and breakout filmmakers, including Steven Soderbergh, Gus Van Sant, Spike Lee, Richard Linklater, Miranda July, Lars Von Trier, Gaspar Noé, Todd Solondz, Cristian Mungiu, Susanne Bier, Olivier Assayas, Jim McKay, Larry Fessenden, Paul Dano, Gregg Araki, Jacques Rivette, Claude Chabrol, Abdellatif Kechiche, Kore-eda Hirokazu, Abbas Kiarostami, Alfonso Cuaron, Noah Baumbach, Lena Dunham, Ethan Hawke and many more. IFC Films is a sister label to IFC Midnight, and is owned and operated by AMC Networks Inc.