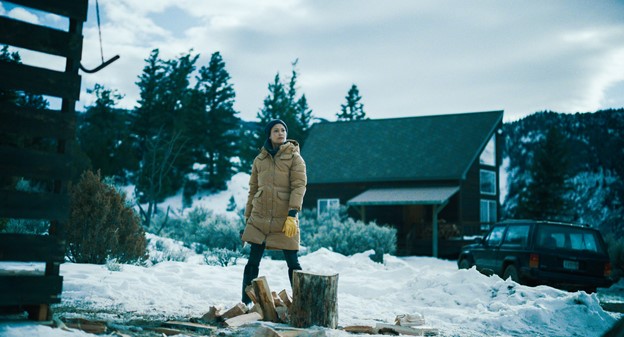 NEW YORK, NY (February 11, 2022) – IFC Films announced today that they are acquiring North American rights to Julian Higgins' feature debut GOD'S COUNTRY after its world premiere at the 2022 Sundance Film Festival. The film stars BAFTA® and Emmy Award winner Thandiwe Newton (WESTWORLD, CRASH), Jeremy Bobb (THE OUTSIDER), Joris Jarsky (THE LITTLE THINGS), Jefferson White (YELLOWSTONE), Kai Lennox (THE GIRL FROM PLAINVILLE) and Tanaya Beatty (THROUGH BLACK SPRUCE). Based on the short story "Winter Light" by acclaimed author James Lee Burke, the script by Higgins and Shaye Ogbonna is complimented by a distinguished original score by DeAndre James Allen-Toole and breathtaking cinematography by Andrew Wheeler. Cold Iron Pictures' CEO Miranda Bailey and Amanda Marshall are producing the film, along with Halee Bernard and Higgins. Anthony Ciardelli and The Film Arcade's Jason Beck will serve as executive producers. IFC Films will release the film theatrically in Fall of 2022.
GOD'S COUNTRY is a character-driven thriller set in the snowy wilderness of the American West. Thandiwe Newton plays Sandra Guidry, a Black professor living and working in a rural college town. She discovers a mysterious red truck parked in her driveway and soon learns it belongs to a pair of local hunters seeking to enter the forest behind her house. Sandra turns them away politely but firmly – her experience tells her these are not the sort of men to welcome freely into her world. But they won't take no for an answer, and soon Sandra finds herself drawn into an escalating battle of wills that puts her most deeply held values to the test.
Thandiwe Newton's performance has been hailed by The Hollywood Reporter as 'arresting' and Ronda Penrice of The Wrap says, "Thandiwe Newton shines…the weight of this film is on [her] shoulders. And, as always, she delivers." Brian Tallerico of Roger Ebert further declares GOD'S COUNTRY as, "one of this Sundance's best films."
Arianna Bocco, President of IFC Films said, "Thandiwe Newton delivers one of the most beautifully complex and realistic portraits of a modern-day woman dealing with grief and isolation within the confines of a traditional western turned on its head. Julian Higgins has impressively directed a taut thriller that will surely keep audiences on the edge of their seats."
Director Julian Higgins added, "IFC Films has established a deep commitment to independent filmmakers and a passion for movies that engage and challenge audiences. GOD'S COUNTRY has been a yearslong labor of love for our entire team, and I am truly thrilled we've found the perfect home."
Higgins is a Los Angeles-based director, writer, and producer.  His short films have screened around the globe and won dozens of prizes, including the gold medal Student Academy Award, two Student Emmy Awards, and the grand prize of Ron Howard's "Project Imagination" Contest. His most recent short, WINTER LIGHT, was a top ten finalist for the Oscar. A New Hampshire native, Julian holds a BFA in Film from Emerson College and an MFA in Directing from the American Film Institute. He currently teaches directing at both institutions.
The deal was negotiated by Scott Shooman, SVP of Acquisitions and Productions for IFC Films and Jessica Lacy of ICM Partners on behalf of the filmmakers.
ABOUT IFC FILMS
Established in 2000 and based in New York City, IFC Films is a leading U.S. distributor of independent film. Its unique distribution model makes independent films available to a national audience by releasing them in theaters as well as on cable's Video On Demand (VOD) and digital platforms.
Upcoming releases include the Golden Lion award-winner HAPPENING directed by Audrey Diwan, Cannes Best Actor winner NITRAM directed by Justin Kurzel, and Andrea Arnold's first documentary feature COW. Some of the company's successes over the years have included BOYHOOD, THE DEATH OF STALIN, FRANCES HA, MY BIG FAT GREEK WEDDING, Y TU MAMA TAMBIEN, THE BABADOOK, TOUCHING THE VOID, 4 MONTHS, 3 WEEKS AND 2 DAYS, CHE, SUMMER HOURS, ANTICHRIST, IN THE LOOP, JOAN RIVERS: A PIECE OF WORK, TINY FURNITURE, and CARLOS. IFC Films has worked with established and breakout filmmakers, including Steven Soderbergh, Gus Van Sant, Spike Lee, Richard Linklater, Miranda July, Lars Von Trier, Gaspar Noé, Todd Solondz, Cristian Mungiu, Susanne Bier, Olivier Assayas, Jim McKay, Larry Fessenden, Paul Dano, Gregg Araki, Jacques Rivette, Claude Chabrol, Abdellatif Kechiche, Kore-eda Hirokazu, Abbas Kiarostami, Alfonso Cuaron, Noah Baumbach, Lena Dunham, Ethan Hawke and many more. IFC Films is a sister label to IFC Midnight, and is owned and operated by AMC Networks Inc.