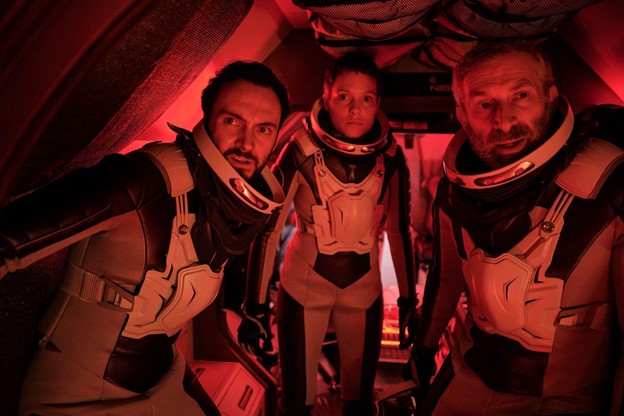 NEW YORK, NY (February 10, 2022) – IFC Midnight announced today that they are acquiring North American rights to RUBIKON directed by Magdalena Lauritsch, a science-fiction disaster film that brings social commentary and an acute moral dilemma into heart-pounding realization. The film represented by sales agent The Playmaker Munich stars Julia Franz Richter (UNDINE), George Blagden (LES MISERABLES), and Mark Ivanir (THE GOOD SHEPHERD). RUBIKON is a production by Samsara Filmproduktion in co-production with Graf Filmproduktion. The production was funded by Österreichisches Filminstitut, Filmfonds Wien, ORF Film- und Fernsehabkommen, FISA and Carinthia Film Commission.  IFC Midnight will release the film in theaters and on demand in 2022.
Disaster strikes on earth. In RUBIKON, the crew of a space station, Hannah (Julia Franz Richter), Gavin (George Blagden) and Dimitri (Mark Ivanir) must decide whether they risk their lives to get back home during a global catastrophe and search for survivors or stay safe in the sophisticated station's algae symbiosis system, which makes them fully self-reliant. RUBIKON questions whether we have the right to seal ourselves off in safety and ignorance from the ongoing problems of the world, as three people with three very different worldviews collide in this pressure-cooker environment millions of miles away.
Arianna Bocco, President of IFC Films, said, "Magdalena Lauritsch's wildly entertaining science-fiction debut presents a vivid tale of survival that places the audience at the center of a universal moral dilemma. We are thrilled to partner with the stellar team behind RUBIKON to bring this totally immersive deep-space experience to audiences across North America."
Loredana Rehekampff, producer and CEO of Samsara Film, added "We are very proud to have found an amazing partner for RUBIKON in IFC Midnight and are excited to present the movie to an American audience in the best possible way. RUBIKON is an ambitious Austrian genre film, which we produced for the international market. Having IFC Midnight on board from the start in this journey is an important and joyful milestone for the whole team."
Antonio Exacoustos, Head of Sales & Productions of The Playmaker Munich, states "Loredana & Andreas from Samsara Film managed to pull off the impossible by producing a visually stunning sci-fi disaster movie out of Austria." Moritz Hemminger, Deputy Head of Sales Acquisitions of The Playmaker Munich, adds, "The international interest in RUBIKON is overwhelming, and we look forward to collaborating with the prestigious and determined IFC Midnight team on the distribution of RUBIKON in North America."
The deal for the film was negotiated by IFC Films' Manager of Acquisitions Adam Koehler with The Playmaker Munich's Deputy Head of Sales & Acquisitions Moritz Hemminger on behalf of the filmmakers. The Playmaker Munich will host a private screening of 2021 Cannes Frontières Buyers Showcase contender RUBIKON at this year's virtual EFM.
ABOUT IFC MIDNIGHT
Established in 2000 and based in New York City, IFC Films is a leading U.S. distributor of independent film. Its unique distribution model makes independent films available to a national audience by releasing them in theaters as well as on digital and cable's Video On Demand (VOD) platform, reaching nearly 50 million homes.
Upcoming releases include Ruth Paxton's A BANQUET, Hannah Bergholm's Sundance critical hit HATCHING, and Eskil Vogt's THE INNOCENTS. Some of the company's successes have included Andy Nyman's critical darling GHOST STORIES, André Øvredal's box-office success THE AUTOPSY OF JANE DOE, Peter Strickland's modern giallo BERBERIAN SOUND STUDIO, Natalie Erika James' RELIC, SWALLOW from Carlo Mirabella Davis and the award-winning and cultural phenomenon THE BABADOOK. IFC Midnight is a sister label to IFC Films, and is owned and operated by AMC Networks Inc.
ABOUT THE PLAYMAKER MUNICH
The Playmaker Munich (formerly known as ARRI Media International) is an international sales agency within the SL Group owned by Dr. Stefan Laucher. The Playmaker Munich specializes in the international distribution of award-winning festival films (e.g. two-times LOLA winner "Curveball" by Johannes Naber, "Bloodsuckers" by, "Directions" by Stephan Komandarev or "Die Andere Heimat" by Edgar Reitz), family films ("Help I Shrunk My Teacher" by Sven Unterwaldt, "Little Miss Dolitte" by Joachim Masannek, "The Ogglies" by Jens Møller & Toby Genkel) and genre movies ("Cortex" by Moritz Bleibtreu, "The Sonata" by Andrew Desmond and "A Pure Place" by Nikias Chryssos).
Next to highlight "Rubikon" sales outfit The Playmaker Munich will launch several new films as a market premiere at EFM including the world premiere "Axiom" by Jöns Jönsson, which is as part of the Encounters competition at this year's Berlinale edition, market premiere of family western "Young Winnetou & The Lost Buffalos" and a teaser of brand new and upcoming contained space dark comedy "Holy Shit!".