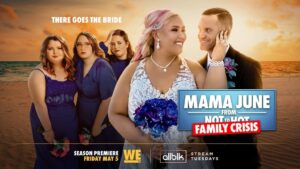 New York, NY, April 6, 2022 – This season of "Mama June: Family Crisis" premiering Friday, May 5 at 9 PM ET/PT on WE tv, with new episodes available on popular AMC streaming service ALLBLK every Tuesday, follows the real story of a family truly in crisis. The relationship between June and the girls finally reaches its breaking point due to legal issues, lies and secret life-altering changes.
Pumpkin and Josh are raising four kids under five and have taken full custody of Alana. They're struggling to make ends meet despite June's monthly child support contribution as well as balancing their responsibilities as parents. Meanwhile, Jessica has been distant from her family and shares a shocking personal secret.
June is now living with her new husband Justin in Alabama while struggling with health issues. Determined to mend her relationship with the girls, June continues to reach out to Pumpkin and Alana to no avail. With June's pending wedding ceremony and Alana's graduation on the horizon, can this family ultimately come together?
"Mama June: Family Crisis" is produced for WE tv by Thinkfactory Media, an ITV America company, and executive produced by Adam Reed, Adam Freeman, Tim Cohen-Laurie, Erin Richards and Moriah Muse. Executive Producers for WE tv are Lauren P. Gellert and Angela Molloy. Gina Rodriguez is also executive producer.
About WE tv
With compelling, can't miss unscripted shows, WE tv's programming is fueled by personalities and relationships filled with purpose and passion. WE tv welcomes everyone and creates an inclusive experience across all platforms: on TV, online, on demand, and social media, embracing how today's digitally savvy, socially engaged audiences connect through content, using it as a catalyst to drive conversation and build community. Further building on this mission, current WE tv originals are now available to stream on WE tv's sister platform, ALLBLK. WE tv is owned and operated by AMC Networks Inc., and its sister networks include AMC, BBC America, IFC, SundanceTV and streamers Acorn TV, ALLBLK, AMC+, Shudder and Sundance Now.