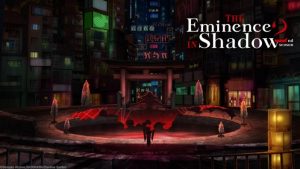 WHAT: HIDIVE will simulcast The Eminence in Shadow 2nd Season in both English sub and dub – day and date with the Japanese TV broadcast. This dual sub and dub simulcast marks a first for HIDIVE, the fast-growing anime streaming service from AMC Network. Based on Daisuke Aizawa's hilarious isekai light novel series of the same name, the upcoming second season of the critically acclaimed fantasy-action series The Eminence in Shadow will premiere this October as part of HIDIVE's Fall 2023 Simulcast Season.
As part of this simulcast announcement, HIDIVE released the official English subtitled trailer for The Eminence in Shadow 2nd Season here.
HIDIVE will be hosting the dual world premiere of The Eminence in Shadow 2nd Season this weekend at Anime Expo 2023 with special screenings of Episode 1 on July 1 (Sub) and July 4 (Dub) as detailed here.
Synopsis
Everything has been going according to plan, but the hour of awakening draws near. Cid Kageno and Shadow Garden investigate the Lawless City, a cesspool where the red moon hangs low in the sky and three powerful monarchs rule the streets. The true draw for Cid, however, is one who can draw blood–the Blood Queen, a vampire who has slumbered in her coffin for eons. Her awakening approaches, and Cid could finally face a day of reckoning.
WHEN: October 2023 on HIDIVE (Fall 2023 Simulcast Season)
About HIDIVE
HIDIVE, the newest addition to AMC Network's portfolio of targeted streaming services, offers the best in anime and live-action entertainment to both die-hard otaku and burgeoning fans of Japanese pop-culture. In addition to its extensive library of movies and episodic series, each season HIDIVE brings a new selection of the latest titles from Japan in both simulcast and exclusive DUBCAST editions – all of which can be viewed on a wide array of platforms including web browsers, smartphones, TVs, streaming devices, and gaming consoles. For more information on HIDIVE or to sign-up for a free 7-day trial, visit www.hidive.com.
###