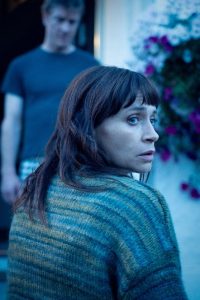 NEW YORK – May 17, 2023 – The latest Sundance Now Original Series Clean Sweep premieres Thursday, June 22 with two episodes on Sundance Now and AMC+; additional episodes of the series' six-episode first season will drop weekly on Thursdays on both platforms. Starring Charlene McKenna (Bloodlands, Peaky Blinders), the suspenseful Irish series is told from the point-of-view of the killer who is also, unusually, a self-sacrificing mother and wife.
Shelly Mohan (McKenna) is super mom. Her secret power? Multitasking. She juggles the complex lives and schedules of three kids, ages 10, 11 and 15. Her days are filled with cooking and cleaning, shopping and chauffeuring and somehow manages to have a home-cooked meal on the table by the time her husband Jason (Barry Ward, Anne Boleyn, Des), a Galway Garda detective, arrives home every night. It's chaotic and hectic and mostly thankless but it is a life Shelly is happy with. But when a dark secret emerges from her past, she makes a fatal choice to prevent the truth from surfacing.
Additional cast includes (alphabetically): Cathy Belton (Hidden Assets), Kaitlyn Rose Downey (The Princess), Adam Fergus (Harry Wild), Trevor Kaneswaren (Line of Duty), Rhys Mannion (It Is In Us All), Aidan McCann (Bad Sisters) and Jeanne Nicole Ní Áinle (SisterS).
Clean Sweep, a Sundance Now Original Series, is created by Gary Tieche (Preacher, I Know What You Did Last Summer) who also wrote episodes 1, 2, 4, 5, 6. Fran Harris (Blue Lights) wrote episode 3. Ronan Burke (Harry Wild) directed episodes 1, 2 and 3, while Yves Christian Fournier (L'homme qui aimait trop) directed episodes 4, 5 and 6. Executive producers are Jin Ishimoto, Patty Lenahan Ishimoto, Harvey Myman, Larry Bass, Mary Callery, Aaron Farrell, Graham Ludlow, Jean-Philippe Normandeau, Shari Segal, Gary Tieche and Charlene McKenna. Executive Producers for RTÉ are Dermot Horan and David Crean. Executive Producer for Fís Éireann / Screen Ireland is Andrew Byrne. Executive Producers for ZDF Studios are Yi Qiao and Robert Franke. Executive Producer for Sundance Now is Shannon Cooper. The series is produced by ShinAwiL and Incendo, and ZDF Studios will distribute the series internationally.
EPISODE DESCRIPTIONS
Episode 1 – "Done is Done" – Premieres Thursday, June 22 on Sundance Now and AMC+
Shelly Mohan, a housewife and mother of three, makes an irreversible decision, and commits an unspeakable act, when a man from her distant past surfaces – she commits murder.
Episode 2 – "Post Mortem" – Premieres Thursday, June 22 on Sundance Now and AMC+
Shelly's husband Jason, a Garda Detective, is delighted to be assigned to case, with no sense where the trail may lead.  While he and his co-worker, Fiona, focus on a sex worker, Shelly realizes she may have left evidence in the dead man's hotel room.
Episode 3 – "Find Her" – Premieres Thursday, June 29 on Sundance Now and AMC+
We learn of Shelly's dark history, as a teenager who was part of a drug ring in London 20 years earlier with Charlie Lynch, the man she shot. When Lynch's true identity is uncovered, a UK officer, DSI Crichett, reopens an old murder case Shelly and Charlie were linked to.
Episode 4 – "Deirdre" – Premieres Thursday, July 6 on Sundance Now and AMC+
The investigation continues to build steam in both countries, while Shelly continues to juggle her parenting and family responsibilities – problems with her husband and children that would stress anyone.  As Jason's partner Fiona grows suspicious of Shelly, we learn of the measures Shelly took to change her identity.
Episode 5 – "Let it Go" – Premieres Thursday, July 13 on Sundance Now and AMC+
Shelly tries to change her fingerprints, while the investigation in London is developing new leads despite political pressure to close the case.  New witnesses give descriptions of the suspect that may point to Shelly.
Episode 6 – "Silent Mouth" – Premieres Thursday, July 20 on Sundance Now and AMC+
The pressure builds on all fronts as Jason tries to close the case.  Will Shelly be able survive as the pressure builds?  The one option closed to her is to flee—she would never leave her children.
NOTE TO EDITORS
If you have any questions or would like to arrange cast or crew interviews, please contact those listed below. We appreciate your support and coverage of Clean Sweep.
###
About Sundance Now
AMC Networks' Sundance Now offers cross-genre escapism for insightful viewers seeking fresh perspectives, thought-provoking experiences and transportive journeys to far-off places. With a rich selection of engrossing dramas and romance, imaginative fantasy, gripping mysteries, to riveting true crime and intelligent thrillers, Sundance Now programming features empowered characters telling one-of-a-kind stories from around the world – all streaming commercial-free. Sundance Now houses critically-acclaimed and award-winning original and streaming exclusive series including popular supernatural thriller A Discovery of Witches (Matthew Goode, Teresa Palmer), acclaimed UK adaptation of the French hit Call My Agent!, Ten Percent, (Jack Davenport, Jim Broadbent), multi-Emmy winner State of the Union (Rosamund Pike, Chris O'Dowd; Patricia Clarkson, Brendan Gleeson), glamorous coastal drama Riviera (Julia Stiles), a pair of British true crime thrillers starring David Tennant Des and Litvinenko (David Tennant), French spy drama The Bureau, acclaimed Swedish drama The Restaurant, Australian psychological thriller The Secrets She Keeps (Laura Carmichael), and Motherland (Anna Maxwell Martin, Lucy Punch, Joanna Lumley), to name a few; alongside riveting true crime series including The Oland Murders, The Dakota Entrapment Tapes, The Preppy Murder: Death in Central Park, No One Saw a Thing and Dating Death.  Sundance Now can be enjoyed for $6.99/month or $4.99/month with an annual membership. No cable subscription is needed. Facebook: @SundanceNow – Twitter: @sundance_now
About AMC+
AMC+ is the company's new premium streaming bundle featuring an extensive lineup of popular and critically acclaimed original programming from AMC, BBC America, IFC, and SundanceTV and full access to targeted streaming services Shudder, Sundance Now and IFC Films Unlimited, which feature content such as A Discovery of Witches, Creepshow, and Boyhood. The service features a continually refreshed library of commercial-free content, with iconic series from the AMC Networks portfolio including Mad Men, Halt & Catch Fire, Hell on Wheels, Turn: Washington's Spies, Rectify, Portlandia, and series from The Walking Dead Universe, among many others. The service also offers a growing slate of original and exclusive series including Gangs of London, This is Going to Hurt, Dark Winds, and the first two series in a new Anne Rice universe, Anne Rice's Interview with the Vampire and Anne Rice's Mayfair Witches. With new movies released every Friday, AMC+ is the newest destination for exclusive film premieres direct from theaters all year long. AMC+ is available in Canada, Australia, New Zealand, India, South Korea, and Spain and is available in the U.S. through AMCPlus.com, the AMC+ app, and a number of digital and cable partners.