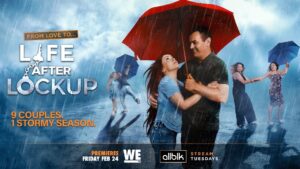 New York, NY – January 27, 2023 – A brand new season of WE tv's smash hit spinoff series Life After Lockup is back with ten 90-minute all-new episodes premiering on Friday, February 24th at 9pm ET / 8pm CT with new episodes available on popular AMC streaming service ALLBLK every Tuesday. Life After Lockup follows former inmates and their significant others from the hit series Love After Lockup through their weird and wild journey to survive the real world.
This season's couples face parole restrictions, travel limitations, meddling exes, and shocking secrets all while juggling love, family, marriage and life on the outside. Will these ex-cons feel imprisoned in their own relationships, or are these couples ready to go from love to life together?
NEW TO "LIFE AFTER LOCKUP"
Monique & Derek (Chicago, IL & Cleveland, OH)
We watched Monique & Derek's tumultuous relationship on Love After Lockup. As the couple continues their long-distance romance, the meddling family on both sides continue to test the relationship. Derek's wandering eye remains as Monique works on her weight loss journey.
Justine & Michael (Johnstown, PA)
We first saw Justine & Michael on Love During Lockup then, graduate to Love After Lockup. This season, their relationship continues to evolve as Michael is eager to make up for lost time and create the perfect blended family, but will pressures of real life crack this relationship? With Justine no longer working, the weight is on Michael to get his rap career back and bring in money.
Nathan & Skylar (Zanesville, OH)
The moment Skylar was released from prison, Nathan was waiting for her with open arms ready to propose. It was clear this was not going to be an easy road for them, as Skylar's family was hesitant about their relationship. Now that they've been together for a few months, will their relationship soar or sink?
Aris & Cameron (Tampa, FL)
Aris & Cameron jumped into a serious relationship from the get-go. With Aris's daughter in the picture and Cameron's sisters all up in their business, will this couple get the family support they've been hoping for, or will it all come crashing down now that Cameron is a free man?
RETURNING TO "LIFE AFTER LOCKUP"
Shawn & Sara (Cincinnati, OH)
Secrets in the marriage arise as the couple both navigate relationships with their exes. With Shawn & Sara juggling the pressures of life with a newborn, Sara decides to have breast augmentation surgery, however Shawn starts to worry that Sara's new body may be to get the attention of other admirers.
Amber & Puppy (Atlanta, GA)
Puppy helps her fiancé Eric through his various legal issues, but Eric is still acting suspicious. As Puppy leans on Amber more during this emotionally draining time, Amber's boyfriend TC refuses to accept Puppy, forcing Amber to choose between her boyfriend and her best friend.
Tayler & Chance (Elsberry, MO)
After starting a successful construction career, Chance is providing for Tayler and her daughters. But as bills pile up and Chance digs himself deeper into debt, Tayler continues to have doubts about marrying him. When Chance acts suspicious, Tayler stumbles upon a shocking secret that Chance has been keeping from her. With Tayler and Chance welcoming their newborn, will the new baby add more financial pressure on Chance?
Blaine & Lindsey (Corinth, MS)
Lindsey wonders if she made the right choice when Blaine reveals legal issues from his past have him in debt with fines and warrants along with double digit prison time on the horizon. As Blaine turns to God, Lindsey reconnects with an old halfway house buddy for support. Lindsey continues to nurture her relationship with her teenage daughter to ensure Mylie Grace doesn't make the same mistakes she did.
Marcelino & Brittany (St. Cloud, FL)
When we last saw Marcelino and Brittany, they were leaving their Las Vegas life behind to start anew in Florida. With their kids by their side and family no longer nearby, how will they adjust? Will the move to Florida help save their marriage, or will they find themselves fighting to make their relationship work once again?
"Life After Lockup" is produced by Sharp Entertainment, a part of Sony Pictures Television. Executive Producers are Matt Sharp, Dan Adler, Sophie Mallam and Alan Madison with Sara Hayworth serving as Co-Executive Producer. Lauren P. Gellert and Kate Farrell are Executive Producers for WE tv.
About SHARP Entertainment
"Sharp Entertainment, a part of Sony Pictures Television, is one of the biggest creative powerhouses in unscripted television production today.  Led by producer Matt Sharp since 2003, Sharp is one of the industry's leading production enterprises worldwide delivering thousands of hours of programming and unparalleled ratings achievement across multiple networks.  Sharp's mega-hit franchise, TLC's "90 Day Fiancé," is a top-performer on all of cable along with spinoffs including "90 Day Fiancé: Happily Ever After," "90 Day Fiancé: Before the 90 Days," and "90 Day Fiancé: The Other Way." Sharp is also behind WE TV's buzzy docu-series "Love After Lockup," as well as top-rated "Man v. Food" for the Cooking Channel. Other notable Sharp series include "Extreme Couponing" for TLC, "Doomsday Preppers" for National Geographic, and the long-running hit "The Fabulous Life" for VH1, among many others."
About WE tv:
With compelling, can't miss unscripted shows, WE tv's programming is fueled by personalities and relationships filled with purpose and passion. WE tv welcomes everyone and creates an inclusive experience across all platforms: on TV, online, on demand, and social media, embracing how today's digitally savvy, socially engaged audiences connect through content, using it as a catalyst to drive conversation and build community. Further building on this mission, current WE tv originals are now available to stream on WE tv's sister platform, ALLBLK. WE tv is owned and operated by AMC Networks Inc., and its sister networks include AMC, BBC America, IFC, SundanceTV and streamers Acorn TV, ALLBLK, AMC+, Shudder and Sundance Now.