NEW SEASON OF 'LOVE DURING LOCKUP' PREMIERES
FRIDAY, JULY 21st AT 9PM ET / 8PM CT ON WE tv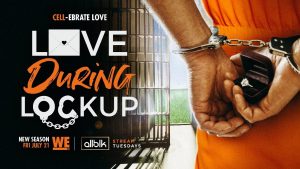 VIEW ALL-NEW SUPERTEASE
DOWNLOAD ASSETS
New York, NY – June 23, 2023 – A brand new season of WE tv's sensational spinoff series Love During Lockup is set to return with eight, hour-long, all-new episodes premiering Friday, July 21st at 9pm ET / 8pm CT with new episodes also available on popular AMC streaming service ALLBLK every Tuesday. Love During Lockup follows the journey of six non-cons as they go through the early stages of their romance with a prisoner.  These couples face unique challenges from sending money, first video dates and visits, to the heartbreak and frustration of the prison system, but is it true love or just a con?
MEET THE CIVILIANS & INMATES:
Latisha & Keith (Davenport, IA)
After getting out of a recent marriage, Latisha was ready to embrace the single life until love caught her by surprise. The hard-working mom of two took her employees and friends by shock when they found out about her new romantic partner—Keith. At first, Latisha was skeptical, and her intention was only to be Keith's pen-pal, but eventually Keith won her over. Will they withstand life's challenges?
Jade & Chris (Naples, FL)
As a former flight attendant, Jade is always looking for new adventures. Jade hit the jackpot while browsing an inmate pen pal site when she stumbled upon Chris. Chris is Native American and tribe member of Prairie Island Indian Community in Minnesota. After 7 months of dating, the couple decided to get married. With Chris being a shareholder of his tribe's casino, Jade has been living a life of luxury full of surprise gifts. However, Jade's younger sister, Jessica, starts to question the relationship. Does Jade really love Chris or the money?
Raneka & Asonta (Smyrna, GA)
Raneka is a high energy rapper and entrepreneur who made the big move to Atlanta, GA with her two kids to be closer to Asonta. Raneka took a huge gamble on love with Asonta between the big move and sending him $1,000 a month from her cosmetic business. Tension arises as Raneka's family feels Asonta isn't good enough for her as they believe he passes the time talking to other women. Raneka is hoping for big things including a sparkling rock and rap career in Atlanta, but will those dreams ultimately become a reality?
Britney & Kerok (Richmond, VA)
Britney and her fiancé Kerok met while serving time behind bars. Now Britney is out of prison after three years and awaiting Kerok's release. Kerok identifies as he/him and began his transition two years ago while incarcerated in a female facility, but the C.O.s mishandled his medications and schedules. While attending beauty school, Britney is living with Kerok's family and wants to start IVF treatment. The couple rebuilt their relationship after past infidelity, but will the bond stay strong? With friends and family as enlisted spies—what secrets will shake up the happy couple?
Savannah & Jake (Iowa City, IA)
To prepare for a theater role, Savannah reached out to prison wives on Facebook and was connected to Jake. After exchanging messages, the connection was clear for the couple. Since meeting Jake, Savannah has been a huge advocate in prison reform. Jake has real concerns about Savannah's jealousy and neediness as he serves the remainder of his sentence. The separation is getting to the pair as they both battle trust issues. Will they trust each other enough to make it another five years?
Brittney & Andy (Rome, GA)
After his second divorce, Andy struggled to adjust to modern dating. He decided to give it a try by writing female inmates on a pen pal website. As an ex-cop, Andy was worried about being judged, but those feelings quickly went away when he met his new love, Brittney. Both of the couples' families questioned their unlikely relationship between a con and cop. Andy's children don't approve of the relationship resulting in Andy choosing between his kids and his dream girl.
"Love During Lockup" is produced by Sharp Entertainment, a part of Sony Pictures Television. Executive Producers are Matt Sharp, Dan Adler, Sophie Mallam and Alan Madison. Lisa Marie Angelo Director Development & Original Production, Unscripted, Executive Produces for WE tv.
 ###
About SHARP Entertainment
"Sharp Entertainment, a part of Sony Pictures Television, is one of the biggest creative powerhouses in unscripted television production today.  Led by producer Matt Sharp since 2003, Sharp is one of the industry's leading production enterprises worldwide delivering thousands of hours of programming and unparalleled ratings achievement across multiple networks.  Sharp's mega-hit franchise, TLC's "90 Day Fiancé," is a top-performer on all of cable along with spinoffs including "90 Day Fiancé: Happily Ever After," "90 Day Fiancé: Before the 90 Days," and "90 Day Fiancé: The Other Way." Sharp is also behind WE TV's buzzy docu-series "Love After Lockup," as well as top-rated "Man v. Food" for the Cooking Channel. Other notable Sharp series include "Extreme Couponing" for TLC, "Doomsday Preppers" for National Geographic, and the long-running hit "The Fabulous Life" for VH1, among many others."
About WE tv:
With compelling, can't miss unscripted shows, WE tv's programming is fueled by personalities and relationships filled with purpose and passion. WE tv welcomes everyone and creates an inclusive experience across all platforms: on TV, online, on demand, and social media, embracing how today's digitally savvy, socially engaged audiences connect through content, using it as a catalyst to drive conversation and build community. Further building on this mission, current WE tv originals are now available to stream on WE tv's sister platform, ALLBLK. WE tv is owned and operated by AMC Networks Inc., and its sister networks include AMC, BBC America, IFC, SundanceTV and streamers Acorn TV, ALLBLK, AMC+, Shudder and Sundance Now.