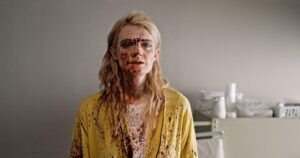 NEW YORK, NY (April 20th, 2023) – Shudder, AMC Networks' premiere streaming service for horror, thriller and the supernatural announces the streaming debut of BAD THINGS, written and directed by Stewart Thorndike (LYLE), and starring Gayle Rankin (Netflix's GLOW, MEN), Hari Nef (BARBIE, Amazon's Transparent), Annabelle Dexter-Jones (HBO's Succession, The Calling), Rad Pereira (HBO's Betty), Jared Abrahamson (GOD'S TIME, Hulu's Ramy) and Molly Ringwald (Ryan Murphy's Netflix Monster: The Jeffrey Dahmer Story and his upcoming Feud). The film will World Premiere at the 2023 Tribeca Film Festival, followed by a streaming release on Shudder on August 25th in all included territories (U.S., UK, Ireland, Australia and New Zealand). The film will also stream on AMC+ where available (US, CA, ANZ).
BAD THINGS follows a group of friends who go to a hotel for a weekend getaway and soon discover that women do bad things here. The film is produced by Lizzie Shapiro (Independent Spirit Award Winner SHIVA BABY) and Lexi Tannenholtz (CHESTNUT), with executive producers David Harari, Caroline Kaplan and George Rush of PCG Pictures, Gus Deardoff of The Space Program, George A. Loucas and Matthew Dean Russell of Baked Studios and Amy Williams who also served as production designer on the film.
Director Stewart Thorndike said, "With BAD THINGS, I wanted to create a world of women and non-binary people who shake off polite conditionings and finally roar. Where are all the female Travis Bickles and Jack Torrances? BAD THINGS answers that with Ruthie Nodd. At the heart of BAD THINGS is a dark celebration of motherhood and all its splendid viscera. Shudder were the perfect partners for this tale of female rage."
Sam Zimmerman, VP of Programming at Shudder added, "We've wanted to see a new Stewart Thorndike film for years. When the opportunity arose, Shudder was privileged to take part in BAD THINGS. It's an exceptional freakout from an incredible team, and we can't wait for our members to check in."The deal was negotiated by Emily Gotto on behalf of Shudder with Lizzie Shapiro and Jess Kantor of UTA on behalf of the filmmakers. Stewart is repped by Echo Lake Entertainment and UTA. Gayle is repped by B-Side Management and United Talent Agency. Hari is repped by The Gersh Agency and Untitled Entertainment. Annabelle is repped by The Gersh Agency and Authentic Talent and Literary Management. Rad is repped by Nicolosi & Co. Jared is repped by The Gersh Agency, Lauren Levitt & Associates and Canopy Media Partners. Molly is repped by Sue Leibman/Barking Dog Entertainment and Untitled Entertainment.
BAD THINGS is the kind of provocative work that Shudder continues to be at the forefront of curating. They will also be bringing Jennifer Reeder's new film PERPETRATOR to the 2023 Tribeca Film Festival this year, after a successful world premiere at Berlin. Many of the company's most recent and critically lauded independent and international genre films, include the recent viral hit, Skinamarink from director Kyle Edward Ball's, Jayro Bustamante's La Llorona and Joko Anwar's Impetigore (both official selections for the 2021 International Oscar race), Josh Ruben's Scare Me, and Jeff Barnaby's Blood Quantum. The service has also garnered attention for its original programming including the breakout hit series "Creepshow" under showrunner Greg Nicotero, Jay Cheel's "Cursed Films" and the acclaimed documentary Horror Noire: A History Of Black Horror. Upcoming films include the critically acclaimed Sundance breakout birth/rebirth directed by Laura Moss and the latest installment in the anthology franchise V/H/S/85, including segments from David Bruckner, Scott Derrickson, Mike P. Nelson, Natasha Kermani, and Gigi Saul Guerrero.
ABOUT SHUDDER
AMC Networks' Shudder is a premium streaming video service, super-serving members with the best selection in genre entertainment, covering horror, thrillers and the supernatural. Shudder's expanding library of film, TV series, and originals is available on most streaming devices in the US, Canada, the UK, Ireland, Germany, Australia and New Zealand. For a 7-day, risk-free trial, visit www.shudder.com.