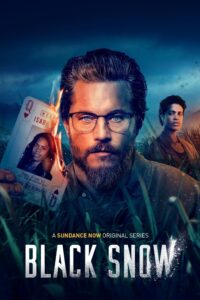 NEW YORK, February 2, 2023 – Sundance Now and AMC+ released today the trailer, images and screeners for the six-part crime series Black Snow. Starring Travis Fimmel (Vikings, Raised By Wolves), the series debuts with a two-episode premiere on Thursday, February 23 on Sundance Now and AMC+. New episodes of the series will roll out weekly on Thursdays and episodes are now available on Screeners.com.
Part coming-of-age drama and part whodunit, Black Snow follows the mystery of a small-town murder that rocked the Australian South Sea Islander community. In 1995, seventeen-year-old Isabel Baker was murdered. The crime shocked her tight-knit community and left the town devastated. The case was never solved, the killer never found. In 2020, the opening of a time capsule unearths a secret that puts cold-case detective James Cormack (Fimmel) on the trail of the killer.
The series also features newcomers Talijah Blackman-Corowa, Jemmason Power, Molly Fatnowna and Eden Cassady, alongside Brooke Satchwell (Poker Face), Alexander England (C*A*U*G*H*T), Erik Thomson (C*A*U*G*H*T), Kym Gyngell (No Activity), Rob Carlton (Bali 2002), Jimi Bani (Mabo), Daniela Farinacci (Total Control) and Lucy Bell (The Secrets She Keeps), along with the screen debut of Australian music sensation Ziggy Ramo.
Black Snow is produced by Goalpost Pictures, created by Lucas Taylor (Harrow), writing alongside Boyd Quakawoot (Black Comedy) and Beatrix Christian (Jindabyne). Directed by Sian Davies (The Gloaming) and Matthew Saville (Please Like Me) and shot by Murray Lui (Top End Wedding), the series is produced by Goalpost's Rosemary Blight (The Invisible Man), as well as Lois Randall and Kaylene Butler.
EPISODE DESCRIPTIONS
"Unfinished Business" – Premieres Thursday, February 23 on Sundance Now and AMC+
In Ashford, North Queensland, residents of the town gather at the local high school to unearth a time capsule. Among the items is a letter from Isabel Baker, who was murdered just a week before the time capsule was buried and sheds new light on her unsolved murder case.
"Predators" – Premieres Thursday, February 23 on Sundance Now and AMC+
After the discovery of Isabel's hair those involved with the time capsule project in 1994 are at the forefront of Cormack's investigation. Hazel is grappling with how much to trust Cormack.
"Ezekial" – Premieres Thursday, March 2 on Sundance Now and AMC+
Rumors and gossip are spreading around Ashford and suspicion is cast. As more secrets rise to the surface, Cormack discovers that cousins went missing in Ashford around the time of Isabel's murder. Could these 'lost boys' be connected to the case?
"The Lost Boys" – Premieres Thursday, March 9 on Sundance Now and AMC+
Cormack investigates the link between the missing cousins, 'the lost boys,' and Isabel's murder. He probes Joe about his connection to the case but Joe refuses to cooperate.
"Sugar Sugar" – Premieres Thursday, March 16 on Sundance Now and AMC+
There is a new accident and all signs are pointing to a cover-up of illegal labor practices by the mill. The case takes another twist and the spotlight shines on a new suspect.
"Spirits Speak" – Premieres Thursday, March 23 on Sundance Now and AMC+
Cormack and Hazel work together and discover there is one final twist to this tale.
###
About Sundance Now
AMC Networks' Sundance Now offers cross-genre escapism for insightful viewers seeking fresh perspectives, thought-provoking experiences and transportive journeys to far-off places. With a rich selection of engrossing dramas and romance, imaginative fantasy, gripping mysteries, to riveting true crime and intelligent thrillers, Sundance Now programming features empowered characters telling one-of-a-kind stories from around the world – all streaming commercial-free. Sundance Now houses critically-acclaimed and award-winning original and streaming exclusive series including popular supernatural thriller A Discovery of Witches (Matthew Goode, Teresa Palmer), acclaimed UK adaptation of the French hit Call My Agent!, Ten Percent, (Jack Davenport, Jim Broadbent), multi-Emmy winner State of the Union (Rosamund Pike, Chris O'Dowd; Patricia Clarkson, Brendan Gleeson), glamorous coastal drama Riviera (Julia Stiles), a pair of British true crime thrillers starring David Tennant Des and Litvinenko (David Tennant), French spy drama The Bureau, acclaimed Swedish drama The Restaurant, Australian psychological thriller The Secrets She Keeps (Laura Carmichael), and Motherland (Anna Maxwell Martin, Lucy Punch, Joanna Lumley), to name a few; alongside riveting true crime series including The Oland Murders, The Dakota Entrapment Tapes, The Preppy Murder: Death in Central Park, No One Saw a Thing and Dating Death.  Sundance Now can be enjoyed for $6.99/month or $4.99/month with an annual membership. No cable subscription is needed. Facebook: @SundanceNow – Twitter: @sundance_now
About AMC+
AMC+ is the company's new premium streaming bundle featuring an extensive lineup of popular and critically acclaimed original programming from AMC, BBC America, IFC, and SundanceTV and full access to targeted streaming services Shudder, Sundance Now and IFC Films Unlimited, which feature content such as A Discovery of Witches, Creepshow, and Boyhood. The service features a continually refreshed library of commercial-free content, with iconic series from the AMC Networks portfolio including Mad Men, Halt & Catch Fire, Hell on Wheels, Turn: Washington's Spies, Rectify, Portlandia, and series from The Walking Dead Universe, among many others. The service also offers a growing slate of original and exclusive series including Gangs of London, This is Going to Hurt, Dark Winds, and the first two series in a new Anne Rice universe, Anne Rice's Interview with the Vampire and Anne Rice's Mayfair Witches. With new movies released every Friday, AMC+ is the newest destination for exclusive film premieres direct from theaters all year long. AMC+ is available in Canada, Australia, New Zealand, India, South Korea, and Spain and is available in the U.S. through AMCPlus.com, the AMC+ app, and a number of digital and cable partners.
NOTE TO EDITORS
If you have any questions or would like to arrange interviews with the cast or creative team, please contact those listed below. We appreciate your support and coverage of Black Snow.