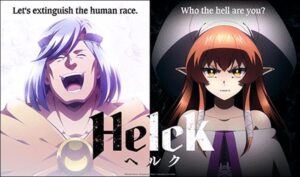 HOUSTON, TX — February 13, 2023 — HIDIVE revealed today that it has acquired new action fantasy TV series HELCK from Nippon TV, based on the popular shōnen manga written and illustrated by Nanaki Nanao. The long-awaited anime series will be simulcast exclusively on HIDIVE and is scheduled to premiere during the upcoming Summer 2023 season. As part of its announcement HIDIVE premiered the first-ever promotional video for HELCK (with English subtitles) here.
"We're thrilled to offer the highly anticipated anime series HELCK as a HIDIVE exclusive," said John Ledford, President of HIDIVE. "This exciting new action fantasy series is just the first of many exclusive simulcasts that our subscribers – especially shōnen fans – can look forward to watching on HIDIVE this summer!"
A certain country in the demon world. The Demon King was defeated by the hands of one of the heroes, and a competition was held for the title of the New Demon King. The Imperial Four Heavenly Kings Vermilio, who is in charge of the tournament, is furious at the participation of the human hero Helck, who is supposed to be his enemy. After receiving news of the fall of the castle of Urum before the final, Vermilio sets out to retake Urum Castle with Helck and other finalists. With a smile, Helck says, "Let's destroy humans." Are those words true? The truth behind the smile is…
The 12-volume HELCK manga series launched in 2014 and was serialized in both Shogakukan's Ura Sunday website and MangaONE. In 2015, it was named one of the Top 10 titles at the Next Manga Awards.
HELCK will be directed by Tatsuo Sato together with writing by Toshizo Nemoto and Mitsutaka Hirota, character design by Yoshinori Deno, and animation by SATELIGHT Inc. The series stars Katsuyuki Konishi as Helck, Mikako Komatsu as Vermilio, Yoshitsugu Matsuoka as Azudra, Akira Ishida as Hon and Shiki Aoki as Asta.
For the latest announcements regarding these and other great titles, follow HIDIVE on Facebook, Twitter, Instagram and YouTube.
About HIDIVE
HIDIVE, the newest addition to AMC Network's portfolio of targeted streaming services, offers the best in anime and live-action entertainment to both die-hard otaku and burgeoning fans of Japanese pop-culture. In addition to its extensive library of movies and episodic series, each season HIDIVE brings a new selection of the latest titles from Japan in both simulcast and exclusive DUBCAST™ editions – all of which can be viewed on a wide array of platforms including web browsers, smartphones, TVs, streaming devices, and gaming consoles. For more information on HIDIVE or to sign-up for a free 7-day trial, visit www.hidive.com.
###