"THE TUNNEL TO SUMMER, THE EXIT OF GOODBYES"
PRESS CONFERENCE WITH FILM'S PRODUCTION STAFF
AND ORIGINAL AUTHOR AT OTAKON 2023
SCREENER ACCESS AVAILABLE FOR ATTENDING JOURNALISTS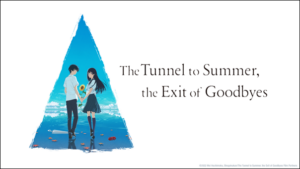 WHAT:
To celebrate North American subtitled premiere of The Tunnel to Summer, the Exit of Goodbyes at Otakon 2023, a special afternoon press conference with award-winning film's production staff and original author will be held on Saturday, July 29 prior to the screening event later that evening.
This critically acclaimed sci-fi drama has been wowing audiences internationally since its release in Japan last September. Most recently, The Tunnel to Summer, the Exit of Goodbyes received top honors at the 2023 Annecy International Animation Festival in France where it took home the coveted Paul Grimault Award.
The Tunnel to Summer, the Exit of Goodbyes will be distributed by HIDIVE and released later this year in select theaters across the U.S. and Canada.
Official Synopsis
Kaoru Tono heard a rumor: The laws of space and time mean nothing to the Urashima Tunnel. If you find it, walk through and you'll find your heart's desire on the other side…in exchange for years of your own life. One night, Kaoru just so happens to find himself standing in front of a tunnel that looks suspiciously like the one the rumor describes. He finds himself thinking of Karen, the sister he lost in an accident five years ago. To Kaoru's surprise, he's been followed by the new transfer student Anzu Hanashiro, who promises to help him experiment with the mysterious tunnel—but what does she want from Kaoru in exchange? And what will he have left to give, after the tunnel's done with him?
Official Trailer (Subtitled)
WHO:
Japanese guests in attendance:
Mei Hachimoku, Original Author – Shōgakukan
Naoki Koyama, Producer – Pony Canyon
Shingo Nishikawa, Setting Producer – CLAP
Harumi Fuuki, Music Composer
WHEN:
Saturday, July 29, 2023 (all times Eastern)
1:35 pm     Doors Open
1:40 pm     Press Conference Starts
2:15 pm     Press Conference Ends
Open to all Registered Press
WHERE:
Press Conference Room (Scarlet Oak)
Otakon 2023
Walter E. Washington Convention Center
Washington, DC, USA
MEDIA:
For digital screener requests, contact scott.barretto@amcnetworks.com.
Hi-res key art and stills available for download via Hightail here.
Credit: Courtesy of HIDIVE.
 ###
About HIDIVE
HIDIVE, the newest addition to AMC Network's portfolio of targeted streaming services, offers the best in anime and live-action entertainment to both die-hard otaku and burgeoning fans of Japanese pop-culture. In addition to its extensive library of movies and episodic series, each season HIDIVE brings a new selection of the latest titles from Japan in both simulcast and exclusive DUBCAST editions – all of which can be viewed on a wide array of platforms including web browsers, smartphones, TVs, streaming devices, and gaming consoles. For more information on HIDIVE or to sign-up for a free 7-day trial, visit www.hidive.com.