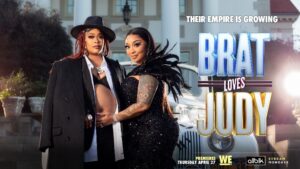 New York, NY – March 30, 2023 – The Secret is out…Rap Legend Da Brat and hair care mogul wife, Jesseca "Judy" Dupart, are having a baby!  However, the road to expanding their empire has been anything but simple. On this groundbreaking new season of Brat Loves Judy, premiering Thursday, April 27 at 9pm ET on WE tv, the newlywed couple gives fans unprecedented access into their personal lives, sharing all the incredible highs and disappointing lows during their first year of marriage.
As Brat and Judy embark on a tumultuous IVF journey, fraught with health issues, unexpected challenges arise within their blended family. Judy's son moves in, unwittingly causing drama in their relationship and shining a light on the couple's distinctly different parenting styles and upbringings. Amidst it all, the dynamic duo has also conceived a new hair care product line, "Kaleidoscope X Brat"…their first official collaboration.
Will Brat & Judy be able to adjust to unforeseen family drama while maintaining their ever-growing careers and merging their empires. Tune in Thursday, April 27 at 9pm ET on WE tv, with episodes airing the following Monday on ALLBLK and find out!
Brat Loves Judy is Executive Produced by Tara Long and Gennifer Gardiner of Entertainment One (eOne), alongside Datari Turner Executive Producing for Datari Turner Productions. Da Brat and Jesseca "Judy" Dupart also serve as Executive Producers on the series. Lauren P. Gellert and Ashley McFarlin serve as Executive Producers for WE tv.
About WE tv
With compelling, can't miss unscripted shows, WE tv's programming is fueled by personalities and relationships filled with purpose and passion. WE tv welcomes everyone and creates an inclusive experience across all platforms: on TV, online, on demand, and social media, embracing how today's digitally savvy, socially engaged audiences connect through content, using it as a catalyst to drive conversation and build community. Further building on this mission, current WE tv originals are now available to stream on WE tv's sister platform, ALLBLK. WE tv is owned and operated by AMC Networks Inc., and its sister networks include AMC, BBC America, IFC, SundanceTV and streamers Acorn TV, ALLBLK, AMC+, Shudder and Sundance Now.