WE tv DROPS SNEAK PEEK AND REVEALS THE CAST FOR ALL-NEW SEASON OF 'MARRIAGE BOOT CAMP: HIP HOP EDITION' PREMIERING THURSDAY, OCTOBER 7 AT 9PM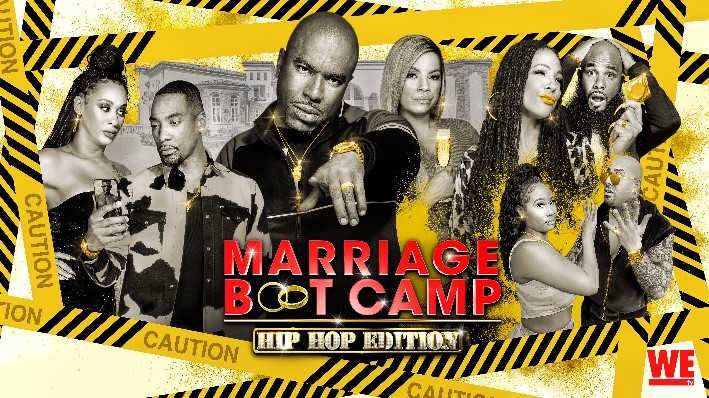 View Sneak Peek Here
Download Sneak Peek Here
Four new hip hop couples face the music on a brand-new season of "Marriage Boot Camp: Hip Hop Edition," premiering Thursday, October 7 at 9pm on WE tv. This season, Hip Hop legend N.O.R.E and NERI, two-time Grammy Award nominee MONIE LOVE and TUFF, Producer MALLY MALL and TREASURE, and Love & Hip Hop Hollywood's favorite on again off again couple SIIR BROCK and AMBER LAURA head to Marriage Boot Camp to find out if their relationships are worth saving.
Resident counselor Dr. Ish Major, along with Judge Lynn Toler are back. Their no nonsense, no BS tough love will be doled out to pull these celebrities out of the clouds and put them back into reality. Dr. Ish and Judge Toler force the couples to dig deep to confront lies, tears and denials. But when dark secrets are ultimately exposed, will the couples continue to make beautiful music together or decide it's time to go solo?
"Marriage Boot Camp: Hip Hop Edition" is produced by Thinkfactory Media, an ITV America company. Executive Producers are Adam Reed, Adam Freeman, Tim Cohen-Laurie and Erin Richards. Lauren P. Gellert and Angela Molloy are Executive Producers for WE tv.
About WE tv
With compelling, can't miss unscripted shows and dramatic scripted series, WE tv's programming is fueled by personalities and relationships filled with purpose and passion. WE tv welcomes everyone and creates an inclusive experience across all platforms: on TV, online, on demand, and social media, embracing how today's digitally savvy, socially engaged audiences connect through content, using it as a catalyst to drive conversation and build community. WE tv is owned and operated by AMC Networks Inc., and its sister channels include AMC, BBC America, IFC and SundanceTV. WE tv is available to over 86 million U.S. homes.  WE tv: All In.