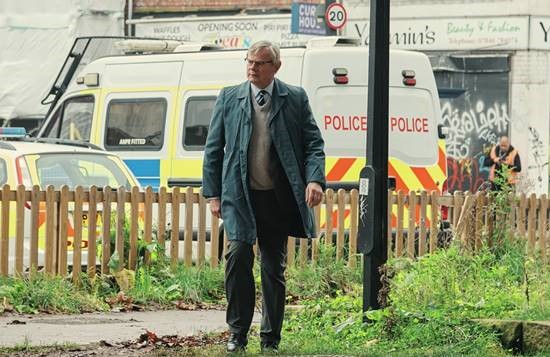 "[Martin] Clunes is excellent in a crisp, moving drama" – The New York Times
"Mesmerizing" – Entertainment Weekly
"Superb, compulsive viewing" – Independent (on Season 2)
AVAILABLE ASSETS:
The highest-rated new UK drama of 2019, Manhunt, is back for a riveting second season with a new investigation. BAFTA and SAG Award-winning actor Martin Clunes (Doc Martin) is reprising his critically acclaimed role as former London Metropolitan Police detective DCI Colin Sutton. Based on Sutton's real-life diaries, this time concerning a case of a burglar and serial rapist's 17-year reign of terror, the Acorn TV Original series Manhunt: The Night Stalker will premiere exclusively in the U.S. and Canada on Monday, October 18 on Acorn TV, AMC Networks' acclaimed streamer devoted to British and international television. New episodes will premiere weekly every Monday through November 8.
Manhunt: The Night Stalker is based on the true story of the police pursuit of a notorious burglar and serial rapist who left thousands of elderly people in Southeast London living in fear, between 1992 and 2009. As the suspect continued to evade capture, Detective Chief Inspector Colin Sutton (Clunes) was asked in 2009 to review the case. Working with Detective Superintendent Simon Morgan and the dedicated "Operation Minstead" team, Sutton proposed a strategy he believed could catch one of Britain's most prolific rapists, focusing a vast surveillance operation around a key area of southeast London. Scores of additional officers were deployed to invisibly saturate the target area on a nightly basis. The clock was ticking, as the Night Stalker was becoming ever more brazen and prolific. The drama explores how Sutton came in and helped solve it in a matter of weeks, taking an incredibly dangerous criminal off the streets.
The second season co-stars Claudie Blakley (Pride and Prejudice), who plays Colin's wife, Louise Sutton, and Matthew Gravelle (Broadchurch) as DI Nathan Eason. Manhunt: The Night Stalker was created by Colin Sutton and Ed Whitmore (Viewpoint, Silent Witness, Rillington Place, Strike Back), and was produced by Buffalo Pictures. The executive producers are Philippa Braithwaite and Ed Whitmore, the producer is Jo Willett, the co-producer is Evie Bergson-Korn, and the director is Marc Evans.
Episode Synopses
Episode 1 (October 18) – Detective Chief Inspector Colin Sutton is tasked with reviewing Operation Minstead, an eleven-year, multi-million-pound enquiry to catch the 'Night Stalker.'
Episode 2 (October 25) – Colin presents his review findings to DCS Hamish Campbell and suggests a strategy called "Minstead Lite." But Hamish wants Colin to stay on to see this new approach through. Will Colin be able to deliver on his promises?
Episode 3 (November 1) – Will the Force Tasking Group fund Colin's high stakes gamble? Not only is it expensive, but there's absolutely no guarantee it will work…
Episode 4 (November 8) – The team are losing morale: it's highly unlikely Minstead Man will appear again after such a close call. Will the surveillance be cut short before they can catch their culprit?
PR Contacts:
Judy Woloshen / Judy.Woloshen@amcnetworks.com
Heather McHale /  Heather.McHale@amcnetworks.com
Eddie Ward / Eddie.Ward@amcnetworks.com
Samantha Luckert / Samantha.Luckert@amcnetworks.com
About Acorn TV
Called a "glorious streaming service… an essential must-have" (The Hollywood Reporter) and "Netflix for the Anglophile" (NPR), AMC Networks' Acorn TV is North America's largest streaming service specializing in British and international television. Acorn TV adds exclusive new programs every week with a deep library of mysteries, dramas, and comedies with no commercials. In 2021, Acorn TV features several commissioned original series including the second season of Miss Fisher spinoff Ms. Fisher's Modern Murder Mysteries, British crime drama Whitstable Pearl, Kiwi romantic comedy Under the Vines and British detective drama Dalgliesh starring Bertie Carvel, as well as Irish crime thriller Bloodlands starring James Nesbitt and co-executive produced by Jed Mercurio, the return of New Zealand detective series My Life Is Murder starring Lucy Lawless, popular Canadian period drama Murdoch Mysteries, and a growing catalog of popular bingeable dramas that include A Place to Call Home, Detectorists, Jack Irish and Foyle's War. Recent Acorn TV Original series include Deadwater Fell starring David Tennant and Cush Jumbo, highly-rated BBC One drama The Nest; and groundbreaking BBC One period drama A Suitable Boy from Mira Nair. Upcoming Acorn TV Original UK detective series in 2022 include Harry Wild starring Jane Seymour, The Chelsea Detective starring Adrian Scarborough and Signora Volpe starring Emilia Fox. Acorn TV offers a free 7-day trial and thereafter is just $5.99/month or $59.99/year.
Facebook: OfficialAcornTV – Twitter: @AcornTV – Instagram: @Acorn_tv