ACORN TV'S CAPTIVATING FAN-FAVORITE CRIME DRAMA THE CHELSEA DETECTIVE RETURNS MONDAY, AUGUST 28
Official Season 2 Trailer Released
All-New Season Sees Adrian Scarborough's Detective Inspector Max Arnold Taking on the Glossy, Stylish World of Chelsea, and the Darkness that Lies Beneath…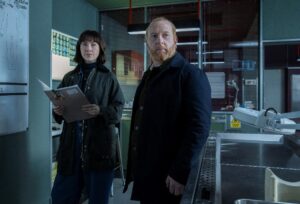 WATCH THE FIRST THREE EPISODES NOW – SCREENERS.COM
WATCH AND EMBED OFFICAL TRAILER
NEW YORK – August 3, 2023 – The Chelsea Detective, the hit British crime drama starring Adrian Scarborough (Killing Eve, The King's Speech, 1917) as the sharp, intuitive Detective Inspector Max Arnold, is making its highly-anticipated return to Acorn TV on Monday, August 28, with new episodes dropping weekly. The second season, consisting of four feature-length episodes, sees DI Arnold teaming up with new colleague Detective Sergeant Layla Walsh, played by Vanessa Emme (Bloodlands, A Discovery of Witches), who joins Chelsea CID from Exeter. In addition, Acorn TV today released the official Season 2 trailer.
This season, London's richest borough hides a dark side that DI Max Arnold (Scarborough) knows all too well. Killers lurk among the art galleries and luxury homes, and it's up to DI Arnold and new partner Layla Walsh (Emme) to expose them.
Sophie Stone (Shetland) returns as the brilliant, if occasionally daunting, Chief Forensics Officer Ashley Wilton, Lucy Phelps (Grace) as research and tech queen DC Jess Lombard, Peter Bankolé (Peaky Blinders) as officer DC Connor Pollock, Anamaria Marinca (Deadline) as DI Arnold's ex-wife Astrid, and Frances Barber (Whitstable Pearl) as DI Arnold's aunt, Olivia Arnold. Guest stars this season include Rachael Stirling (Hollington Drive) who stars as gallery owner Rebekah Chaban in the season premiere, as well as Simon Williams (EastEnders) who portrays nursing home resident Maurice Swift in the second episode.
Created and executive produced by Emmy® Award-winning Peter Fincham (The Lost Prince, Smack the Pony, I'm Alan Partridge), the four episodes are written by Glen Laker (Vera, Prime Suspect), Peter Fincham, Liz Lake (Riviera, Call the Midwife) and Laura Poliakoff (Devils). The series producer is Ella Kelly (Death in Paradise, Midsomer Murders). The directors are Richard Signy (Death in Paradise, Silent Witness) and Sarah Esdaile (Call the Midwife). The Chelsea Detective is produced by Acorn TV's Acorn Media Enterprises, Germany's ZDF and BBC Studios' invested indie Expectation. Acorn TV serves as the exclusive home for the series in the U.S., Canada, the United Kingdom, Australia and New Zealand, among others. BBC Studios distributes the series internationally.
EPISODE DESCRIPTIONS
Episode 201 – "The Blue Room" – Premieres Monday, August 28 on Acorn TV
When an art gallery manager is stabbed during the robbery of an exhibition, it appears he was in the wrong place at the wrong time. But as the team delve into the elite world of Chelsea's art scene, Max soon wonders if the victim was an accomplice.
Episode 202 – "Golden Years" – Premieres Monday, September 4 on Acorn TV
A woman at a luxury retirement home dies mysteriously, and with no signs of forced entry, suspicion falls on the staff and residents. But tensions within her family point to another cause, harking back to their time in Apartheid-era South Africa.
Episode 203 – "The Reliable Witness" – Premieres Monday, September 11 on Acorn TV
The most likely culprit in the murder of a psychotherapist is an ex-patient with a history of erratic behavior. As the team dig into the therapist's personal life, they uncover disturbing revelations that cast a new light on his killing.
Episode 204 – "A Crime of Passion" – Premieres Monday, September 18 on Acorn TV
Jack Felton, the charming owner of a fruit and vegetable delivery company, is found stabbed at home in what looks like a frenzied attack. The detectives must unravel romantic jealousies, family conflicts, and business rivalries to nab the killer.
###
About Acorn TV
AMC Networks' Acorn TV is North America's largest streaming service specializing in premium British and international television. Acorn TV adds exclusive programming every week to a deep library of revered mysteries, dramas, and comedies – all commercial-free. Acorn TV's recent slate is comprised of critically acclaimed commissioned and original series including popular New Zealand detective series My Life Is Murder (Lucy Lawless), acclaimed Irish crime thriller Bloodlands (James Nesbitt, co-executive produced by Jed Mercurio), British crime drama Whitstable Pearl (Kerry Godliman), Emmy®-nominated Queens of Mystery, Kiwi romantic comedy Under the Vines and British detective drama Dalgliesh (Bertie Carvel), to name a few. Current and upcoming Acorn TV Original Series include UK detective drama Harry Wild (Jane Seymour), international crime series Cannes Confidential (Lucie Lucas, Jamie Bamber), tasty murder mystery Mrs. Sidhu Investigates (Meera Syal), Signora Volpe (Emilia Fox), The Chelsea Detective (Adrian Scarborough) and many more. The above add to a growing catalog of popular bingeable dramas including Agatha Raisin (Ashley Jensen), Jack Irish (Guy Pearce), Doc Martin (Martin Clunes), Deadwater Fell (David Tennant, Cush Jumbo), all 23 seasons of fan-favorite Midsomer Murders and highly-rated drama The Nest, among others.
"glorious streaming service… an essential must-have" – The Hollywood Reporter
"Netflix for the Anglophile" – NPR
Acorn TV is available for $6.99/month or $69.99/year. Facebook: OfficialAcornTV – Twitter: @AcornTV – Instagram: @Acorn_tv
About Expectation  
Expectation launched in February 2017 as a multi-genre, independent production company covering both scripted and non-scripted programming. Led by Peter Fincham and Tim Hincks, Expectation has built an enviable reputation for creating new drama, factual drama, factual, comedy and entertainment programming as well as breaking new and diverse talent and winning multiple awards for its shows. Among these shows are Clarkson's Farm and The Grand Tour for Prime Video, The Big Narstie Show (with Dice Productions), The Lateish Show with Mo Gilligan (with Momo G), Steph's Packed Lunch (in partnership with Can Can Productions) and I Literally Just Told You for Channel 4, In With A Shout for ITV, Unforgivable for Dave, This is MY House, the forthcoming Home To Roost documenting The Osbournes' return to the UK for BBC One and the recently announced Katherine Ryan: Parental Guidance for W. In scripted programming, the team have produced three multi-award-winning series: Alma's Not Normal for BBC Two, In My Skin for BBC Three and BBC Wales, as well as dark comedy drama Guilt (with Happy Tramp) for BBC Two and BBC Scotland. They have also produced two series and a special of international hit, Intelligence for Sky Comedy and The Change, created, written by, and starring the multi award-winning stand-up comedian, actor, and writer Bridget Christie for Channel 4, along with crime drama The Chelsea Detective for Acorn TV, the second series of which will debut this August. Expectation is part of the BBC Studios portfolio of minority invested indie production partners.