SEASON 2 DEBUTS WITH A TWO-EPISODE PREMIERE ON MONDAY, NOVEMBER 13 
All-New Action-Packed Trailer Now Available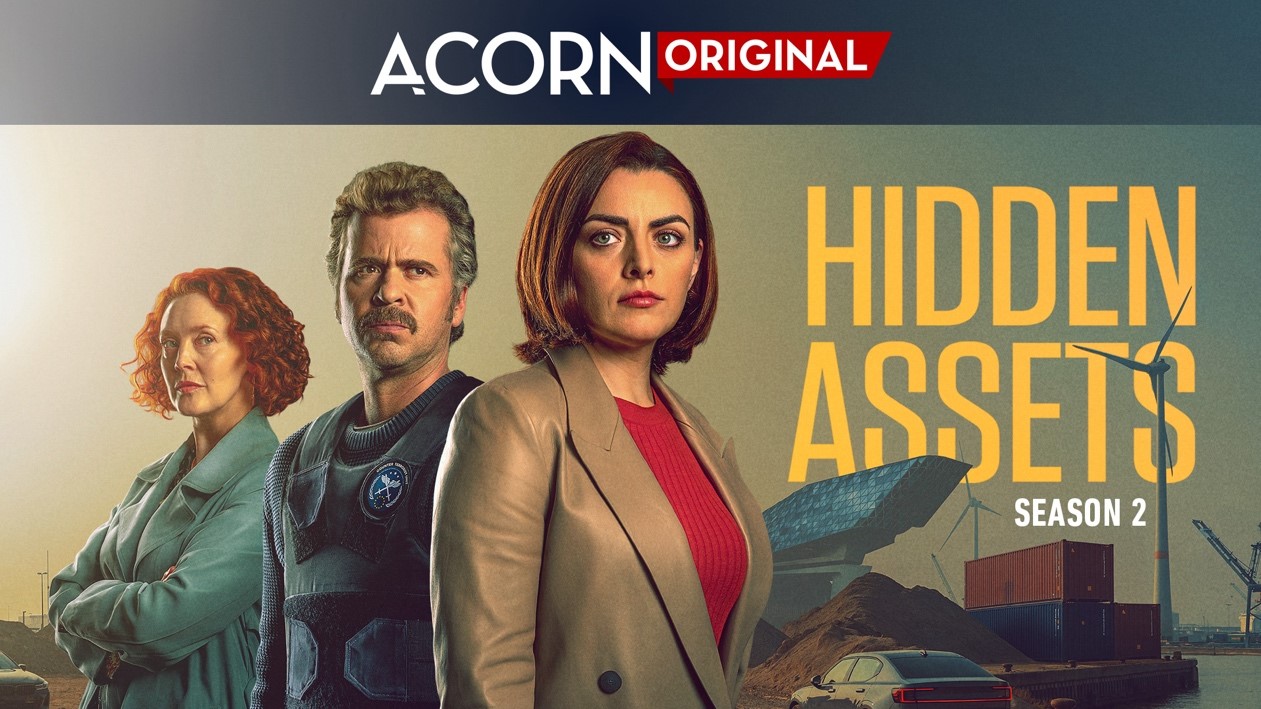 WATCH THE FIRST FOUR EPISODES NOW – SCREENERS.COM
WATCH AND EMBED OFFICAL TRAILER
NEW YORK – October 17, 2023 – Creator, writer and executive producer Peter McKenna's (Kin, The Last Kingdom) prominent, thrilling series Hidden Assets returns exclusively to Acorn TV with a two-episode premiere on Monday, November 13. Additional episodes of the six-episode Acorn TV Original Series will drop weekly on Mondays.
In the new season of Hidden Assets, Bibi Brannigan (Simone Kirby, His Dark Materials, Silent Witness), the ship chandler who used to operate out of the Antwerp, Belgium port, has retreated to Ireland to deal with the fallout from the Belgian bombings occurring a year earlier. Although estranged from her husband James Melnick (Charlie Carrick, The Borgias, Deep Water), the sudden death of her father-in-law Richard Melnick (Michael Ironside, Barry, The Dropout) brings Bibi back to Antwerp. Hoping to see her son Arthur (Davin McElherron) at the memorial service, Bibi is warned off by Richard's successor Frances Swann (Karine Vanasse, Cardinal, Plan B): any deal she had with Richard died with him.
When there's an attempt on her life, Bibi is forced to approach Ireland's Criminal Assets Bureau (CAB) with a deal: protection in exchange for the true conspirators behind the Belgian bombings. But there have been changes in CAB and new team lead DS Claire Wallace (Nora-Jane Noone, The Ipcress File, Brooklyn) is less inclined than her predecessor to believe Bibi. When the threat can no longer be ignored, Claire, along with Belgian Chief Inspector Christian De Jong (Wouter Hendrickx, Blackout, Undercover), embark on a lethal, high-stakes investigation with international political implications where nothing is at it seems and they are never sure who they can trust.
Hidden Assets, an Acorn TV Original Series, is created written and executive produced by Peter McKenna, with Mary Fox (Vanilla), Marty Thornton (Vanilla), Sinéad Collopy (Smother, Every Five Miles), Susan E. Connolly (Redemption) also writing episodes.  It's directed by Emmy® Award-nominee Thaddeus O'Sullivan (Call The Midwife, Silent Witness) and Kadir Ferati Balci (Cold Courage, Dag & nacht). Siobhan Bourke, James Mitchell, Donna Walsh, Stephen Greenburg, Peter De Maegd and Tom Hameeuw serve as executive producers. Kathryn Lennon and Anna-Sue Greenburg serve as series producers, while Catherine O'Flaherty serves as producer. Co-funded by the European Union, the series is a Saffron Moon, Facet4Media & Potemkino Production for RTÉ, Super Channel and Acorn TV.
EPISODE DESCRIPTIONS 
Episode 201 – Premieres Monday, November 13 on Acorn TV
A year on from the Belgian bombings there is a new boss and old enemies. Detective Sergeant Claire Wallace finds herself at odds with Belgian Chief Inspector Christian De Jong as Ireland's Criminal Assets Bureau (CAB) is drawn back to the investigation in Antwerp.  A familiar face returns but can she be trusted?
Episode 202 – Premieres Monday, November 13 on Acorn TV
DS Claire Wallace and CI Christian de Jong are shocked to discover who was behind the terrorist attacks but as the body count grows, will they be able to prove it?
Episode 203 – Premieres Monday, November 20 on Acorn TV
Bibi Brannigan's life hangs in the balance when a hitman arrives in Ireland. A PR disaster threatens Frances Swann's plan to close the Antwerp port deal, forcing her to take drastic action.
Episode 204 – Premieres Monday, November 27 on Acorn TV
In the aftermath of a chilling attack in Ireland, DS Claire Wallace heads to Antwerp to make contact with a key witness. When CI Christian de Jong hits a dead end in his investigation, help comes from an unexpected source.
Episode 205 – Premieres Monday, December 4 on Acorn TV
As DS Claire Wallace and CI Christian de Jong close in on hard evidence connecting Trestford to the bombings, Frances Swann executes a callous plan to force Bibi Brannigan to Antwerp. 
Episode 206 – Premieres Monday, December 11 on Acorn TV
In the gripping season finale, DS Claire Wallace and her Criminal Assets Bureau (CAB) team are in a race against time to finally unmask those behind the terrorist bombings before the Antwerp port deal is signed. But their breakthrough comes at a very heavy price.
NOTE TO EDITORS
If you have any questions or would like to arrange cast or crew interviews, please contact those listed below. We appreciate your support and coverage of Hidden Assets.
About Acorn TV
AMC Networks' Acorn TV is North America's largest streaming service specializing in premium British and international television. Acorn TV adds exclusive programming every week to a deep library of revered mysteries, dramas, and comedies – all commercial-free. Acorn TV's recent slate is comprised of critically acclaimed commissioned and original series including popular New Zealand detective series My Life Is Murder (Lucy Lawless), acclaimed Irish crime thriller Bloodlands (James Nesbitt, co-executive produced by Jed Mercurio), British crime drama Whitstable Pearl (Kerry Godliman), Emmy®-nominated Queens of Mystery, Kiwi romantic comedy Under the Vines and British detective drama Dalgliesh (Bertie Carvel), to name a few. Current and upcoming Acorn TV Original Series include UK detective drama Harry Wild (Jane Seymour), tasty murder mystery Mrs. Sidhu Investigates (Meera Syal), Signora Volpe(Emilia Fox), The Chelsea Detective (Adrian Scarborough) and many more. The above add to a growing catalog of popular bingeable dramas including Agatha Raisin (Ashley Jensen), Jack Irish (Guy Pearce), Doc Martin (Martin Clunes), Deadwater Fell (David Tennant, Cush Jumbo), all 23 seasons of fan-favorite Midsomer Murders and highly-rated drama The Nest, among others.
"glorious streaming service… an essential must-have" – The Hollywood Reporter
"Netflix for the Anglophile" – NPR
Acorn TV is available for $6.99/month or $69.99/year. Facebook: OfficialAcornTV – Twitter: @AcornTV – Instagram: @Acorn_tv