ALLBLK RELEASES SNEAK PEEK OF HIGHLY ANTICIPATED NEW SITCOM, PARTNERS IN RHYME, PREMIERING THURSDAY, NOVEMBER 18
Co-created by Bentley Kyle Evans and Rap Legend MC Lyte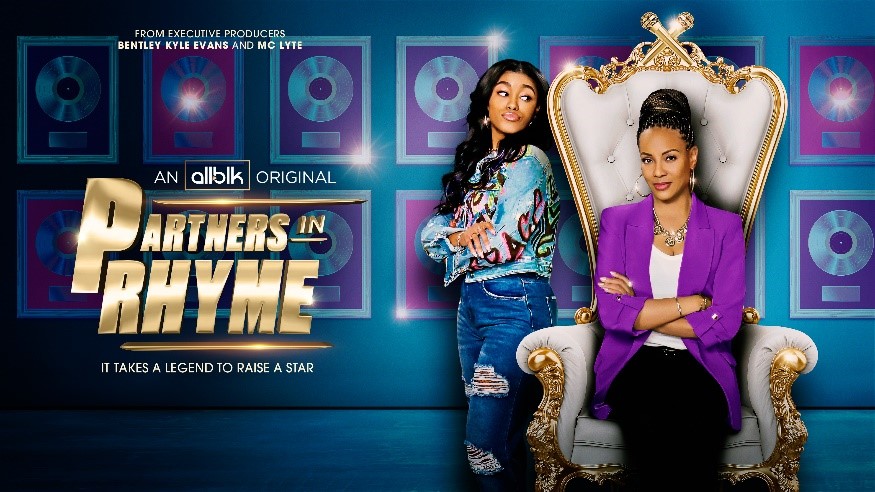 DOWNLOAD KEY ART AND IMAGES  HERE 
VIEW TRAILER HERE
DOWNLOAD TRAILER HERE
New York, NY – October 27, 2021 – Trailblazing rap legend MC Lyte teams up with Bentley Kyle Evans (Martin, The Jamie Foxx Show), for the hilarious new sitcom, Partners In Rhyme. The seven-episode original will premiere weekly beginning Thursday, November 18 on popular AMC Networks' streamer, ALLBLK.
It's old school versus new school in this comical look at the record industry through the eyes of a female hip-hop icon and her young protégé. Starring MC Lyte and directed by Evans, the light-hearted, half-hour sitcom follows the life of rap pioneer, Lana Crawford (MC Lyte). When Lana discovers she is being dropped as an artist from her label and in massive debt, The OG rap star is propositioned into managing her niece Lucious T (Precious Way, ABC's Queens)…an up and coming Instagram rapper.
Generations collide as Lana and Luscious T try to find their footing, working, and living under the same roof. Lana's feisty best friend and personal assistant, Victoria "Vicky" Sims (Cloie Wyatt Taylor); Mekhai Crawford (Ron G., Insecure, Key & Peele) her younger, freeloading brother; High-power label executive and mastermind behind the new dynamic duo, Hazel Wilson (Rolanda Watts) and trusted recording engineer Boston Jacobs (Wesley Jonathan, Monogamy), are all on hand, to help this legend raise a star!
Executive Produced by Bentley Kyle Evans for Harvest Studio's, MC Lyte and Lynn Richardson in association with production company Sunni Gyrl and ALLBLK executives Brett Dismuke and Nikki Love.
About ALLBLK
ALLBLK is an invitation to a world of streaming entertainment that is inclusively, but unapologetically – Black. Featuring a diverse lineup of content that spans across genres and generations, the ALLBLK library includes exclusive original series such as Craig Ross Jr.'s Monogamy, A House Divided, and Double Cross; must-see independent films, nostalgic Black cinema, popular network TV, lively stage plays, and so much more. ALLBLK is available everywhere streaming services are found – iOS, Android, Amazon Prime Video Channels, Apple TV and Apple TV Channels, Roku and Roku Channels, Amazon Fire TV, YouTube TV, Cox, DISH, Sling TV, Charter and more. ALLBLK content can also be found on WEtv+. At www.ALLBLK.tv, ALLBLK offers a free 7-day trial and thereafter is just $4.99/month or $49.99/year. Keep up with ALLBLK on Facebook at Facebook.com/WatchALLBLK and Twitter/Instagram @WatchALLBLK.
About AMC Networks
AMC Networks is a global entertainment company known for its popular and critically-acclaimed content. Its portfolio of brands includes AMC, BBC AMERICA (operated through a joint venture with BBC Studios), IFC, SundanceTV, WE tv, IFC Films, and a number of fast-growing streaming services, including the AMC+ premium streaming bundle, Acorn TV, Shudder, Sundance Now and ALLBLK (formerly branded "UMC"). AMC Studios, the Company's in-house studio, production and distribution operation, is behind award-winning owned series and franchises, including The Walking Dead, the highest-rated series in cable history. The Company also operates AMC Networks International, its international programming business, and Levity Entertainment Group, its production services and comedy venues business.
ALLBLK Press Contacts:
Marisol Smith, Marisol.Smith@amcnetworks.com
Briele Douglass, Briele.Douglass@amcnetworks.com
Farah Noel, Farah.Noel@amcnetworks.com
Madeline Diaz, Madaline.Diaz@amcnetworks.com
Allied Moxy Press Contacts: 
Asia Willis, awillis@alliedglobalmarketing.com
LaQuita Washington , lwashington@alliedglobalmarketing.com