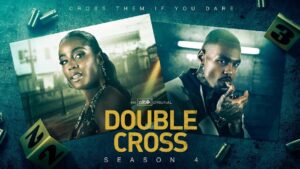 VIEW TRAILER HERE
DOWNLOAD KEY ART & TRAILER HERE
New York, NY [January 19, 2023] – ALLBLK released, today, a riveting sneak peek for the return of their most popular series, Double Cross. Season 4 of the AMC Networks streamer's breakout hit, starring Ashley A. Williams and Jeff Logan as the vigilante "Wonder Twins" Erica and Eric Cross respectively, premieres Thursday, February 16.
The events of last season have left the Cross siblings in a crisis! Erica (Ashley A. Williams) found out the awful truth about the man she loves, Robin (Judi Johnson) is facing the reality of life behind bars and Eric's (Jeff Logan) life lies in the balance. It seems all is lost, but the Cross siblings never give up.
This Season, the pressure is on…Erica must act quickly to keep the siblings intact, as they continue their quest to eradicate child trafficking…but this time starting at the top. However aiming high raises the stakes, making their mission more challenging than ever. And no good deed goes unpunished, as Nurse Brian (Faith Malonte) and Tiffany (Cameo Sherrell) continue with their mindless self-destructing antics and playing with fire…also known as the Cross family. Meanwhile, Detective Ryan (Darrin Dewitt Henson) is laser focused and finally closing in on who was responsible for the human auction…but at what cost?
Returning cast members this season include Tremayne Norris(The Young and the Restless), Jasmine Brown (comedian and social media influencer @watchjazzy), Redaric Williams (The Young and the Restless) and Candice Van Beauty (Christmas Déjà Vu).
Double Cross is executive produced by Christel Gibson, Howard Gibson and Tawanna Terrell, alongside ALLBLK executives Brett Dismuke and Nikki Love.
About ALLBLK
ALLBLK is an invitation to a world of streaming entertainment that is inclusively, but unapologetically – Black. Featuring a diverse lineup of content that spans across genres and generations, the ALLBLK library includes exclusive original series such as Craig Ross Jr.'s Monogamy, A House Divided, and Double Cross; must-see independent films, nostalgic Black cinema, popular network TV, lively stage plays, and so much more. ALLBLK is available everywhere streaming services are found – iOS, Android, Amazon Prime Video Channels, Apple TV and Apple TV Channels, Roku and Roku Channels, Amazon Fire TV, YouTube TV, Cox, DISH, Sling TV, Charter and more. ALLBLK content can also be found on WEtv+. At www.ALLBLK.tv, ALLBLK offers a free 7-day trial and thereafter is just $4.99/month or $49.99/year. Keep up with ALLBLK on Facebook at Facebook.com/WatchALLBLK and Twitter/Instagram @WatchALLBLK.