ALLBLK RELEASES TRAILER FOR SEASON TWO OF  SUPERNATURAL DRAMA WICKED CITY  PREMIERING OCTOBER 19 
Cast Includes Vanessa Bell Calloway, Karon Joseph Riley, Taylor Polidore, Shaquita Smith, Mercedez McDowell, Chantal Maurice, Chanel Mack, and more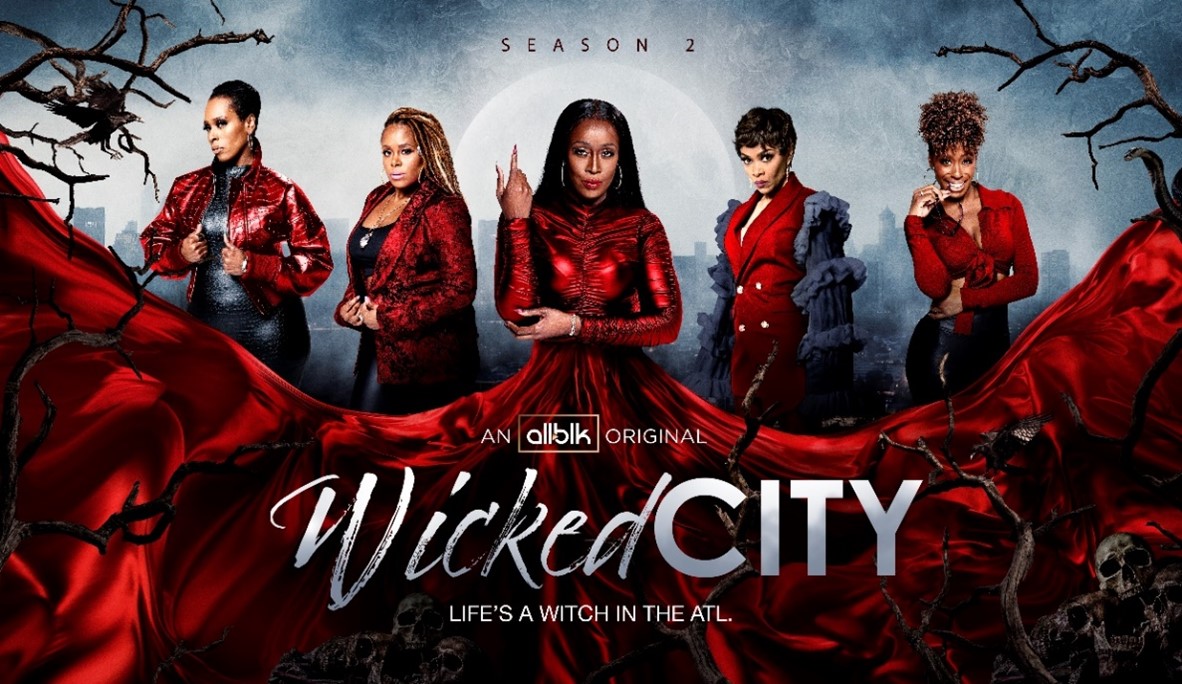 New York, NY – October 4, 2023 – Today, ALLBLK, the popular streaming service for Black television from AMC Networks, released the trailer for the sophomore season of supernatural drama, Wicked City. The 8-episode series premieres Thursday, October 19, with new episodes dropping every Thursday exclusively on ALLBLK.  
In season one, we followed a coven of Black witches who pushed their supernatural powers to new heights after uncovering dark secrets and accidentally entering the world of the forbidden. This season, three months after failing to stop a magical slaver named The Handler (Karon Joseph Riley, Ambitions), the Atlanta coven find themselves broken and separated. Jordan (Shaquita Smith,The Couch) – who now runs The Mystic Haven – and Angela (Chantal Maurice, P-Valley) try and fail to find Sherise (Chanel Mack, The Harder They Fall) who's being held captive by The Handler. Mona (Mercedez McDowell, The Resident) has moved away, and Camille (Taylor Polidore, Snowfall) is put in permanent hiding by her birth mother, Claudette (Rhonda Redette Morman, Hush). Unbeknownst to the coven, Tabitha (Vanessa Bell Calloway, Shameless) and Caden (Malika Blessing, The Perfect Man) are trapped inside a nightmare realm as Claudette exacts her revenge. Meanwhile, Sherise is forced to do The Handler's bidding at his high-class magical supper club "Obsidian Dream." 
Additional cast includes India Marie Cross (It Wasn't Me),  Yandy Smith-Harris (Love and Hip Hop Atlanta), Gary Anthony Sturgis (Diary of a Mad Black Woman), Samantha James (Black and Blue), Kamilah Meek (Young Rock), Kurtis D. Glenn (The Assistant 3), Clover J. Adams (Taylor's Diary), Maurice P. Kerry (Atlanta), Krystal Monique Mosley (Dhoom 3), Michael Silberblatt (Hawkeye), Marco Reese Maldonado (A Killer Romance), Carrie Anne Hunt (Magic Mike XXL), Michael M. Jones (P. Valley) and Sasha McKoon.  
Tressa "Azarel" Smallwood (MegaMind Media) and Donte Lee executive produced the series created & written by Kristin Iris Johnson and Serena M. Lee. Head of Content, Brett Dismuke and SVP of Development & Original Production, Unscripted, Nikki Love, executive produce for ALLBLK.  
About ALLBLK 
ALLBLK is an invitation to a world of streaming entertainment that is inclusively, but unapologetically – Black. Featuring a diverse lineup of content that spans across genres and generations, the ALLBLK library includes exclusive original series such as A House Divided and Double Cross; must-see independent films, nostalgic Black cinema, popular WE tv originals, lively stage plays, and so much more. ALLBLK is available everywhere streaming services are found – iOS, Android, Amazon Prime Video Channels, Apple TV and Apple TV Channels, Roku and Roku Channels, Amazon Fire TV, YouTube TV, Cox, DISH, Sling TV, Charter and more. At www.ALLBLK.tv, ALLBLK offers a free 7-day trial and thereafter is just $5.99/month or $59.99/year. Keep up with ALLBLK on Facebook at Facebook.com/WatchALLBLK and Twitter/Instagram @WatchALLBLK.