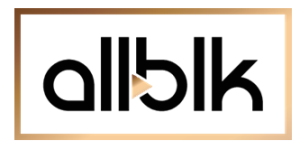 MIAMI, FL – June 15, 2023 – Popular AMC Networks streaming service, ALLBLK, today announced Ashanti Harris as the victor of their 2023 "Shoot Your Shot" national casting call which took place this evening during the American Black Film Festival. Ashanti Harris secured a starring role in ALLBLK's upcoming scripted dramedy, Involved, co-created, executive produced and starring singer/songwriter/author/actor Omarion.
This national search and final audition came down to five promising actresses who performed scenes in front of a live audience opposite celebrity reader Lance Gross. However, only one reigned supreme as a panel of expert judges including Omarion, Romeo Miller, casting director Leah Daniels-Butler, Brett Dismuke (Head of Content ALLBLK & WE tv), Nikki Love, (SVP Development & Original Production, Scripted ALLBLK & WE tv), Michelle Le Fleur (Executive Producer, Involved) and Kevin Boyd (Writer, Involved) chose Ashanti Harris to play the coveted role of Shayla Williams. However, the judges were so impressed they offered finalist Zing Ashford a role in the upcoming series Involved.
"This year's audition submissions did not disappoint, the talent and competition were fierce," shared Dismuke. "After much review, thought and consideration, my fellow judges and I knew Ashanti Harris was perfect for the role of Shayla. The stellar turnout and response for ALLBLK's 2023 "Shoot Your Shot" event at the American Black Film Festival further proves its impact and the tremendous opportunity it provides to actors and actresses around the country."
"There was some substantial talent on this stage tonight!" shared series co-creator Omarion. "I'm truly thankful to all five actresses for giving their all and bringing their own vibe & flavor to the character but Ashanti Harris truly embodied the essence of Shayla Williams and brought the character to life right before our eyes. I'm confident in the decision made tonight and look forward to working with Ashanti Harris and putting that energy on the TV screen for the world to see. It's Involved 2024. Let's gooo."
Produced by ALLBLK Involved will commence filming this fall. Omarion, Tommy Morgan Jr., Kevin G. Boyd and Deji LaRay serve as co-creators and executive producers alongside executive producers Michelle Le Fleur, Bentley Kyle Evans, Brett Dismuke and Nikki Love.
Fresh on the heels this announcement, ALLBLK also shares the renewal of four audience favorite series: Double Cross, Hush, Terror Lake Drive and Wicked City.
The vigilante "Wonder Twins," are back as Double Cross, returns for its fifth season. Ashley A. Williams and Jeff Logan will reprise their roles as crime-fighters Erica and Eric Cross, respectively, and continue their crusade against child trafficking no matter the cost. This season the "Wonder Twins" are faced with a case hitting extremely close to home as Eric's newborn son is kidnapped. Meanwhile the twins discover a bus full of elementary school children has mysteriously vanished. With the stakes higher than ever it will take a village to get everyone home safely.
Hush, which premiered to much fan fair in 2022, follows the story of a top marriage and sex therapist, TV personality, and best-selling author, Dr. Draya Logan (Joyful Drake) who finds herself entangled in a web of lies, sex, and murder that could cost her everything. Returning for a second seductive season, Dr. Draya Logan is Determined to clear her name and reclaim her fame. She must utilize her pawns to not only to help free her but cover up more than what they promised at whatever costs before the secrets of the penthouse are exposed. Hush also stars Candiace Dillard Bassett, Caryn Ward Ross, Erica Mena and TS Madison and is set to premiere November 2023.
Last season ALLBLK's thrilling anthology series Terror Lake Drive: Single Black Female took place two years after the chain of events that traumatized the tenants of the Freeman Lake Apartments in season one bringing a new and unsuspecting tenant to the mystifying lakeside apartment complex. Five years later, Terror Lake Drive: Summer Purge follows a Georgia family who mysteriously inherits a luxury property home on Lake Levi, the grounds previously known as (the haunted) Freeman Lakes. Terror Lake Drive: Summer Purge premieres December 2023.
Lastly, everyone's favorite coven is back as Wicked City returns for its sophomore season. In season one, we followed a coven of five Black witches who push their supernatural powers to new heights after uncovering dark secrets and accidentally entering the world of the forbidden. This season, these powerful witches push their powers to new heights and uncover dark secrets that attract dangerous enemies. Wicked City is slated to premiere October 2023.
"ALLBLK's long-time originals Double Cross and Terror Lake Drive and new originals Hush and Wicked City premiered with strong, positive responses from our viewers," shared Brett Dismuke, Head of Content, ALLBLK & WE tv. "Naturally, our goal is to always give the viewers what they want. The renewal of these fan favorite series continues to prove ALLBLK's commitment to creating provocative thrilling content, for Black audiences and from Black creatives, that keeps our viewers on the edge of their seats and of course, wanting more."
###
About ALLBLK
ALLBLK is an invitation to a world of streaming entertainment that is inclusively, but unapologetically – Black. Featuring a diverse lineup of content that spans across genres and generations, the ALLBLK library includes exclusive original series such as A House Divided and Double Cross; must-see independent films, nostalgic Black cinema, popular WE tv originals, lively stage plays, and so much more. ALLBLK is available everywhere streaming services are found – iOS, Android, Amazon Prime Video Channels, Apple TV and Apple TV Channels, Roku and Roku Channels, Amazon Fire TV, YouTube TV, Cox, DISH, Sling TV, Charter and more. At www.ALLBLK.tv, ALLBLK offers a free 7-day trial and thereafter is just $5.99/month or $59.99/year. Keep up with ALLBLK on Facebook at Facebook.com/WatchALLBLK and Twitter/Instagram @WatchALLBLK