AMC+ RELEASES TRAILER AND KEY ART FOR RAGDOLL
MODERN-DAY FAUSTIAN THRILLER PREMIERES NOVEMBER 11
From the Award-Winning Producers of Killing Eve, the Six-Part AMC+ Original Series Stars Henry Lloyd-Hughes, Thalissa Teixeira and Lucy Hale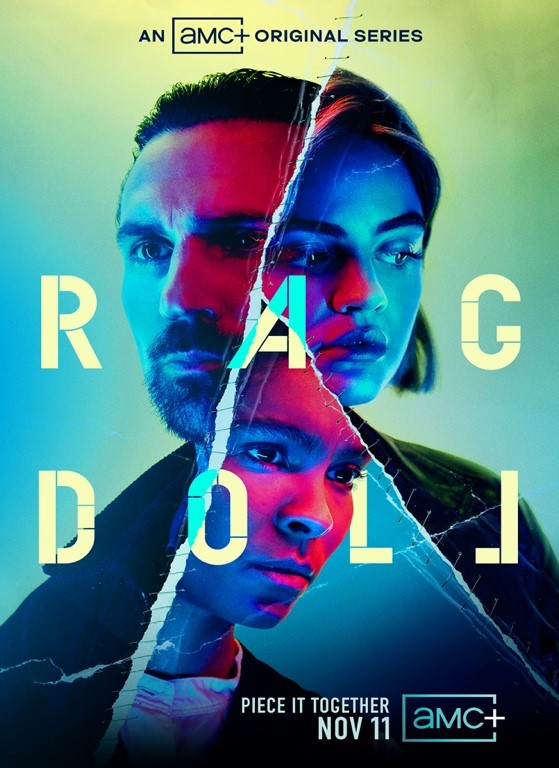 AMC+ today released the official trailer and key art for the highly anticipated, darkly witty and imaginative serial killer thriller, Ragdoll, starring Henry Lloyd-Hughes (The Irregulars, Killing Eve), Thalissa Teixeira (Too Close, The Musketeers) and Lucy Hale (The Hating Game, Pretty Little Liars). From the award-winning producers of Killing Eve, the six-part AMC+ Original series will premiere exclusively on AMC+ on Thursday, November 11, with new episodes every Thursday.
Six people have been murdered, dismembered and sewn into the shape of one grotesque body suspended from the ceiling in a block of London flats – nicknamed the 'Ragdoll.' Assigned to the shocking case are newly reinstated DS Nathan Rose (Lloyd-Hughes); his best friend and boss, DI Emily Baxter (Teixeira); and the unit's new recruit, DC Lake Edmunds (Hale). The 'Ragdoll Killer' taunts the police by sending them a list of his next victims, with Rose's name among them. And with those victims to protect, our heroes soon come under intense public scrutiny. A gruesomely imaginative serial killer thriller, Ragdoll captures the fascinating but flawed friends struggling with the consequences of institutionalization and trauma.
Ragdoll is executive produced and commissioned by AMC and UKTV's Alibi, and executive produced by Sid Gentle Films Ltd. (Killing Eve), with Freddy Syborn (Ms. Marvel, Bad Education) as lead writer and executive producer.
EMBED CODE TO TRAILER:
<iframe width="560″ height="315″ src="https://www.youtube.com/embed/X7HaV7IOpu8" title="YouTube video player" frameborder="0″ allow="accelerometer; autoplay; clipboard-write; encrypted-media; gyroscope; picture-in-picture" allowfullscreen></iframe>
NOTE TO EDITORS
If you have any questions or would like to arrange cast or crew interviews, please contact those listed below. We appreciate your support and coverage of Ragdoll.
Joy Phillips / Joy.Phillips@amcnetworks.com
Judy Woloshen / Judy.Woloshen@amcnetworks.com
Heather McHale / Heather.McHale@amcnetworks.com
Eddie Ward / Eddie.Ward@amcnetworks.com
Samantha Luckert / Samantha.Luckert@amcnetworks.com
Abbie Harrison / AbbieH@ferencomm.com
Lauren Fein / LaurenF@ferencomm.com
About AMC+:
AMC+ is the company's new premium streaming bundle featuring an extensive lineup of popular and critically acclaimed original programming from AMC, BBC America, IFC, and SundanceTV and full access to targeted streaming services Shudder, Sundance Now and IFC Films Unlimited, which feature content such as A Discovery of Witches, Creepshow, Riviera and Boyhood. The service features a continually refreshed library of commercial-free content, including fan favorites Mad Men, Rectify, Orphan Black, Portlandia, Hell on Wheels, NOS4A2 and series from The Walking Dead Universe, among many others. The service also offers a growing slate of original and exclusive series including Gangs of London, The North Water, Kin, The Beast Must Die, Too Close, The Salisbury Poisonings, Cold Courage, Spy City, Ultra City Smiths, and forthcoming drama Ragdoll. AMC+ recently launched in Canada on Apple TV Channels and Amazon Prime Video Channels and is currently available in the U.S. through AMCPlus.com, the AMC+ app, and a number of digital and cable partners.