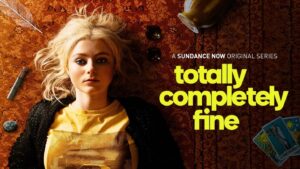 NEW YORK – MARCH 31, 2023 – Sundance Now Original Series Totally, Completely Fine is premiering with two episodes on Thursday, April 20 on Sundance Now and AMC+, with additional episodes dropping weekly on Thursdays on both platforms. Starring Thomasin McKenzie (Last Night in Soho, The Power of the Dog), Totally, Completely Fine is a moving yet hopeful comedy about the mental health crisis, the complexities of grief, and the ways our sadness can unite us.
The six-episode season centers around Vivian Cunningham (McKenzie), who's about to end it all. She can't pay her bills and likes alcohol more than she likes herself. When she climbs into a bathtub with her hairdryer, her mind's made up. Then the phone rings. The grandad she's avoided for years has died in his sleep and left her his house. When Vivian arrives at the shack, she discovers the cliff in the yard is a known suicide site and her grandfather is tasking her with saving every lost soul that passes through. Suddenly this blunt, angry woman is talking people away from the ledge. Maybe in saving others, she'll slowly learn to save herself?
Additional cast includes (alphabetically): Max Crean (Mystic), Brandon McClelland (The Other Guy), James Sweeny (Total Control), Devon Terrell (Rap Shit), Contessa Treffone (The PM's Daughter) and Rowan Witt (Spreadsheet) and Brigid Zengeni (The Good Liar).Totally, Completely Fine is created and executive produced by WGA-nominee Gretel Vella (The Great, Class of '07), who also wrote episodes 1, 2, 5 and 6. Playwright Emme Hoy and Keir Wilkins (Surviving Summer) wrote episodes 3 and 4 respectively. Lucy Gaffy (Irreverent) directed episodes 1-3 and 5-6, while Adrian Chiarella (Five Bedrooms) directed episode 4. Executive producer is Nat Lindwall (Monarch Cove) and producer is Alice Willison (The PM's Daughter). Totally, Completely Fine is A Sundance Now Original Series in association with Stan and Screen NSW and is a Fremantle Australia production. Fremantle will distribute the series internationally.
EPISODE DESCRIPTIONS
Episode 1 – "Welcome to the Crevice" – Premieres Thursday, April 20 on Sundance Now and AMC+
When the granddad who raised her dies in his sleep, the self-destructive Vivian inherits his cliffside
property and the unexpected responsibility that comes with it.
Episode 2 – "The Best Offence is the Fence" – Premieres Thursday, April 20 on Sundance Now and AMC+
After agreeing to take on her grandfather's post, an anxious Vivian calls on Dane to school her in the art of suicide prevention while John is attempting to keep new boyfriend Alejandro out of his family life.
Episode 3 – Juan De Vacaciones" – Premieres Thursday, April 27 on Sundance Now and AMC+
After Walt's ashes ceremony goes horribly wrong, Vivian convinces Hendrix to partake in a well-worn tradition from their teenage years and throw a party at the house. Meanwhile, Amy's charming fiancé George shows up and is roped into the chaos.
Episode 4 – "Not All Heroes Carry Vape" – Premieres Thursday, May 4 on Sundance Now and AMC+
As John and Vivian go head-to-head in a mediation over his food truck, Hendrix is pulling out all the stops to save his marriage.
Episode 5 – "You're a Sexy Fucking Mess" – Premieres Thursday, May 11 on Sundance Now and AMC+
In the wake of a tragedy at the ledge, Vivian abandons her post and falls back into old habits. Meanwhile, John takes Hendrix on a brother s' golfing trip to try and get to the bottom of his problems with Laura.
Episode 6 – "Totally, Completely Fine" – Premieres Thursday, May 18 on Sundance Now and AMC+
After her self-destructive spiral, Vivian is determined to turn over a new leaf at her nieces' birthday party, but things don't go to plan. Meanwhile, Amy's gone MIA, but will anyone step in to stop her, before she makes a huge mistake?
NOTE TO EDITORS
If you have any questions or would like to arrange cast or crew interviews, please contact those listed below. We appreciate your support and coverage of Totally, Completely Fine.
###
About Sundance Now
AMC Networks' Sundance Now offers cross-genre escapism for insightful viewers seeking fresh perspectives, thought-provoking experiences and transportive journeys to far-off places. With a rich selection of engrossing dramas and romance, imaginative fantasy, gripping mysteries, to riveting true crime and intelligent thrillers, Sundance Now programming features empowered characters telling one-of-a-kind stories from around the world – all streaming commercial-free. Sundance Now houses critically-acclaimed and award-winning original and streaming exclusive series including popular supernatural thriller A Discovery of Witches (Matthew Goode, Teresa Palmer), acclaimed UK adaptation of the French hit Call My Agent!, Ten Percent, (Jack Davenport, Jim Broadbent), multi-Emmy winner State of the Union (Rosamund Pike, Chris O'Dowd; Patricia Clarkson, Brendan Gleeson), glamorous coastal drama Riviera (Julia Stiles), a pair of British true crime thrillers starring David Tennant Des and Litvinenko (David Tennant), French spy drama The Bureau, acclaimed Swedish drama The Restaurant, Australian psychological thriller The Secrets She Keeps (Laura Carmichael), and Motherland (Anna Maxwell Martin, Lucy Punch, Joanna Lumley), to name a few; alongside riveting true crime series including The Oland Murders, The Dakota Entrapment Tapes, The Preppy Murder: Death in Central Park, No One Saw a Thing and Dating Death.  Sundance Now can be enjoyed for $6.99/month or $4.99/month with an annual membership. No cable subscription is needed. Facebook: @SundanceNow – Twitter: @sundance_now
About AMC+
AMC+ is the company's new premium streaming bundle featuring an extensive lineup of popular and critically acclaimed original programming from AMC, BBC America, IFC, and SundanceTV and full access to targeted streaming services Shudder, Sundance Now and IFC Films Unlimited, which feature content such as A Discovery of Witches, Creepshow, and Boyhood. The service features a continually refreshed library of commercial-free content, with iconic series from the AMC Networks portfolio including Mad Men, Halt & Catch Fire, Hell on Wheels, Turn: Washington's Spies, Rectify, Portlandia, and series from The Walking Dead Universe, among many others. The service also offers a growing slate of original and exclusive series including Gangs of London, This is Going to Hurt, Dark Winds, and the first two series in a new Anne Rice universe, Anne Rice's Interview with the Vampire and Anne Rice's Mayfair Witches. With new movies released every Friday, AMC+ is the newest destination for exclusive film premieres direct from theaters all year long. AMC+ is available in Canada, Australia, New Zealand, India, South Korea, and Spain and is available in the U.S. through AMCPlus.com, the AMC+ app, and a number of digital and cable partners.