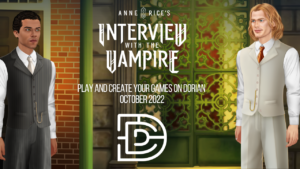 Download image HERE
New York, NY – August 23, 2022 – Dorian and AMC Networks announced today a partnership with to bring the Anne Rice Universe to the code-free game creation and streaming platform. The partnership will empower millions of fans and creators to write, publish, and monetize their own code-free interactive adaptations of some of the most iconic IPs in the world, including Interview with the Vampire and Mayfair Witches.
AMC announced in May 2020 their acquisition of the Anne Rice catalog, which includes the Vampire Chronicles, the Lives of the Mayfair Witches series, and the crossover novels that blend the two paranormal worlds. The Walking Dead network's new franchise will kick off Sunday, October 2 with the premiere of Anne Rice's Interview with the Vampire, starring Jacob Anderson (Game of Thrones), who will play the tortured Louis de Pointe du Lac, Sam Reid (The Hunting) as his vampire maker, Lestat du Lioncourt, Bailey Bass (Avatar 2) as vampire fledgling Claudia, and Eric Bogosian (Talk Radio) as journalist Daniel Molloy. Anne Rice's Mayfair Witches series is making its exclusive debut on AMC+, the network's premium streaming bundle, this winter and stars Alexandra Daddario (The White Lotus) as Rowan Mayfair, a brilliant doctor who discovers she heralds from a long line of witches in the Mayfair family, along with Jack Huston (House of Gucci) as Lasher, Harry Hamlin (Mad Men) as Cortland Mayfair and Tongayi Chirisa (Palm Springs) as Ciprien.
The partnership between AMC Networks and Dorian will allow fans and creators exclusive access to licensed art and lore to create their own interactive adaptations of AMC's Immortal Universe of Anne Rice. Dorian's code-free creation engine, monetization features, and data analysis tools allow independent creators to write, publish, and earn royalties on adaptations of one of the most famous franchises in the world. With genre content like Interview ranking consistently high among the Dorian community, the addition of these IPs will tap into those passions and excite audiences of both the game and series. Dorian will launch Anne Rice's Interview with the Vampire alongside the premiere of the AMC series on October 2 with weekly content releases, fan-generated adaptation challenges, and livestream events spanning the epic first season.
"The Immortal Universe of Anne Rice coming to Dorian is a major part of why we are building a platform — offering opportunities for independent creators to engage with legendary Hollywood IPs," said Julia Palatovska, founder & CEO, Dorian. "Imagine being able to step inside the world of Anne Rice, interact with the characters, and turn your dream storylines into reality. The best part is that game creation on Dorian is accessible to everyone. You don't need coding or art skills, just a passion for Anne Rice's Interview with the Vampire and your imagination."
"Dorian has pioneered an incredible platform that gives passionate fans a voice in telling their own stories with their favorite properties," said Clayton Neuman, VP of Games for AMC. "We couldn't be more excited to partner with them as we build out the Immortal Universe of Anne Rice, beginning with the premiere of Anne Rice's Interview with the Vampire this Fall and continuing on with the creation of interactive narratives that will allow our fans to explore these iconic characters in a way that's uniquely their own."
The partnership with AMC represents a major milestone in Dorian's mission to become the top platform for female and diverse creators to build and grow their own games businesses.
It comes on the heels of Dorian's acquisition of game studio Nix Hydra and their flagship titles, The Arcana: A Mystic Romance and Fictif: Interactive Romance, two of the most popular otome-style apps with massive fanbases.
ABOUT DORIAN
Dorian is the world's first game and streaming platform that enables creators to turn fiction into games with zero coding. With easy visual creation on both web and mobile, cutting-edge audience insights, and cloud-based collaboration, their mission is to empower millions of female and diverse creators to unlock their visions in game format.
ABOUT AMC NETWORKS
AMC Networks (Nasdaq: AMCX) is a global entertainment company known for its popular and critically acclaimed content. Its brands include targeted streaming services AMC+, Acorn TV, Shudder, Sundance Now, ALLBLK, and the newest addition to its targeted streaming portfolio, the anime-focused HIDIVE streaming service, in addition to AMC, BBC AMERICA (operated through a joint venture with BBC Studios), IFC, SundanceTV, WE tv, IFC Films and RLJE Films. AMC Studios, the Company's in-house studio, production and distribution operation, is behind some of the biggest titles and brands known to a global audience, including The Walking Dead, the Anne Rice catalog and the Agatha Christie library.  The Company also operates AMC Networks International, its international programming business, and 25/7 Media, its production services business.