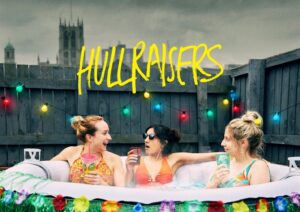 NEW YORK – MARCH 8, 2023 – The laugh-out-loud British sitcom Hullraisers, adapted from the Israeli sitcom Little Mom, is coming to IFC on Wednesday, April 5 at 11pm ET/PT, with new episodes airing weekly. The full season will be available to binge on Sundance Now and AMC+ the same day.
The series follows the lives of three working-class women living in the Yorkshire city of Hull: self-described actress and chaotic mother Toni (Leah Brotherhood, Bridgerton), her down-to-earth older sister Paula (Sinead Matthews, The Crown) and best friend, policewoman Rana (Taj Atwal, Line of Duty), as they navigate their daily lives, their chances at romance, and their dreams for the future.
The six-episode season is written by Lucy Beaumont (Meet the Richardsons), Caroline Moran (Raised by Wolves) and Anne Marie O'Connor (Trollied). Ian Fitzgibbon (Raised by Wolves) serves as director.
EPISODE DESCRIPTIONS
Episode 101 – "Night Out" – Premieres Wednesday, April 5 at 11pm ET/PT on IFC and Available on Sundance Now and AMC+ the Same Day
Toni hasn't had a night out since Grace was born and things are getting desperate, Paula's tearing her hair out over Ashley's terrible new boyfriend, and Rana meets up with the Hull City player she met last night – realizing too late that he isn't quite what she remembered.
Episode 102 – "Mucky" – Premieres Wednesday, April 12 at 11pm ET/PT on IFC and Available on Sundance Now and AMC+ Starting April 5
Toni accidentally takes home Grace's classmate's Gucci coat from pre-school – and instantly manages to stain it. Rather than own up to it, she tries to find someone willing to clean a designer coat.
Episode 103 – "Dry-Spell" – Premieres Wednesday, April 19 at 11pm ET/PT on IFC and Available on Sundance Now and AMC+ Starting April 5
Toni's on a mission to rekindle sexy-time with Craig – but there's always something (usually Grace) in the way.
Episode 104 – "Party" – Premieres Wednesday, April 26 at 11pm ET/PT on IFC and Available on Sundance Now and AMC+ Starting April 5
It's the day of Grace's flamingo-themed 5th birthday party and everything is going smoothly – until Grace comes down with an unexplained case of flamingo-phobia.
Episode 105 – "Breadcakes" – Premieres Wednesday, May 3 at 11pm ET/PT on IFC and Available on Sundance Now and AMC+ Starting April 5
When the smug 'super-Dad' in charge of the pre-school PTA insinuates that Toni doesn't contribute – or get much acting work – Toni offers to run a baked-goods stall at the school fair. Only, she can't bake.
Episode 106 – "New You" – Premieres Wednesday, May 10 at 11pm ET/PT on IFC and Available on Sundance Now and AMC+ Starting April 5
After her first full night's sleep since Grace was born, Toni is a new woman – she's making career plans and she's about to have a mega birthday party! Nothing can stop her now… or can it?
NOTE TO EDITORS
If you have any questions or would like to arrange interviews, please contact those listed below. We appreciate your support and coverage of Hullraisers.
###
About IFC 
IFC is the home of offbeat, unexpected comedies. Acclaimed series Documentary Now!, Brockmire, Sherman's Showcase, Baroness von Sketch Show, and Year of the Rabbit air alongside fan-favorite movies and comedic cult TV shows. IFC is owned and operated by AMC Networks Inc., and available across multiple platforms. IFC is Always On, Slightly Off.
About Sundance Now
AMC Networks' Sundance Now offers cross-genre escapism for insightful viewers seeking fresh perspectives, thought-provoking experiences and transportive journeys to far-off places. With a rich selection of engrossing dramas and romance, imaginative fantasy, gripping mysteries, to riveting true crime and intelligent thrillers, Sundance Now programming features empowered characters telling one-of-a-kind stories from around the world – all streaming commercial-free. Sundance Now houses critically-acclaimed and award-winning original and streaming exclusive series including popular supernatural thriller A Discovery of Witches (Matthew Goode, Teresa Palmer), acclaimed UK adaptation of the French hit Call My Agent!, Ten Percent, (Jack Davenport, Jim Broadbent), multi-Emmy winner State of the Union (Rosamund Pike, Chris O'Dowd; Patricia Clarkson, Brendan Gleeson), glamorous coastal drama Riviera (Julia Stiles), a pair of British true crime thrillers starring David Tennant Des and Litvinenko (David Tennant), French spy drama The Bureau, acclaimed Swedish drama The Restaurant, Australian psychological thriller The Secrets She Keeps (Laura Carmichael), and Motherland (Anna Maxwell Martin, Lucy Punch, Joanna Lumley), to name a few; alongside riveting true crime series including The Oland Murders, The Dakota Entrapment Tapes, The Preppy Murder: Death in Central Park, No One Saw a Thing and Dating Death.  Sundance Now can be enjoyed for $6.99/month or $4.99/month with an annual membership. No cable subscription is needed. Facebook: @SundanceNow – Twitter: @sundance_now
About AMC+
AMC+ is the company's new premium streaming bundle featuring an extensive lineup of popular and critically acclaimed original programming from AMC, BBC America, IFC, and SundanceTV and full access to targeted streaming services Shudder, Sundance Now and IFC Films Unlimited, which feature content such as A Discovery of Witches, Creepshow, and Boyhood. The service features a continually refreshed library of commercial-free content, with iconic series from the AMC Networks portfolio including Mad Men, Halt & Catch Fire, Hell on Wheels, Turn: Washington's Spies, Rectify, Portlandia, and series from The Walking Dead Universe, among many others. The service also offers a growing slate of original and exclusive series including Gangs of London, This is Going to Hurt, Dark Winds, and the first two series in a new Anne Rice universe, Anne Rice's Interview with the Vampire and Anne Rice's Mayfair Witches. With new movies released every Friday, AMC+ is the newest destination for exclusive film premieres direct from theaters all year long. AMC+ is available in Canada, Australia, New Zealand, India, South Korea, and Spain and is available in the U.S. through AMCPlus.com, the AMC+ app, and a number of digital and cable partners.