Directed By Stefan Forbes and Produced by Fab 5 Freddy, Stefan Forbes, Tia Wou, and Amir Soltani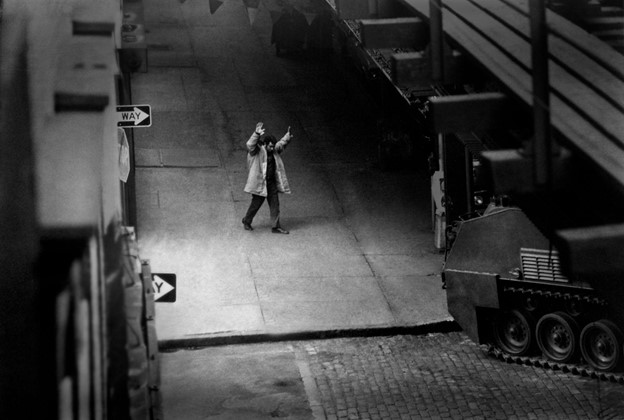 NEW YORK, NY (Nov 1, 2021) – IFC Films announced today that they are acquiring North American rights to searing police reform documentary HOLD YOUR FIRE by Emmy-nominated director Stefan Forbes (BOOGIE MAN: THE LEE ATWATER STORY). HOLD YOUR FIRE puts a spotlight on the longest hostage siege in NYPD history and the people instrumental in an event that birthed modern hostage negotiation and that could provide hope for repairing America's broken policing system. Produced by Fab 5 Freddy, Stefan Forbes, Tia Wou, and Amir Soltani with consulting producer Sam Pollard (MLK/FBI). The documentary made its world premiere at the 2021 Toronto International Film Festival, where it caught the attention of critics for its timely subject matter and ability to strike a compelling narrative while exploring the complex humanity of its subjects. HOLD YOUR FIRE will have its U.S. premiere at the upcoming 2021 DOC NYC, and IFC Films will release the film in 2022.
HOLD YOUR FIRE follows Shu'aib Raheem and his friends who attempted to steal guns for self-defense in Brooklyn in 1973. They were cornered by the NYPD, and a violent gun battle killed a police officer, beginning the longest hostage siege in NYPD history. The NYPD's 130-year-old policy was to deliver an ultimatum, and then respond with deadly force, but maverick NYPD psychologist Harvey Schlossberg fought to avert a bloodbath, reform police methods, and save the lives of hostages, police, and the four young Muslim men at the heart of the conflict.  HOLD YOUR FIRE uncovers what really happened in this landmark event.
In a review for Indiewire, Tambay Obenson described Forbes' approach as "operating from a place of non-judgemental curiosity by placing a sociological framework around personal and criminal melodrama", adding that the result of the film is "a searing look into a little-known moment in history with profound repercussions for how we understand policing today." Manohla Dargis of The New York Times simply described the film as "a jaw dropper", and Brent Lang of Variety noted, "the issues that Forbes' film probes, ones of racism, police brutality and gun violence, remain fiercely urgent."
Arianna Bocco, President of IFC Films, said, "As he has done previously with his stellar film BOOGIE MAN, Stefan has done a remarkable job portraying all sides of this complex story, while advocating only for transparency.  He has highlighted the impact one person can make in the lives of many and makes a powerful case for why police reform is incredibly urgent. We couldn't be happier to partner with him and his team to screen this film for North American audiences."
Director Stefan Forbes added, "It's an honor to team up with IFC Films, who are known for their taste and creative vision. We're excited to release this film as our nation grapples with racial tension and the specter of increased political violence. We hope Dr. Schlossberg's keen insights on conflict resolution can help Americans learn to hold our fire."
The deal for the film was negotiated by IFC Films President Arianna Bocco and Manager of Acquisitions & Productions Adam Koehler with Submarine Entertainment acting on behalf of the filmmakers.
ABOUT IFC FILMS
Established in 2000 and based in New York City, IFC Films is a leading U.S. distributor of independent film. Its unique distribution model makes independent films available to a national audience by releasing them in theaters as well as on cable's Video On Demand (VOD) and digital platforms.
Current releases include Mia Hansen-Løve's critically acclaimed BERGMAN ISLAND and Paul Verhoeven's BENEDETTA. Some of the company's successes over the years have included BOYHOOD, THE DEATH OF STALIN, FRANCES HA, MY BIG FAT GREEK WEDDING, Y TU MAMA TAMBIEN, THE BABADOOK, TOUCHING THE VOID, 4 MONTHS, 3 WEEKS AND 2 DAYS, CHE, SUMMER HOURS, ANTICHRIST, IN THE LOOP, JOAN RIVERS: A PIECE OF WORK, TINY FURNITURE, CARLOS, and MLK/FBI. IFC Films has worked with established and breakout filmmakers, including Steven Soderbergh, Gus Van Sant, Spike Lee, Richard Linklater, Miranda July, Lars Von Trier, Gaspar Noé, Todd Solondz, Cristian Mungiu, Susanne Bier, Olivier Assayas, Jim McKay, Larry Fessenden, Paul Dano, Gregg Araki, Jacques Rivette, Claude Chabrol, Abdellatif Kechiche, Kore-eda Hirokazu, Abbas Kiarostami, Alfonso Cuaron, Noah Baumbach, Lena Dunham, Ethan Hawke and many more. IFC Films is a sister label to IFC Midnight, and is owned and operated by AMC Networks Inc.