POWERFUL AND MOVING MINISERIES MAYFLIES TO PREMIERE EXCLUSIVELY ON ACORN TV MONDAY, OCTOBER 30   
Adapted from Andrew O'Hagan's Bestselling and Award-Winning "Mayflies: A Novel," the Two-Part Drama Features Scintillating Performances by Martin Compston and Tony Curran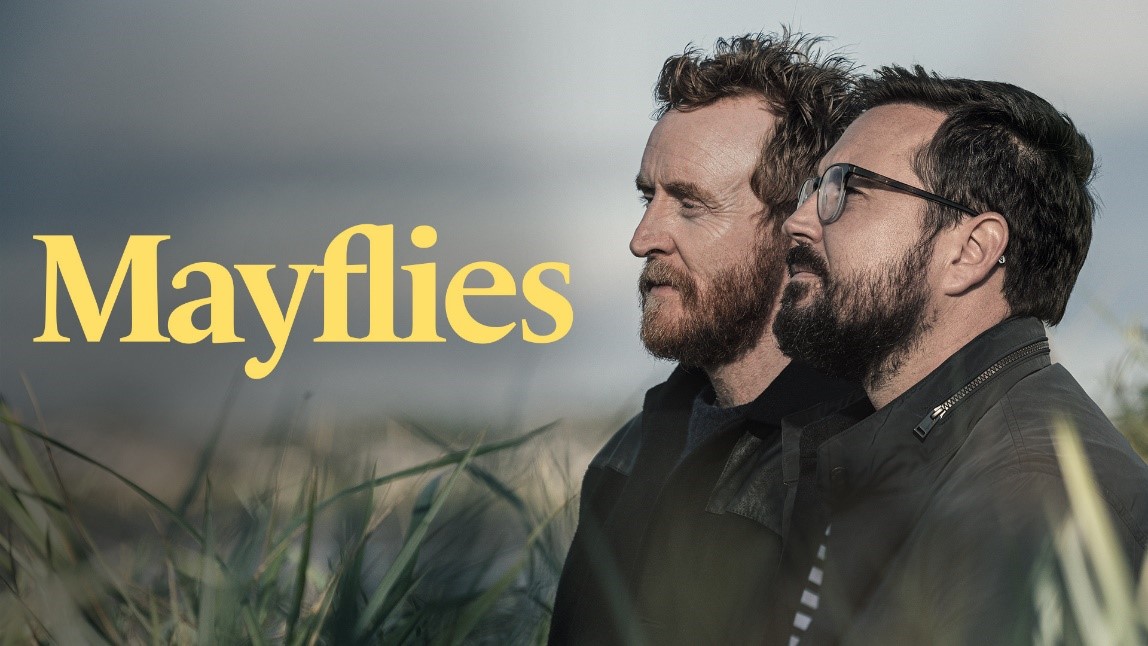 Four Stars: "beautifully told" – The Guardian 
Four Stars: "Mayflies poignantly captures life's terminal evanescence." – Independent 
Four Stars: "A heartfelt and personable show delivered with a deeply sensitive sincerity." – Evening Standard 
Three Stars: "the performances are, across the board, magnificent." – Radio Times
WATCH FULL SERIES NOW – SCREENERS.COM 
WATCH AND EMBED OFFICAL TRAILER
NEW YORK – October 11, 2023 – Acorn TV will exclusively premiere the compelling two-part miniseries Mayflies on Monday, October 30. Written and adapted for TV by BAFTA® Award-nominee Andrea Gibb (Elizabeth Is Missing, Call the Midwife) from Andrew O'Hagan's bestselling and award-winning "Mayflies: A Novel," the limited series stars Martin Compston (Line of Duty, Vigil), Tony Curran (Your Honor, Ray Donovan), Ashley Jensen (Agatha Raisin, After Life), Tracy Ifeachor (Treason, DC's Legends of Tomorrow), Rian Gordon (Karen Pirie, Outlander) and Tom Glynn-Carney (House of the Dragon, Dunkirk). A memorial to youth's euphoria and to everyday tragedy, Mayflies tells the story of a tender goodbye to an old union, while discovering joy and the costs of love.
Thirty years since they first met and bonded over music, films, and the rebel spirit in the small Scottish town of their birth, successful writer Jimmy Collins (Compston) receives devastating news and a shocking request from best friend Tully Dawson (Curran). Tully wants to take control of his terminal cancer diagnosis and end his life by assisted suicide in Switzerland, and he wants Jimmy to help. As Jimmy wrestles with this life-changing moral dilemma, the two men reflect on their friendship and the course of their lives, reminiscing about a magical teenage weekend in Manchester where they made a vow – to go at life differently.
Theirs is a friendship nurtured over the years and miles, bonded by a history of youthful glories, a passion for culture and a fierce determination not to end up like their fathers. But now, they must face the ultimate expression of their vow, testing their friendship, love, and loyalty to the limit.
Jensen stars as Anna, Tully's girlfriend turned wife, Ifeachor as Jimmy's wife Iona, Gordon as young Jimmy and Glynn-Carney as young Tully in the poignant series.
Mayflies, an Acorn TV exclusive series, is written and adapted for TV by Andrea Gibb, who is also an executive producer, and directed by Peter Mackie Burns. Executive producers are Claire Mundell, Gaynor Holmes, Gavin Smith, Andrew O'Hagan, Adrian Burns and Mark Young. Producer is Brian Kaczynski. The series is a Synchronicity Films Production for BBC. All3Media handles the international distribution.
EPISODE DESCRIPTIONS – SERIES BINGE ON MONDAY, OCTOBER 30 ON ACORN TV
Episode 1
Tully and Jimmy's 30-year friendship is tested when Tully asks Jimmy to help him take control of a terminal cancer diagnosis, by taking him to Switzerland to die on his own terms.
Episode 2
Moral dilemmas occupy Jimmy as he plans the Switzerland trip, but tempers flare when Tully's wife Anna discovers the plan and declares she will not support Tully's assisted suicide.
About Acorn TV
AMC Networks' Acorn TV is North America's largest streaming service specializing in premium British and international television. Acorn TV adds exclusive programming every week to a deep library of revered mysteries, dramas, and comedies – all commercial-free. Acorn TV's recent slate is comprised of critically acclaimed commissioned and original series including popular New Zealand detective series My Life Is Murder (Lucy Lawless), acclaimed Irish crime thriller Bloodlands (James Nesbitt, co-executive produced by Jed Mercurio), British crime drama Whitstable Pearl (Kerry Godliman), Emmy®-nominated Queens of Mystery, Kiwi romantic comedy Under the Vines and British detective drama Dalgliesh (Bertie Carvel), to name a few. Current and upcoming Acorn TV Original Series include UK detective drama Harry Wild (Jane Seymour), international crime series Cannes Confidential (Lucie Lucas, Jamie Bamber), tasty murder mystery Mrs. Sidhu Investigates (Meera Syal), Signora Volpe (Emilia Fox), The Chelsea Detective (Adrian Scarborough) and many more. The above add to a growing catalog of popular bingeable dramas including Agatha Raisin (Ashley Jensen), Jack Irish (Guy Pearce), Doc Martin (Martin Clunes), Deadwater Fell (David Tennant, Cush Jumbo), all 23 seasons of fan-favorite Midsomer Murders and highly-rated drama The Nest, among others.
"glorious streaming service… an essential must-have" – The Hollywood Reporter
"Netflix for the Anglophile" – NPR
Acorn TV is available for $6.99/month or $69.99/year. Facebook: OfficialAcornTV – Twitter: @AcornTV – Instagram: @Acorn_tv
NOTE TO EDITORS
If you have any questions or would like to arrange cast or crew interviews, please contact those listed below. We appreciate your support and coverage of Mayflies.