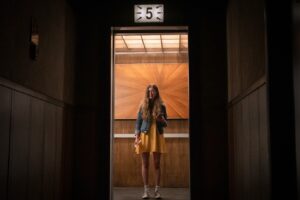 NEW YORK, NY (April 13th, 2023) – Shudder, AMC Networks' premiere streaming service for horror, thriller and the supernatural is acquiring ELEVATOR GAME, directed by Rebekah McKendry — who previously helmed Shudder's 2022 gonzo hit GLORIOUS starring Ryan Kwanten and J.K. Simmons — written by Travis Seppala (CAPTIVE), and starring Gino Anania and Megan Best. Territories include U.S., UK, Ireland, Australia and New Zealand and are set to premiere on the service on August 11, 2023. The film will also stream on AMC+ where available (US, CA, ANZ).
Based on the online phenomenon of the same name, ELEVATOR GAME follows socially awkward teenager Ryan, who ingratiates himself into a group of recent high school graduates that run an online web series debunking urban legends. But Ryan has a secret: His sister disappeared months earlier, and he believes they – and a dangerous online challenge called 'The Elevator Game' – were responsible. To play the game, you must ride the elevator in a specific sequence, invoking a supernatural creature called 'The 5th Floor Woman'. In an attempt to gain more information as to the whereabouts of his sister, Ryan persuades the group to play the game once more, and risk unleashing the most fearsome consequences imaginable.
ELEVATOR GAME was produced by Fearworks, in association with AMP, Buffalo Gal Pictures, Head Gear Films and Metrol Technology. The film is produced by Ed Elbert (ANNA AND THE KING) and Stefan Brunner (GHOST RIDER: SPIRIT OF VENGEANCE) for Fearworks and James Norrie (GLORIOUS) for AMP.
Director Rebekah McKendry said, "It was several years ago when I first read about 'The Elevator Game' online, and I was immediately intrigued by the rules, curse, and 'The 5th Floor Woman'. For me, this well-known internet legend was an exciting and chilling entrance into a modern-day ghost story. But if you want to open the door to the other side, you must follow all the rules. Go to the floors in order, don't open your eyes, and whatever you do – don't speak to her. Now let's start by going to 4."
The deal was negotiated by Emily Gotto on behalf of Shudder with Nina Kolokouri and James Norrie on behalf of the filmmakers.
Shudder continues to be at the forefront of curating many of the most exciting and critically-lauded independent and international genre films, including the recent viral hit, Skinamarink from director Kyle Edward Ball's, Jayro Bustamante's La Llorona, Josh Ruben's Scare Me, Jeff Barnaby's Blood Quantum, Coralie Fargeat's Revenge, Sundance Midnight hit Speak No Evil by Christian Tafdrup, and Phil Tipp's animation odyssey Mad God. The service has also garnered attention for its original programming including the breakout hit series "Creepshow" under showrunner Greg Nicotero, Jay Cheel's "Cursed Films" and the acclaimed documentary Horror Noire: A History Of Black Horror. Upcoming films include the critically-acclaimed Sundance breakout birth/rebirth directed by Laura Moss and the latest installment in the anthology franchise V/H/S/85, including segments from David Bruckner, Scott Derrickson, Mike P. Nelson, Natasha Kermani, and Gigi Saul Guerrero.
ABOUT SHUDDER
AMC Networks' Shudder is a premium streaming video service, super-serving members with the best selection in genre entertainment, covering horror, thrillers and the supernatural. Shudder's expanding library of film, TV series, and originals is available on most streaming devices in the US, Canada, the UK, Ireland, Germany, Australia and New Zealand. For a 7-day, risk-free trial, visit www.shudder.com.
ABOUT FEARWORKS
Fearworks, a new venture formed by Stefan Brunner and Ed Elbert aims create an ongoing series of smart genre film and TV projects rooted in the legacy of classic horror while also reflecting today's cultural diversity, unique vision and style by the world's premier horror directors and fresh directorial voices in the genre alike. Fearworks' strong commitment to diversity and inclusion will be reflected wherever possible both in front and behind the camera.