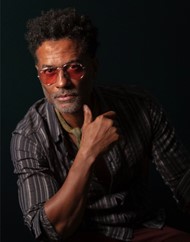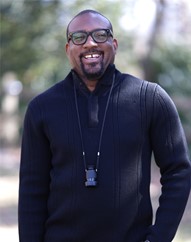 Download Images HERE
New York, NY – February 10, 2022 – ALLBLK, AMC Networks' popular streaming service for Black TV and film, today announced that a thrilling new anthology series will soon join its rapidly evolving programming lineup. In the vein of Black Mirror and The Twilight Zone, Snap is a psychological thriller that intends to deal with difficult social and ethical topics, head on, through a unique method of storytelling that disrupts conventional opinions. Co-created by Grammy-nominated singer, Eric Benet, and writer and director, Devin Hampton, the anthology series will follow a perfectly imperfect God named "A.O." who serves as the "moral compass" for the protagonist of each episode. When A.O. comes across a protagonist facing an unexpected scenario, he/she/they challenge(s) them to see themselves from the outside looking in…which in a "snap" will change the beliefs they've held onto for most of their lives.
"A truly original series that we haven't really seen before is a perfect addition to our programming slate as we continue to expand and diversify our content offering at ALLBLK, said Brett Dismuke, General Manager of ALLBLK & WE tv. "The psychological thriller is a genre we've found to be very popular with our subscribers, and Snap brings a new spin to the genre we believe will spark important conversations about issues we often hear of or come across in everyday life. How would we handle these issues if we could see them from a different point of view? That is the question Snap will seek to answer for our viewers."
Co-creators Benet and Hampton added, "We are excited to bring Snap to the ALLBLK platform! This project has been a labor of love from us and our production team. We believe this series will touch millions as it pertains to current subject matters that we hope will create a dialogue of change. We are grateful to Brett Dismuke and his team for trusting our vision and creativity."
Set to begin production in mid-March, Snap will star a host of lead characters including Eric Benet.  Hampton will serve as showrunner, director and executive producer alongside Benet with Ramon Villa and Lawrence Mestel serving as executive producers for Primary Wave, and Brett Dismuke and Nikki Love serving as executive producers for ALLBLK. Angela White will serve as co-executive producer. The series will be produced by Sean Mik'ael Butler and Patrick Strøm in association with Cultivate Entertainment. Butler and Strøm, also served as executive producers on the ALLBLK and Sundance Now series Dead Places, which premiered in 2021. Comprised of six, 30-minute episodes, Snap is slated to premiere in December of this year.
About ALLBLK
ALLBLK is an invitation to a world of streaming entertainment that is inclusively, but unapologetically – Black. Featuring a diverse lineup of content that spans across genres and generations, the ALLBLK library includes exclusive original series such as Craig Ross Jr.'s Monogamy, A House Divided, and Double Cross; must-see independent films, nostalgic Black cinema, popular network TV, lively stage plays, and so much more. ALLBLK is available everywhere streaming services are found – iOS, Android, Amazon Prime Video Channels, Apple TV and Apple TV Channels, Roku and Roku Channels, Amazon Fire TV, YouTube TV, Cox, DISH, Sling TV, Charter and more. ALLBLK's content can also be found on Comcast and AT&T outlets under the WEtv+ banner. At www.ALLBLK.tv, ALLBLK offers a free 7-day trial and thereafter is just $4.99/month or $49.99/year. Keep up with ALLBLK on Facebook at Facebook.com/WatchALLBLK and Twitter/Instagram @WatchALLBLK.
About AMC Networks Inc.
AMC Networks is a global entertainment company known for its popular and critically acclaimed content. Its portfolio of brands includes AMC, BBC AMERICA (operated through a joint venture with BBC Studios), IFC, SundanceTV, WE tv, IFC Films, and a number of fast-growing streaming services, including the AMC+ premium streaming bundle, Acorn TV, Shudder, Sundance Now and ALLBLK. AMC Studios, the Company's in-house studio, production and distribution operation, is behind award-winning owned series and franchises, including The Walking Dead, the highest-rated series in cable history. The Company also operates AMC Networks International, its international programming business, and 25/7 Media, its production services business.