It Couldn't Happen Here aided the recent release of man who served 23 years in prison for a wrongful conviction 
Download Images HERE
New York, NY – February 10, 2021 – AMC Networks' SundanceTV is doubling down on its successful "True Crime Story" franchise, producing new episodes of both series focused on telling a wide variety of gripping true crime stories from unique perspectives. It Couldn't Happen Here, hosted by New York Times Best-Selling Author Hilarie Burton Morgan (One Tree Hill, The Walking Dead, Friday Night in with The Morgans) and Indefensible, hosted by Academy Award nominee Jena Friedman (Borat 2, The Daily Show) are producing new episodes that will premiere on SundanceTV and AMC+ in 2022. AMC Studios Content Distribution is managing worldwide sales. "True Crime Story's" initial episodes were AMC+'s biggest true crime series of 2021 in both viewership and new subscriber sign-ups.
"True Crime Story" had an immediate impact after its premiere in fall of 2021, providing crucial awareness to overlooked cases. The first episode of It Couldn't Happen Here focused on the Georgia state conviction of Devonia Inman, a young man given a life sentence at twenty years old. DNA evidence supporting his innocence had been ignored for over a decade and he was currently serving the twenty-third year of his wrongful conviction. Shortly after the airing of this episode, his conviction was vacated as the result of an effort spearheaded by the Georgia Innocence Project and highlighted in the show's social media and press opportunities. Mr. Inman walked free in December 2021 to spend Christmas with his family.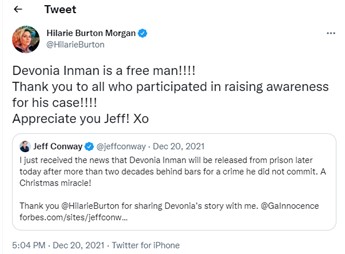 In eight new episodes of It Couldn't Happen Here, Burton Morgan will continue to lend empathy and advocacy to small-town American crime stories in order to explore how major crimes impact these tight-knit communities. She will also continue to shed light on previously adjudicated cases where doubt about the existing verdict lingers.
In six new episodes of Indefensible, Friedman uses her unflinching comedic point of view and disarming interview skills to uncover the "why" and "how" not only of crimes themselves, but of our sometimes dysfunctional criminal justice system.
Blake Callaway, General Manager of SundanceTV, said "We are thrilled to continue the 'True Crime Story' franchise, which allows Hilarie Burton Morgan and Jena Friedman to bring their unique perspectives to an incredibly popular genre. 'True Crime Story' highlights the personal stories of those impacted by crime and also touches on the issues of our justice system. These cases also have the power to change people's lives. The team behind It Couldn't Happen Here featured a story that helped secure freedom for Devonia Inman, who had been wrongfully imprisoned for 23 years. We're looking forward to revisiting new cases that challenge the system and speak the truth."
Hilarie Burton Morgan noted, "SundanceTV has been a supportive partner in raising awareness of the inequities that exist in small towns when traumatic crimes occur. I'm so grateful for their willingness to bend the true crime genre in the direction of advocacy."
Jena Friedman said, "I'm looking forward to working with SundanceTV on the next batch of episodes, so we can shed a light on miscarriages of justice within our legal system."
Produced by Bungalow Media + Entertainment, executive producers of It Couldn't Happen Here are Robert Friedman, Liz Yale Marsh, and Mike Powers for Bungalow Media + Entertainment as well as Hilarie Burton Morgan for Mischief Farm, Liz DeCesare and Meg Mortimer for Authentic Management Productions, and Po Kutchins, who also serves as series director.
Producers encourage those aware of any cases that were overlooked in small towns to submit their stories to ichhstories@gmail.com.
Indefensible is produced by Left/Right. Executive producers are Jena Friedman, Ken Druckerman, Banks Tarver, and Anneka Jones.
SundanceTV created the "True Crime Story" franchise to build off its success of critically acclaimed limited true crime series including The Preppy Murder: Death In Central Park, No One Saw A Thing and Jonestown: Terror In the Jungle and the continuing strong performance of its acquired crime dramas.
About SundanceTV
Since its launch in 1996, SundanceTV has remained true to founder Robert Redford's mission to celebrate creativity and distinctive storytelling through unique voices and narratives found in the best independent films. From delivering critically acclaimed Emmy®, Golden Globe® and Peabody Award-winning television featuring some of the world's most talented creators and performers, to showcasing some of the most compelling and iconic films across genres and generations, SundanceTV is a smart and thought-provoking entertainment destination. SundanceTV is owned and operated by AMC Networks Inc.; its sister networks include AMC, IFC, BBC America and WE tv. SundanceTV is available across all platforms, including on-air, online at www.sundancetv.com, on demand and mobile.
ABOUT AMC+
AMC+ is the company's new premium streaming bundle featuring an extensive lineup of popular and critically acclaimed original programming from AMC, BBC America, IFC, and SundanceTV and full access to targeted streaming services Shudder, Sundance Now and IFC Films Unlimited, which feature content such as A Discovery of Witches, Creepshow, and Boyhood. The service features a continually refreshed library of commercial-free content, including fan favorites Mad Men, Halt & Catch Fire, Turn: Washington's Spies, Hell on Wheels, NOS4A2, Rectify, Orphan Black, Portlandia, and series from The Walking Dead Universe, among many others. The service also offers a growing slate of original and exclusive series including Gangs of London, Kin, The North Water, Ragdoll, The Beast Must Die, Too Close, The Salisbury Poisonings, Cold Courage, Spy City, Ultra City Smiths, Anna, Anne Boleyn, Firebite, and La Fortuna. AMC+ recently launched in Canada and Australia, and is available in the U.S. through AMCPlus.com, the AMC+ app, and a number of digital and cable partners.
ABOUT BUNGALOW MEDIA + ENTERTAINMENT, LLC:
Founded in 2013 by CEO Robert Friedman, Bungalow Media + Entertainment is an Emmy Award-winning integrated entertainment company that develops, produces and distributes content across all media platforms. Bungalow's recently produced series include the four-part mini-series Surviving Jeffrey Epstein for Lifetime, the five-part mini-series The Preppy Murder for AMC/Sundance, The Panama Papers for EPIX, and Roswell: The First Witness for History. Others include GIVE for NBC, Corvette Heroes for the History Channel, The Real SVU for Lifetime, Landmarks Live in Concert for PBS, 36 Hours with the New York Times for Travel Channel, and scripted dramas APB on Fox, Netflix's Insatiable, and Amazon's Modern Love. Bungalow has also produced the feature documentaries The Devil Made Me Do It for Discovery+, Spring Broke on Showtime, We the People: The Market Basket Effect, and the Clive Owen's feature film, The Confirmation, among others.
ABOUT LEFT/RIGHT
LEFT/RIGHT has produced hundreds of hours of television in an extraordinarily eclectic mix of genres ranging from hard-hitting documentaries to side-splitting comedies, covering topics from sex to secret societies to stand-up comedy to science fiction to school segregation.  Past and present productions include the groundbreaking political series THE CIRCUS (Showtime), the feature documentary THE NEW YORK TIMES PRESENTS: FRAMING BRITNEY SPEARS (FX+Hulu), five seasons of RIDE WITH NORMAN REEDUS (AMC), and our award-winning TV adaptation of the popular public radio show THIS AMERICAN LIFE (Showtime).  Our shows have been nominated for numerous Emmy® Awards and have won multiple awards, including a Peabody® and the Emmy® for Best Nonfiction Series.  Left/Right is a Red Arrow Studios company.