NEW YORK, NY, March 13, 2019 – The season two finale of WE tv's runaway hit series "Love After Lockup" on Friday, March 8 delivered series-high viewership of 1.6 million total viewers and nearly one million adults 25-54 in Nielsen live+3 ratings, making it the #1 cable program in prime time on Friday night among women 18-49 and 25-54. The breakout series posted dramatic ratings growth across its 14-episode second season and from season one, remarkable in the current competitive environment.
The season two finale was WE tv's highest-rated original premiere telecast since the 2017 season one finale of "Mama June: From Hot to Not" among total viewers, adults 25-54 and women 25-54. Over the course of this 14-episode second season, the series averaged 1.2 million viewers and grew its audience 143% from premiere to finale. Compared to season one, the show has grown by more than 85% among adults 25-54 and 77% among total viewers. WE tv currently has two of the top 10 fastest-growing returning shows across all of television on the air at the same time among women and adults 25-54 – "Love After Lockup" and "Marriage Boot Camp Reality Stars: Hip Hop Edition."
"From shocking confrontations to epic meltdowns, this season of 'Love After Lockup' proves that an original concept coupled with great storytelling can rise above and really break through with viewers," said Marc Juris, WE tv president. "We have captured lightning in a pair of handcuffs with 'Love After Lockup' and we cannot wait for the show to return this summer with 10 more episodes and some of the most compelling and combustible couples on television."
"Love After Lockup" has also become a social media sensation, trending on Twitter weekly during the episodes and peaking as the #1 trending top in the nation the last two weeks, including finale night.
LOVE AFTER LOCKUP S1 & S2A
(NIELSEN, LIVE+3)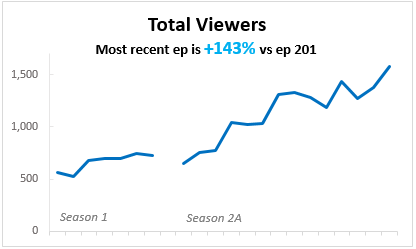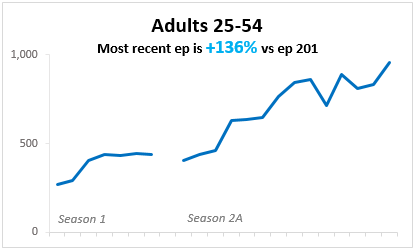 "Love After Lockup" follows relationships in which one half of the couple is behind bars, tracking the emotional journey of a prison release and life together after months or years of correspondence, supervised visits and highly structured interactions and expectations. The network announced earlier this year it has extended the second season by an additional 10 episodes that will introduce new couples making the complicated transition to love on the 'outside' when a partner one has only ever known behind bars is released from prison. The new episodes will begin on WE tv this summer.
The series is produced by Sharp Entertainment. Executive Producers are Matt Sharp and Dan Adler. Lauren P. Gellert, Kate Farrell and David Stefanou are Executive Producers for WE tv.
About WE tv
With compelling, can't miss unscripted shows, WE tv's programming is fueled by personalities and relationships filled with purpose and passion. WE tv welcomes everyone and creates an inclusive experience across all platforms: on TV, online, on demand, and social media, embracing how today's digitally savvy, socially engaged audiences connect through content, using it as a catalyst to drive conversation and build community. WE tv is owned and operated by AMC Networks Inc., and its sister channels include AMC, BBC America, IFC and SundanceTV.