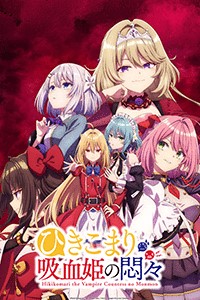 Download Key Art Here
HOUSTON, TX — September 6, 2023 — Anime fans can look forward to laughs this fall with today's announcement that HIDIVE has acquired the new fantasy comedy TV series The Vexations of a Shut-In Vampire Princess. Based on the popular shōnen light novel series of the same name written by Kotei Kobayashi and illustrated by Riichu, The Vexations of a Shut-In Vampire Princess will premiere this October as an exclusive simulcast on HIDIVE as part of its Fall 2023 Season.
"We're thrilled to have acquired The Vexations of a Shut-In Vampire Princess as a HIDIVE exclusive simulcast series," said John Ledford, President of HIDIVE. "This new series joins our exciting Fall 2023 Season line-up and will definitely be a blood-sucking good time for both vampire and comedy fans alike!"
Three years into her life as a shut-in, vampire Terakomari Gandesblood (Komari for short), awakens to find she's been appointed as a Commander in the Mulnite Imperial Army! The thing is, her new unit consists solely of belligerent ruffians who revolt against their superiors at the slightest hint of weakness. Although Komari hails from a line of vampires as powerful as they are prestigious, her refusal to drink blood has made her the picture of mediocrity—scrawny, un-coordinated, and inept at magic. With the odds stacked against her, will the help of her trusty (and slightly infatuated) maid Vill be enough for this recluse to blunder her way to success? Or will Komari rue the day she ever left the safety of her room?
Spanning 11 volumes to date, The Vexations of a Shut-In Vampire Princess light novel series first debuted in January 2020 and is currently serialized by Softbank Creative under its GA Bunko imprint. The English language edition is published by Yen Press.
The Vexations of a Shut-In Vampire Princess is produced by project No. 9 with direction by Tatsuma Minamikawa and writing by Keiichirō Ōchi. The series stars Tomori Kusunoki as Terakomari Gandesblood, Sayumi Suzushiro as Villhaze and Yōko Hikasa as Karen Helvetius.
For the latest announcements regarding The Vexations of a Shut-In Vampire Princess, follow HIDIVE on Facebook, X, Instagram and YouTube.
About HIDIVE
HIDIVE, the newest addition to AMC Network's portfolio of targeted streaming services, offers the best in anime and live-action entertainment to both die-hard otaku and burgeoning fans of Japanese pop-culture. In addition to its extensive library of movies and episodic series, each season HIDIVE brings a new selection of the latest titles from Japan in both simulcast and exclusive DUBCAST™ editions – all of which can be viewed on a wide array of platforms including web browsers, smartphones, TVs, streaming devices, and gaming consoles. For more information on HIDIVE or to sign-up for a free 7-day trial, visit www.hidive.com.